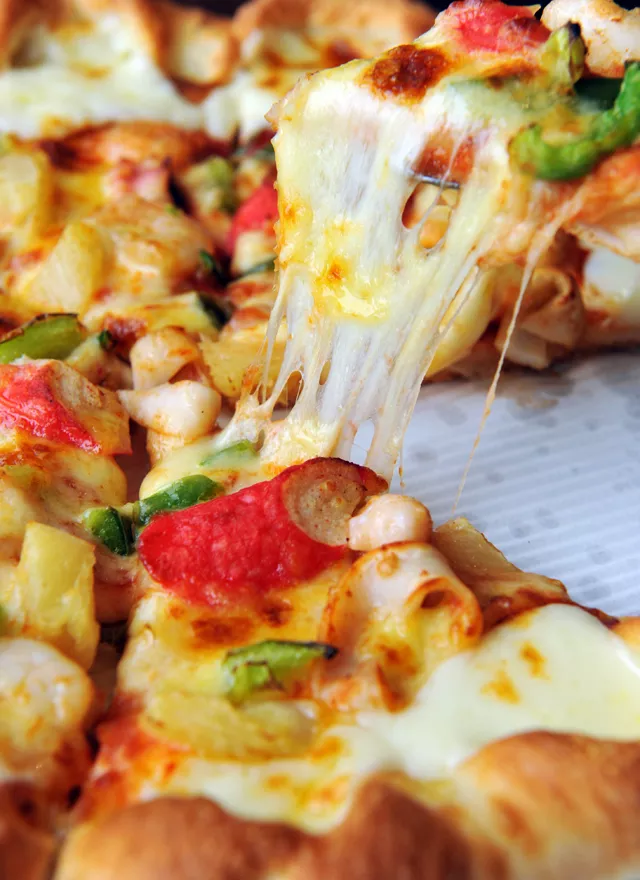 $=$5-$10; $$=$10-$25; $$$=$25-$50; $$$$=$50+
Loui's Pizza 23141 Dequindre Rd., Hazel Park; 248-547-1711; louispizza.net; $: None of the glitterati treks to Loui's for its elegant decor or haute cuisine, and none of the regular patrons comes to see the occasional glitterati who wander in. This is a quintessential pizza joint — hundreds of straw-covered Chianti bottles signed by diners fill virtually every inch of wall space, the tables are covered with glass-protected red-checked cloths, the food is served on plain plastic tableware. Aficionados flock to Loui's for the uniquely charred, thick-crust, deep-dish pizza. 
Luigi's 36691 Jefferson Ave., Harrison Township; 586-468-7711; luigisoriginal.com; $$$: The somewhat kitschy setting of checkered tablecloth, faux grapevines and strings of small red and green lights don't prepare you for the quality of service. Whether you're dining in the dark and boisterous front room or the more sedate and well-lit back, you're sure to be impressed by the efficiency of the waitstaff. And we can't rave enough about Luigi's exceptional pizzas. Complement your meal with a bottle from the adequate wine list or the decent range of beers. With both food and drinks, Luigi's just about covers everyone's taste sensibilities.
Mama Rosa 15134 Mack Ave., Grosse Pointe Park; 313-822-3046; $$: Depending on your source, you may hear Mama Rosa dubbed "the best pizza in the Grosse Pointes." Expect a host of unusual topping choices, crunchy-bottomed pies, other Italian dishes and even beer.
Motor City Brewing Works 470 W. Canfield St., Detroit; 313-832-2700; motorcitybeer.com; $$: This brewpub has a quirky tiled interior, with its concrete bar, its Wednesday-night art shows, and its sturdy menu of pizzas and small plates. For less than $10, you can get a pizza made with ingredients from as local as possible. The beers are excellent. Try their house brewed hard cider. Meads like Blue Sunshine have a sharp, almost astringent crispness to them. And those Wednesday night art shows are a tightwad's dream, offering work from experimental, established and ex nihil artists, often hanging work that goes for as little as $15. Have a pizza, drain a craft brew or two, and invest in a work of art for a little more.
Niki's Pizza 734 Beaubien St., Detroit; 313-961-4303; nikispizza.com; $: Fresh off an extensive remodel, Niki's no longer looks rough around the edges, instead sporting tons of attractive new booths and even a wood-fired pizza oven. Still, even though the ambience is much improved, you'll likely go for that two-slices-for-$4 deal. Better yet, go in with a friend and get a small square pie, ensuring it's hot out of the oven. And try the lamb topping! 
Nona's Pizza 19764 Harper Ave., Harper Woods; 313-884-5900; $$: We got your classic neighborhood pizza joint right here, with 30 years on the block. Pies are round or square, with the usual laundry list of toppings, but the prices are nice. Expect to pay $13.25 for an 18-inch square with pepperoni.
Pasquale's 31555 Woodward Ave., Royal Oak; 248-549-4002; pasqualesrestaurant.com; $$: The calorie-bomb here is called "Brown's special," and it's loaded with cheese, pepperoni, bacon, ham, onions, green peppers, green and black olives, and mushrooms, $13 for a small, $16 for a medium and $21 for a large. Right on Woodward in Royal Oak, away from the bustle of Main Street. If you've been in business for 55 years, you must be doing something right.
Pizza Bob's 814 S. State St., Ann Arbor, 734-665-4517; pizzabobs.net; $: It's about $8 for a 10-incher with pepperoni. Kinder still, you can share a 16-incher with same for $6 each. Don't want pepperoni? It'd cost the same for any topping, and they range from ham and meatballs to banana peppers and pineapple. Lunch, dinner, takeout and delivery.
Pizza Papalis Taverna 553 Monroe St., Detroit; 313-961-8020; for more locations see pizzapapalis.com; $$: A regular winner in our Best Of awards, you have to admit that trying Chicago-style pizza in Detroit was a gamble back in the 1980s, but now it's a sure bet. It's pricier than most, but their largest, deepest pies are an excellent medium for delivering meat and cheese to your stomach. You can get the 10-inch at $21 or the 14-inch at $30, but it doesn't get grander than the "meat eater's deluxe," a dough bowl of pepperoni, Italian sausage, Canadian bacon, ground beef and, of course, generous amounts of cheese.
Pizzeria Biga 711 S. Main St., Royal Oak; 248-544-2442; 29110 Franklin Rd., Southfield; 248-750-2500; pizzeriabiga.com; $$: Wherever your allegiances fall on the thick-and-chewy to thin-and-crispy spectrum, the toppings at Biga are remarkable enough to sway the most finicky of gourmands. With options like duck prosciutto, capicola or house-made Italian sausage for the meat lovers and wood-roasted vegetables or oil-cured hot peppers for the vegetarians, the range and quality are impressive. For those who aren't into tomato sauce, Biga offers as many "white" pies as red — mushroom ragù, with goat cheese or white clam with pancetta being two tempting options. Online ordering is now available.
Primo's 996 S. Adams Rd., Birmingham; 248-642-1400; primosbirmingham.com; $$: Primo's serves the Detroit-style square and deep pizza, with a crunchy crust and a chewy center. They don't overload it with sauce and spice, preferring to give it just the right amount of tomatoey goodness. And the cheese is cheese, not "cheese food." It stretches from the slice in your hand to the teeth in your mouth just like on TV. Plus they sell it by the (giant) slice for $1.50.
Renshaw Lounge 210 E. 14 Mile Rd., Clawson; 248-616-3016; renshawlounge.com; $$: This joint is like a classic pub, but with all the boozy fellowship of a dive. Local regulars will tell you Renshaw serves the best pizza in town, and one fan tells us their pies "rank up there with Green Lantern, Luigi's and Giorgio's." Maybe it's their raw sauce, which only cooks during its brief trip to the oven. They also serve a "breadza," which combines the gooey goodness of pizza with the doughy satisfaction of bread sticks. Enjoy it with drink specials and cold beer. 
Sam's Pizzeria and Cantina 2215 Wyandotte W., Windsor, 519-258-5086; samspizzeriaandcantina.com; $: Sam's feels a little more upscale and hip than a pizza palace, but sticks close to its roots. Calzone, focaccia, bruschetta: The crust is the star here, with inventive toppings such as escargot, mushrooms and garlic on the Francese pizza, as well as traditional versions. Finish off with fancy espressos, cappuccinos or a White Russian from the full bar. There's jazz on Thursdays and Saturdays. Breakfast menu from 11 a.m. to afternoon.
Sgt. Pepperoni's Pizzeria & Deli 4120 Woodward Ave., Detroit; 313-833-7272; majesticdetroit.com/sgt-pepperonis-detroit; $: The Sarge's managers are attempting to do a two-steps-up version of pizza — you can order a specialty sauce like basil pesto or tapenade, and the specialty toppings include roasted chicken, spinach, artichoke hearts, sun-dried tomatoes, eggplant and squash (all served atop a pretty normal fresh red pizza sauce and mozzarella). Pastas and sandwiches are also offered.
Shield's Restaurant Bar Pizzeria 25101 Telegraph, Southfield; 248-356-2720; 1476 W. Maple Rd., Troy; 248-637-3131; and one more location at shieldspizza.com; $: Another spin-off from the Buddy's breakup in the 1950s, Shield's enjoys an excellent reputation. Their specialty pizzas include the Athenian, Polynesian, "meat lover's," and "BBQ chicken." 
Stosh's Pizza 24312 Van Dyke Ave., Center Line; 586-757-6836; stoshspizza.com; $$: A co-worker's wife swears by this pizza, and the price is right: A large, two-topping pizza sets you back a measly $10.99.
Supino Pizzeria 2457 Russell St., Detroit, 313-567-7879; supinopizzeria.com; $$, Serving brilliant thin-crust pizza with imaginative fresh ingredients — even an egg — with a delectable thin crust that's not too chewy. They serve five red pizzas and six white, meaning no tomato sauce; almost all are made with traditional ingredients, no pineapple, no taco fixings. The red sauce is supremely simple, nothing much besides some fresh-tasting though canned crushed tomatoes. The Primavera, a white, is topped with fresh tomatoes, artichokes, eggplant, red onion, mozzarella and spinach — lots of flavors. Also excellent is the housemade manicotti, a huge portion of ultra-thin pasta stuffed with ricotta and a bit of Parmigiano and topped with red sauce and mozzarella. Supino is making a strong bid for gourmet pizza supremacy, right in our own Eastern Market.
Tomatoes Apizza 24369 Halsted Rd., Farmington Hills; 248-888-4888; 29275 14 Mile Rd., Farmington Hills; 248-855-3555; tomatoesapizza.com; $: If you're looking for a thin-crust, fresh-tasting, garlicky, made-with-high-art pizza, Apizza's ranks with the best in the area. The pies emerge from their brief sojourn in the brick oven irregularly shaped and unequally sliced. Avoiding a mass-produced look is always good, and a variety of big and small slices means that you can match your grab to your satiety level. One of our readers raved, "The place is amazing, and this New York City girl, who swears there isn't pizza in Michigan that can hold a candle to New York's, is hooked on it. Everything is super fresh, the coal- or wood-burning oven (depending upon which site you go to) gives the thin-crusted pizza a crispness you can't really duplicate any other way. I highly recommend the four tastes pizza. Don't have them change anything, but the section you get to choose on, add garlic ... you won't regret it!"