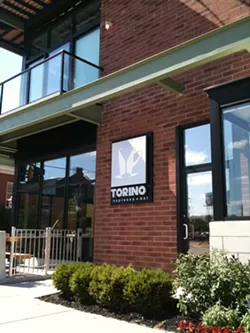 Chef Matthew Baldridge has his hands full, what with opening (with his business partners) the new
Atomic Chicken
takeout spot in Clawson, working on the build-out of a second location in New Center, oh, and getting married to Janna Coumoundouros.
Nonetheless, the former Cliff Bell's and Rattlesnake cook (more recently he and Coumoundouros have been hosting popular popups called Dinner Club) continues to plug away to open The Conserva — an Italian-inspired concept in which diners are served a variety of meats, seafood, pickled vegetables, mustards, and aioli jars. The original plan for this eatery was to open in an old bank building on Nine Mile in Ferndale.
Seems the plans have changed. In a recent announcement for a Dinner Club popup later this month, Baldridge said Conserva is headed for another address: 201 E. Nine Mile. That address may be a familiar one for foodies around here. It's the former location for the much-lauded Torino.
The wildly popular, high-end eatery abruptly
shuttered
last year when the Oakland County Health Department determined the space was too small for the menu. Its chef, Garrett Lipar, went on to Marais in Grosse Pointe and was also nominated for a James Beard Award.
The Dinner Club popups will serve as a test for a few of the Conserva products. Two seatings are planned for June 18, in which diners will be served a five course dinner with wine pairings and cash bar. Tickets go for $65 and can be purchased
here
.