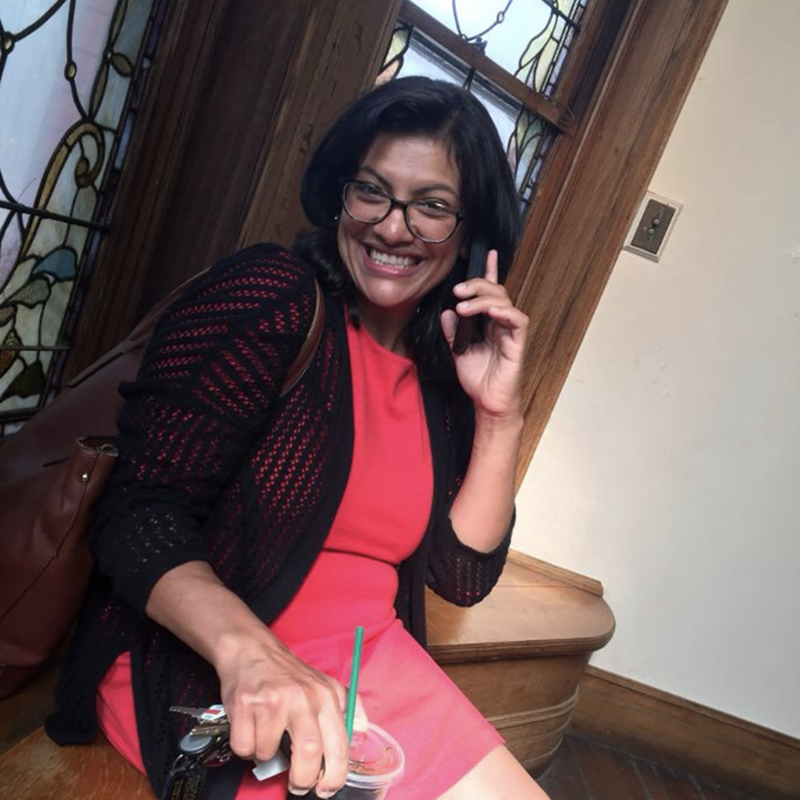 The Aug. 7 Michigan Democratic primaries featured
a strong list of progressive candidates
, some of whom supported policies like ending water shutoffs, eliminating for-profit charter schools, ending excessive tax breaks for the wealthy, state-level "Medicare for All," a $15-per-hour minimum wage, free college tuition, universal pre-kindergarten, publicly-funded campaigns, mandated paid sick leave, and more.
Some of those candidates won on Tuesday, including a mix of incumbents, newcomers, and former state house reps moving up to the state senate.
Several also had strong showings but came up just short, including Michele Oberholtzer, who in Michigan House 4 faced the son of an incumbent. In Michigan Senate 2, Abraham Aiyash lost by a few hundred votes to Adam Hollier, a Detroit Mayor Mike Duggan-backed candidate with
a war chest filled
by some of the state's top Republican donors and the auto insurance lobby.
The candidates' showings suggest that there is an appetite in Michigan for the type of bold policies that these candidates say will make a real difference in the lives of the middle class and poor. Those who won and will go on to represent Democrats in the November general election include:
Rashida Talib — U.S. House 13
(Parts of Dearborn Heights, parts of Detroit, Ecorse, Garden City, Highland Park, Inkster, Melvindale, Redford Township, River Rouge, Romulus, Wayne, and Westland.)
Tlaib supports "Medicare for All," a $15-per-hour minimum wage, and tuition-free college and vocational training. She wants to end corporate welfare, saying "We must stop tax giveaways to rich corporations and developers while our schools are crumbling and people are losing their homes." She also intends to overturn Citizens United because she says "big money has hijacked our politics."
Tlaib represented Michigan's 12th House District from 2009 through 2015, fighting polluting billionaires and corporations like the Koch brothers, Matty Moroun, and Marathon Oil. She currently serves at the Sugar Law Center for Economic and Social Justice — a nonprofit focused on advancing the rights of working people. Though she had already left the legislature, Tlaib was a vocal critic of the so-called "Gilbert bills" that gave Michigan's wealthy developers access to up to $1 billion in tax breaks. She has been endorsed by the Sanders-aligned Justice Democrats, the Democratic Socialists of America, and the Progressive Change Campaign Committee, among other progressive groups.
Stephanie Chang — Senate 1

(Parts of Detroit, Ecorse, Gibraltar, Grosse Ile Township, River Rouge, Riverview, Southgate, Trenton, Woodhaven-Brownstown, and Wyandotte.)
Chang is running for state Senate after serving for three years in the Michigan House. She was ranked by Inside Michigan Politics as the state's second-most "liberal" representative based on her voting record and was one of the few Democrat reps to vote against $1 billion in corporate welfare for wealthy developers like Dan Gilbert. Chang was named the League of Conservation Voters 2017 Legislator of the Year in recognition of her work to introduce legislation to address air quality in Southwest Detroit and Downriver. She says she "successfully fought back against legislation that would have given a no-strings-attached tax break to a large polluter." Chang also introduced a bill to track via socioeconomic measures officer-involved shootings and use of force complaints. She says she helped lead the development and passage of a bipartisan 24 bill package to protect sexual assault survivors, prevent sexual assault, and improve accountability.
Erika Geiss — (Incumbent) Senate 6
(Belleville, parts of Brownstown Township, Flat Rock, Huron Township, Rockwood, Romulus, Sumpter Township, Taylor, Van Buren Township, and Westland.)
State Rep. Erika Geiss currently represents the 12th district. She supports mandated earned paid sick time and family leave; "stronger pregnancy work protections"; universal pre-kindergarten; and reinstating prevailing wage. She says she will work to "eliminate the gender and minority wage gap"; eliminate the pension tax, and repeal Michigan's "Citizen United" legislation. She says, "We need to level the playing field for all candidates and not allow millionaire special interests to sway elections and misinform districts." Geiss calls for the expansion of citizen oversight of the Michigan Department of Environmental Quality and Michigan Department of Natural Resources. She sponsored HB 4728, a bill to create a nonprofit fund to provide legal assistance to people facing deportation.
Julia Pulver — Senate 15

(Commerce Township, Lyon Township, Milford Township, Northville, Novi, Novi Township, Orchard Lake, South Lyon, Walled Lake, West Bloomfield Township, White Lake Township, and Wixom.)
Pulver is a nurse who says she supports banning for-profit charter schools, a public health care option, and subsidized childcare for those who qualify for public assistance. Pulver proposes rewarding "companies that offer flexible work schedules, job-sharing, and work-from-home programs to facilitate parents remaining in the workforce"; and creating "high school curriculums around careers in childcare — education, health care, social work, etc." She says she supports living wage legislation. "I believe that if you are employed full-time you should not need to rely on public assistance to make ends meet." Pulver also supports lowering the tax rate for individuals, working families, and small businesses.
Jeff Irwin — Senate 18

(Parts of Ann Arbor, Augusta Township, parts of Lodi Township, Milan, Pittsfield Township, parts of Salem Township, Saline, parts of Scio Township, Superior Township, York Township, and the Ypsilanti.)


Irwin is a former state representative now running for a seat in the Senate. He supports a $15-per-hour minimum wage and "Medicare for All." He proposes increasing pay for teachers, banning for-profit charter schools, and universal pre-kindergarten. Irwin says he was the first legislator to call for the shutdown of Line 5, and he is calling for the state "to implement just policies for permitting to both protect our environment and ensure that people of color are not facing the brunt of the consequences of climate change." He says Michigan needs to improve conditions in its prisons, end cash bond, raise the age at which kids can be tried as adults, offer more resources for returning citizens and "must improve the training in cultural competency, mental health, and violence de-escalation that all police officers receive."
Alex Garza — House 12

(Romulus, Taylor, and parts of Van Buren Township.)


Garza worked for three years as a legislative aide to State Rep. Stephanie Chang and has served on the Taylor City Council since 2013. He supports a state-level single-payer health care system/"Medicare for All," would consider public funding of elections to curb corporate influence, and says he supports "promoting policies that shed light on campaign funding."

Abdullah Hammoud — (Incumbent) House 15
(Parts of Dearborn.)
Hammoud is the incumbent and was named by Inside Michigan Politics as one of Michigan's most "liberal" representatives based on his voting record. He supports a single-payer health care system; capping doctor visits to a maximum of $5 out-of-pocket; and "transparency from pharmaceutical companies." He supports universal pre-kindergarten and "a graduated income tax system where 98 percent of families would realize a tax reduction." Hammoud says corporations should be held accountable and "tax dollars should be used to create jobs, not line CEO pockets." He proposes retaining Michigan college graduates with student loan forgiveness.
Laurie Pohutsky — House 19

(Parts of Livonia.)
Pohutsky is a research associate at a biotechnology startup. She supports a state-funded "Medicare for All" style program that would be paid for by "implementing a progressive, graduated income tax that requires the state's top one percent to pay their fair share without overburdening the working class" and "eliminating profit-driven inefficiencies." She supports universal pre-kindergarten and cutting off public funding for charter schools.
Jim Ellison — (Incumbent) House 26

(Madison Heights and Royal Oak.)


Ellison is the incumbent who supports a $15-per-hour minimum wage, universal pre-kindergarten, ending "senseless tax breaks" and "raids on K-12 education funding." He says, "We have to get corporate money out of our politics and reduce the influence of PACs on our government. The doubling of contribution limits and the insurgence of unlimited dark money has given a handful of very wealthy residents a firm grip on our state and the federal government."
Robert Wittenberg — (Incumbent) House 27

(Berkley, Ferndale, Hazel Park, Huntington Woods, Oak Park, Pleasant Ridge, and Royal Oak Township.)


Wittenberg is the incumbent who says he is working on legislation to move Michigan to a public funding model for elections and limit the amount of money in politics. He says he sponsored legislation to implement a state-run universal retirement program for employees who don't have an option through their employer. Wittenberg says he is working to implement a graduated income tax in Michigan that would cut taxes for 94 percent of taxpayers and generate $1.2 billion of new revenue annually. He supports making Election Day a holiday, automatic voter registration, and prohibiting water shutoffs in low-income communities. Inside Michigan Politics in 2018 named Wittenberg one of the State House's most "liberal" reps based on his voting record.
Mari Manoogian — House 40

(Birmingham, Bloomfield Hills, Bloomfield Township, and parts of West Bloomfield Township.)
Manoogian is a foreign policy professional who is proposing transitioning for-profit charter schools to nonprofits. She supports creating a "living wage," narrowing the racial and gender pay gap, paid sick leave, and paid family leave. She says, "I also support prioritizing Michigan small businesses over large multinational corporations for tax credits." She supports eliminating dark money and relying on scientists and public servants at the MDEQ and MDNR, "not corporate polluters and CEOs who have a financial interest in how the rules are made." Manoogian supports criminal justice reform, "including removing the profit motive from our correctional facilities."
Yousef Rabhi — (Incumbent) House 53

(Parts of Ann Arbor and portions of Ann Arbor, Pittsfield, and Scio townships.)
Inside Michigan Politics named Rabhi — who is running unopposed in the primary — the most "liberal" State House member in 2018, which is based on his voting record. Earlier this year, Rabhi introduced legislation for a state-level single payer health system. He was one of few Dems to oppose bills that provided $1 billion in tax money to Dan Gilbert and other wealthy developers. Rabhi supports better pay for teachers and eliminating funding for for-profit charters. He is also one of few candidates to mention the need to address issues around environmental justice.
Stay on top of Detroit news and views. Sign up for our weekly issue newsletter delivered each Wednesday.