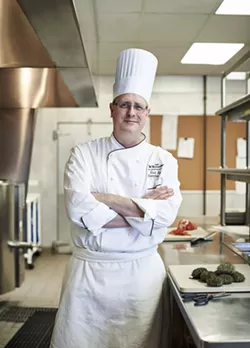 The Townsend Hotel in Birmingham, which houses the award-winning fine-dining Rugby Grille, has signed on a new executive chef, Todd Sabo.
Sabo is a native of Dearborn, but he's spent a long time away from metro Detroit, cooking at a Ritz Carlton in Dallas, where he worked for more than eight years in various roles, including excutive sous chef. At the Townsend, he will be charged with handling the hotel's culinary operations, the Rugby Grille's menu, as well as menus for the Afternoon Tea, Townsend Bakery, and the Corner bar.
Sabo brings with him a global perspective, having traveled extensively in Mexico and South America, and studied English Lit and Russian language at the University of Michigan.
Says Steven Kalczynski, Townsend's managing director in a news release: "Chef Sabo brings so much to the table... no pun intended. "He has extensive experience and knowledge of the hospitality industry, fine dining and global cuisines, but also an understanding and discipline for the business and administrative operations of the culinary world, which is so important. We're thrilled to have him."
Sabo's addition is the latest in a number of tweaks for the restaurant's concept in recent months that seem to focus on extravagant dining options. In January, the eatery introduced a lavish
$55 burger,
comprised of waygu beef, sweet onion jam, seared foie gras, braised short rib, parmesan aioli, burgundy truffles, and Thomasville tome cheese.
Last fall, Rugby Grille also brought on a chef de cuisine Damian Yopek, another Michigan native, who worked in kitchens in Washington D.C. When he was brought on, he introduced an intriguing fall menu, including beer-braised octopus, lobster and burrata salad, and rabbit loin.