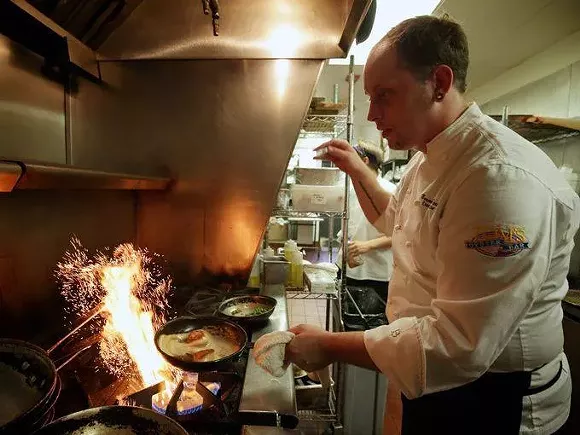 Lured by the promise of Chicago's dining scene, Tom's Oyster Bar's executive chef Norman Fenton is leaving metro Detroit to work for the acclaimed Alinea Group.
Fenton has accepted the position of Chef de Partie at renowned cocktail lounge The Aviary. While technically a step down in the cooking world, Fenton tells us he jumped at the chance to work with an award-winning group of chefs.
"I know where I'm at now, I know where I want to be, and to get to where I want to I have to take a step back, learn from talented chefs, and then move forward," Fenton says.
Headed by culinary mastermind chef Grant Achatz and Nick Kokonas, the Alinea Group is renowned for its approach to molecular gastronomy and attracts aspiring chefs from all over the country to work in its kitchens.
Fenton had been on the job at the Royal Oak eatery for only a few months, where he was tasked with overhauling the spot's menu. Prior to that, he worked as the sous chef at the popular Bistro 82, where he subbed as head chef for several months.
While he's enjoyed being a big fish in a small pond here, he says metro Detroit's dining scene is still a long ways off from reaching the kind of caliber found in cities like Chicago, New York, or San Francisco.
His last day at Tom's is March 20 and he starts his Chicago gig April 1. Meanwhile, the search is on for a new executive chef at the Royal Oak establishment. An announcement on that is expected later this month.