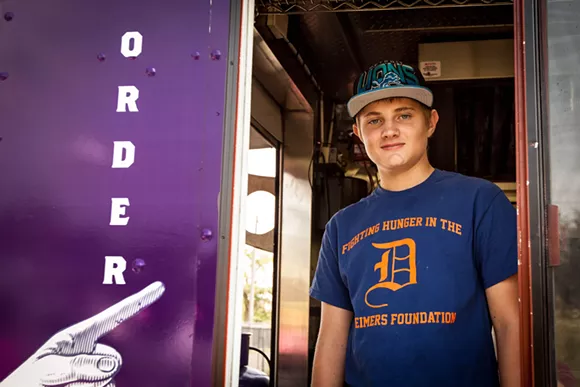 Robby Eimers likes to share with his friends, but he needs your help.
You see, "sharing" is what he calls his efforts to help feed the homeless, and "friends" are what he calls all those people who need to be fed.
Once a week Robby sets up at a different location in Detroit and passes out meals and other items to over 200 people in need. He's only 14, but he's been doing this for the past five years. That's when he started the Eimers Foundation.
"I feed the hungry and poor in the city of Detroit," Robby said in a release. "I am trying to raise enough money for a food truck because not all of my friends can get to where I share every week. We serve on average 200 meals a week and pass out thousands of other items our Friends need."
Since Robby is only 14, it's not likely he'll own his own food truck any time soon, but for now he's getting some help learning the ropes from a certain local fine dining chain.
This Saturday, Oct. 1 from 11 a.m. to noon Robby will borrow Andiamo's food truck and set up on 3430 Third St., Detroit. The partnership dates back to last year, when the restaurant group first lent Robby their mobile eatery.
"With a food truck I would be able to carry more food and get to more friends," Robby said in a release. "Mr. Vicari heard about the food truck too and contacted me and told me he and the chefs would like to teach me how a food truck works and how to cook the food and load the truck so I can know how when I get mine. It has been an amazing thing for me."
For those who'd like to donate food, personal hygiene items, warm coats, boots, or other items can do so by
clicking here
.