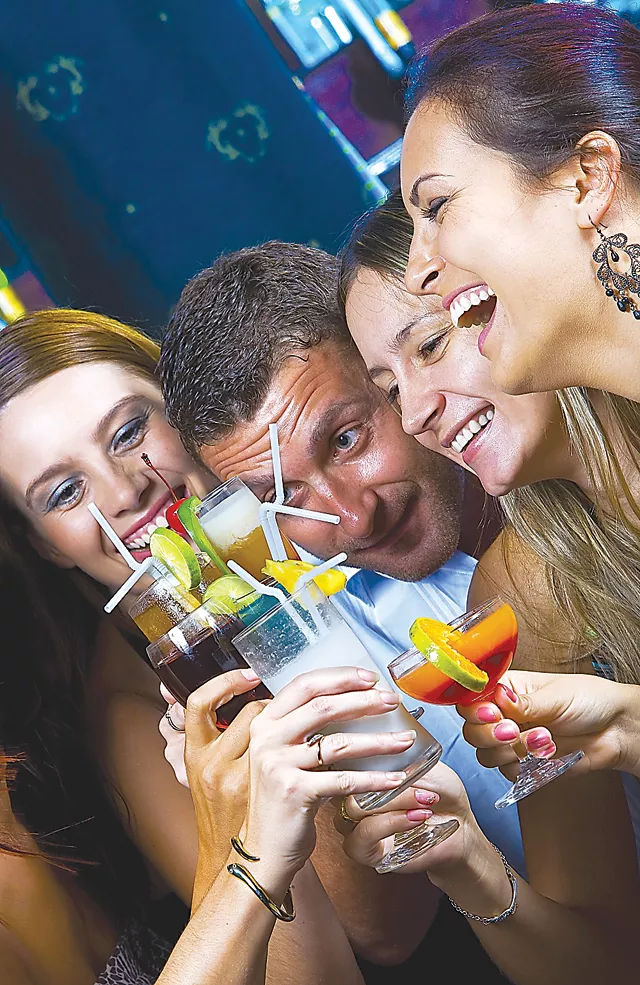 Some of the best things about the Thanksgiving Eve drinking holiday are catching up with old high school and college friends, awkward run-ins with ex-boyfriends and -girlfriends, and late night debauchery on a weekday — all at your local watering hole. Not sure where to spend it? Don't sweat it. We're here to enhance all memorable moments on your Nov. 24 holiday with this list of places to grab locally brewed beers, sip martinis at trendy hot spots, or get your dance groove on into the wee hours of the night.
Amnesia 2901 Grand River Ave., inside the Motor City Casino, Detroit; 313-309-4605: It's more likely images of scantily clad models dancing to a thumping bass may fill your imagination of this Motor City Casino nightclub, but don't scratch it from your list of possible pre-Thanksgiving hot spots. On Nov. 24, expect DJ Mups and DJ IIB to be plugging away at the music inside this trendy techno-music club.
Arbor Brewing Company Pub & Eatery 114 E. Washington St., Ann Arbor: 734-213-1393: With beers made for the morning (Espresso Love Breakfast Stout uses 100 percent local fair-trade coffee) or for your taste buds (Bavarian Bliss Hefeweizen pairs nicely with the barbecued ribs) what's there not to love? More than a beer-geek hangout, Arbor typifies everything you hope to find in a pub: a nice selection of well-prepared food that transcends pub grub, good local music and — oh, yes — beer, most of it brewed on-premises. You can expect around eight to 12 house-brewed beers on tap.
Armando's 4242 W. Vernor Hwy., Detroit; 313-554-0666: Armando's stays open until 4 a.m. Fridays and Saturdays (until 2 a.m. the rest of the week), and the post-bar crowd that spills over from Dearborn and downtown Detroit's clubs can choose from the regular Mexican fare or Mexican breakfast selections. They roll in at 2-3 a.m., and, depending on what's happening in town, there can be a line outside at 3 a.m. The management approves of the late-night crowd, saying that watching buzzed patrons, churlish lovers and new friends can make it worth working late.
Bert's Marketplace 2727 Russell St., Detroit; 313-567-2030: It's the only late-night jazz club in Detroit where anyone can show up. It's not common to find a bar where everyone seems to know each other and yet newcomers don't feel excluded. In keeping with Bert's barebones, working-class atmosphere, their food is more down-home than much of the soul food you find in restaurants, which has often been upgraded from its humble origins.
The Biergarten 22184 Michigan Ave., Dearborn; 313-561-7711: Part of a rapidly changing strip of Michigan Avenue on the west side of Dearborn, this family-style corner bar has a great beer selection for those brew mavens who investigate beyond what's on tap, including a good selection of bottles from Michigan. Expect beer specials and a chance to shoot some pool.
BlackFinn Restaurant & Saloon 530 S. Main St., Royal Oak; 248-582-9460: Though we voted this Royal Oak hot spot "Best Pick-Up Bar" back in 2009, we weren't sure what to make of BlackFinn when its doors first opened; was it a sports bar or a family restaurant with a dance floor? Was it a swingers club? Though you may pick up something other than a drink, they?re having happy hour specials from 4 to 7 p.m. for a clamorous Thanksgiving Eve celebration.
The Bosco 22930 Woodward Ave., Ferndale; 248-541-8818: Expect scenesters, hipsters and young professionals at this Ferndale bar, no doubt drawn by the great music, cool atmosphere and a heated outdoor patio to escape crowd suffocation. If there's nowhere on earth you'd rather spend Thanksgiving Eve than in a too-cool Williamsburg bar, here's the next best thing.
Bookies Bar & Grill 2208 Cass Ave., Detroit; 313-962-0319: This classy wine bar's decor gives off a '30s Chicago gangland feel, and has a killer rooftop patio, cozy VIP rooms and huge HD screen. There's a nice selection of drinks be sure to grab a "Bookies Top Shelf Tea" at a stiff $9. It's a cool, even graceful, place to hang, and the one thing it has in common with the old Bookie's is that it still hosts live music, although you're more likely to find a DJ or a sports bar throwdown.
Bray's Hamburger 22941 Dequindre Rd., Hazel Park; 248-542-8878: Anybody who's driven by this 24-hour Hazeltucky greasy spoon can recall its dramatic mascot, a braying donkey. And the bar crowd answers the donkey's call, soaking up the booze with cheapie hamburgers that come with mustard, ketchup, pickles and onions. Seats 16.
The Bronx Bar 4476 Second Ave., Detroit; 313-832-8464: This hip, student-packed venue, which was once an underappreciated dive bar, is a good place to hit up for Thanksgiving Eve. A good watering hole to catch up with old friends and meet new ones. Expect to hear some early '80s post-punk, classic hip hop, deep soul, indie-rock favorites, and a slew of Detroit bands make up a dumbfounding roster of lovable non-hits. You might spend more on their two jukeboxes (yeah, there are two) than on drinks.
Cass Cafe 4620 Cass Ave., Detroit; 313-831-1400: If you're heading to Midtown, then might we suggest this artsy, hipster hot spot. Whether you have a penchant for windjammers, a hankering for food or a fondness for art, this place has the makings of a good night any night. Cass Cafe offers international and local beers — which means neighboring Motor City Brewing Works' Ghettoblaster is at your fingertips.
Cliff Bell's 2030 Park Ave., Detroit; 313-961-2543: Stepping into the newly restored art deco live jazz bar with an even more recently opened kitchen is to arrive in another era. Neither cheap nor fast, mixed drinks are crafted old-school, more for taste than ease of production. Be sure to catch some of their drink specials (which are Tuesday through Friday 4-7), like their $2 domestic pints or $3 craft draft pints. For something stronger, try a $5 Hemingway (light rum, maraschino liquor fresh lime, grapefruit juice and a splash of soda).
The Corner Brewery 720 Norris St., Ypsilanti; 734-480-2739: Operating on the "reverse mullet" premise (i.e. party in the front, business in the back), CB's is a cozy microbrewery equipped with a beer garden and a special tasting room. They'll open at noon, and you can kick back with a pint of one of usually eight beers on tap, including Sacred Cow or Phat Abbot Tripel.
Dirty Dog Jazz Café 97 Kercheval Ave., Grosse Pointe Farms; 313-882-5299: On Nov. 24, Dirty Dog will be featuring After 5 — a band that combines the classics of swing, Latin, smooth jazz, bebop and more. Also noteworthy is their delectable menu, featuring dishes like calamari with charred tomato sauce, corn beef with house made chips, and a Kobe burger with duck fat fries. Seats vanish quickly so it's recommended that you arrive early. Better yet, make a reservation. Tickets are $25.
Elmhurst Tap Room 22057 Outer Dr., Dearborn; 313-277-4041: In this frosted-glass, track-lighting, martini-menu world, it's such a relief that the stained-glass-and-wood Elmhurst endures. Dark, cool, plush and anachronistic, this Outer Drive haunt is frequented by regulars who look as if they haven't relinquished their stools for a few generations, making it seem a likely bet for a quiet "bar night" evening.
Gusoline Alley 309 S. Center St., Royal Oak; 248-545-2235: A classic dive bar, its regulars are as colorful as witty scribble on bathroom walls; and like any authentic dive, there's real storytelling floating in its narrow room, amid so much bumper-sticker artistry. Even old Buk might've been a regular — or maybe we're just romanticizing the hell out of this place.
Hard Luck Lounge 15410 Mack Ave., Grosse Pointe Park; 313-884-5825; 10 W. Adams, Detroit; 313-974-7470: The real reason to frequent this high-class dive bar is for the candy-flavored cocktails. Of particular note is the Red Fish, which tastes exactly like Swedish Fish candy, those delectably chewy gummy fish with the off-putting motto "A Friend You Can Eat!" It has the flavor, but none of the teeth-sticking side effects. Plus, it's alcoholic! So popular are their sweet-tasting libations that Hard Luck recently launched its own brand of 70-proof, candy-infused vodka, Hard Luck Candy. Current flavors include Red Fish and Root Beer Barrel, which make for dandy candy booze, indeed.
Kennedy's Irish Pub 1055 W. Huron St., Waterford; 248-681-1050: Established in 1972, Kennedy's makes it feel like St. Patrick's Day year-round. We dare you to try not to fill up on their corned beef offerings the night before the big day. Beers galore, with pours that a co-worker says "will make you feel like you ordered a double."
Lefty's Lounge 5440 Cass Ave., Detroit; 313-831-5338: It is a solid sports bar that contributes to the lively community around Wayne State, which, in recent years, has begun to attract more residential students. The place even sports a patio overlooking the Belcrest's renowned art-deco swimming pool. But it's definitely about the sports, with more than a dozen giant-screen TVs to prove it, and a menu replete with sports references.
Library Sports Pub & Grill 42100 Grand River Ave., Novi; 248-349-9110: Aiming upscale, this comfortable and family-friendly sports bar has television — lots of it. How much TV? Why, more than two-dozen screens, three of them big ones. Other draws include pool, darts, food and live entertainment. Their draft beer special is pretty unusual: order a pitcher and you'll get two free full mugs of beer with it. Also, try their "chicken nachos."
Lions, Tigers and Beers 2929 Biddle Ave., Wyandotte; 734-282-1200: Spending your Thanksgiving Eve Downriver? Looking to entertain yourself in a sports club filled with lively, good-looking people? This Wyandotte bar is your place. They have surprisingly good food, gracious service and nice, cold beer. Need more incentives? Prizes are going to be given away, and DJ Money Mic is going to be performing all night.
LJ's Lounge 2114 Michigan Ave., Detroit, 313-962-0013: Though it's a quiet old-man bar on most days, the spill-over crowd from Slows Bar-BQ and the pre-party crowd from nearby dance shindigs makes it a memorable stop for bar-crawlers in the know. The brews are cheap, but be sure to get the price of that shot before you order it.
Luna 1815 Main St., Royal Oak; 248-589-3344: If you plan on taking your pre-Thanksgiving partying to the next level, Luna is an excellent choice to show off those dancing moves and grooves. Need more incentive? From 9 to 10 p.m. there are going to be $1 drink specials and $2-$3 "you call it" from 11 to 12 p.m. Better yet: there's going to free pizza in the late night to help out with the drunken munchies.
Mon Jin Lau 1515 E. Maple Rd., Troy; 248-689-2332: This contemporary but casual Asian-Deco décor restaurant and bar is one of the hippest Asian restaurants in metro Detroit. They serve everything from saki bombs ($4) to mojitos ($5). Since this Wednesday is the big night, reservations will be highly recommended.
Motor City Brewing Works 470 W. Canfield, Detroit; 313-832-2700: First-timers of MCBW may want to try the generous beer-sample tray ($7) that usually includes five-ounce tastes of pale ale, lager, Ghettoblaster, nut brown and, sometimes, a dense porter or even a glass of cider. Ghettoblaster, akin to a mild English ale, is also the title of the CDs produced by the brewery that salute local musical talent. Have a hankering for some pizza? Their 10-inch brick-oven pizza is a real delight, and a steal at only $8-$9.
The Old Miami 3930 Cass Ave., Detroit; 313-831-3830: Though the Old Miami was once primarily a haven for Vietnam Veterans (the walls are still covered with era's history), everybody's welcome. The furnishings are quirky, as they've set down sofas, couches and barber's chairs chockablock. On a warm night, access permitting, their back yard is a Cass Corridor oasis. Better still, the characters help make this place the most charming dive along Cass Avenue.
The Post Bar locations in Detroit, Novi, Auburn Hills and more; postbars.com: The Post Bar empire has metro Detroit covered, with a half-dozen locations. Graffiti adorns the walls of the Detroit location, which has been around since 1978. Or if you're out on the west side, check out their Novi location, which has an insane glass-enclosed patio. At the location nearest your old stomping grounds, you might even spot your old pals back in town for Thanksgiving.
Town Pump Tavern 100 W. Montcalm, Detroit; 313-961-1929: Located behind Hockeytown Café and Fox Theatre, this is a nice pub stop if you're planning on hitting up downtown. The bar almost makes you feel like you're in London with its ivy-covered windows, wooden interior and small (fake) library with couches in the corner.
Travis Restaurant 23500 Greater Mack, St. Clair Shores; 586-778-0101: This is a quirky corner diner in the heart of St. Clair Shores. Walk in at 3 a.m. to find the night owls of the Nautical Mile bar scene intermingled with the locals grabbing a late night snack. Open 24 hours every day, Travis has it all, whether you grab an item off their breakfast menu or bite into a greasy but tasty burger.
Union Street 4145 Woodward Ave., Detroit; 313-831-396: Besides a very tasty menu, Union Street's bar has a nice selection for all drinkers: 100 different bottled beers, 15 beers on tap, 32 premium bottles of wine available by the glass as well as a variety of rails to choose from. Their 1920s bar is damn impressive.
Ye Olde Tap Room 14915 Charlevoix St., Detroit; 313-824-1030: A beer lover's, barrel-aged dream, this east side hangout features hundreds of beers (285-plus?) from across the globe. A helluva place to chill, libate and hang loose with a great crowd.
Special thanks to editorial intern Michelle Styczynski for her assistance compiling these listings.
See any inaccuracies? Let us know! Send an e-mail to [email protected].