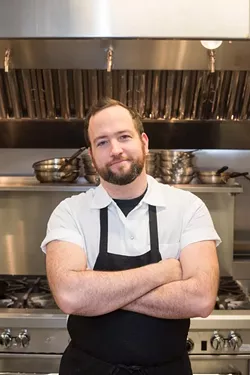 Big changes afoot at pawn shop, turned locavore haunt Gold Cash Gold.
Chef Brendon Edwards, who helped open two popular Detroit eateries in the past two years will be taking over as executive chef effective Oct. 24. He'll be replacing Josh Stockton, who's held the helm as partner-chef at the Corktown restaurant since its launch in 2014.
Stockton, in turn, is headed to Las Vegas.
Over time, we'll see the menu at Gold Cash Gold evolve to line up with Edwards' "progressive American" technique, though fans of the spot's famous pickle brined fried chicken will be happy to see it remain.
Over the past couple of years we've watched Edwards make a few noteworthy moves in the dining scene. There was his brief tenure opening critically-acclaimed Antietam in Eastern Market in summer 2014.
He went on to partner with bartender Joe Robinson (AKA Joe Rob) to open Standby in the Belt Alley last winter, where he wowed critics for elevating the typical bar food menu. His partnership there was cut short earlier this year. Most recently, Edwards has been spending time in the kitchen at Katoi.
For Stockton's part, he impressed at Gold Cash Gold with his menu of Southern inspired cuisine, using mostly local ingredients, known in particular for his use of pickle brine throughout his offerings.
The move to Vegas would not be his first stint in Sin City. After culinary school at the Culinary Institute of America in New York, he moved there and worked at a number of hotel restaurants, says
The Detroit News.
Gold Cash Gold is at 2100 Michigan Ave.

See also: Shake-up at Standby with ouster of partner-chef Brendon Edwards

See also: Standby is already a cocktail (and dining) standard in downtown

See also:
Gold Cash Gold is on the money