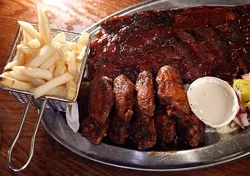 Sweetwater Tavern
400 E. Congress St., Detroit
313-962-2210
sweetwatertavern.net
Open 11 a.m.-2 a.m. Monday-Friday, noon-2 a.m. Saturday-Sunday
Entrées: $10-$30
Sweetwater Tavern has been in Detroit for decades, about as long as Metro Times has been here. We recently took a stroll a few blocks from our offices to check out this little Detroit gem. The building at 400 E. Congress street has been there for more than 100 years, first as a hotel and then later as a bar and restaurant. It became Sweetwater Tavern more than 30 years ago, and its current owner, Jeffrey Cain, bought the place in 1991.
The narrow building is flanked on one side by a long bar, usually lined with regulars. The other side is lined with booths stacked tightly against an exposed brick wall. There's also a commodious room in the back, whose wood paneled walls are covered with the decorative plates you might find at your grandmother's house, along with shelves of ceramic beer steins. There are 11 50-inch flat screen TVs scattered throughout the place and, though they are easy to see from the booths, they aren't too difficult to ignore if you prefer having conversations to watching TV. There's a jukebox in the front of the bar that was playing awful pop music when we first walked in but luckily a jazz and blues fan took it over by mid-meal.
Though the Sweetwater menu is loaded with typical bar food like burgers and sandwiches, we decided, in the spirit of the barbecue issue, to go with only barbeque items. This turned out to be a fantastic idea that led to an incredible meal.
We ordered Cajun steak bites, the "Big Pig" pulled pork sandwich, the rib-and-wing combo, and peach cobbler for dessert. Our waitress, when asked how long she had worked there, laughed and said, "A long time." It certainly showed in the way she brought our meal in timely stages, though we had ordered them all at once. She always knew when to come by and bring more napkins and drinks and when to hang back and just let us enjoy our meal.
The Cajun steak bites came out first. The steak bites were rolled in Cajun spices and cooked with mushrooms and caramelized onions; they soaked up the flavor of the meat and seasonings, which had some heat but were more flavorful than hot. They were served with cole slaw and slices of pita which we found were best used to sop up the juice left behind by the meat. They also came with a side salad of iceberg lettuce, sliced tomatoes, and croutons. Not very exciting but you don't go to Sweetwater for the salad.
Next came the Big Pig and the rib and wing combo. We decided to spring for the full slab. The Big Pig lived up to its name with a mound of pulled pork slathered in barbecue sauce piled high on a buttered bun, served with cole slaw and fries. The cole slaw was simple with little flavor but added a nice texture to the sandwich. The fries were excellent, obviously hand-cut and fried to perfection with a nice crispy outer crust and soft center. The ribs too were excellent, firm but not dry or too chewy. We stripped the bones clean. The barbecue sauce was that elusive combination of sweet and savory that most barbecue joints don't come close to achieving. Sweetwater has mastered it.
But the best dish of the meal was the wings. We have never really been a fan of chicken wings, but were more than pleasantly surprised at just how good these wings were. Unlike most chicken wings that favor heat to flavor, the wings at Sweetwater are spiced perfectly with a combination of seasonings for a savory flavor that has a heat-kicked finish. They are served with a blue cheese sauce to keep the heat kick in check. The wings are delivered daily from Eastern Market and are then dredged in spices and marinated for 24 hours before being cooked to perfection with a crispy skin and juicy meat center. Yes, this writer has become a chicken wing convert at the church of Sweetwater Tavern.
Our meal ended with a crock of peach cobbler and vanilla ice cream. From the first bite it was obvious that the dish was made with real peaches. Unlike canned peaches that just get slimier when you cook them, fresh peaches form a firm layer on the outside that have the texture of fruit leather. The dish was sweet without being overly sugary. The ice cream melted into a warm creamy sauce when scooped onto the cobbler, which had a much softer crust than any of us had ever had in a cobbler before.
If you haven't been to Sweetwater Tavern yet — don't worry, it's not going anywhere soon, but — we wonder why you've waited so long?
Katherine Montalto dines for Metro Times. Send comments to [email protected]