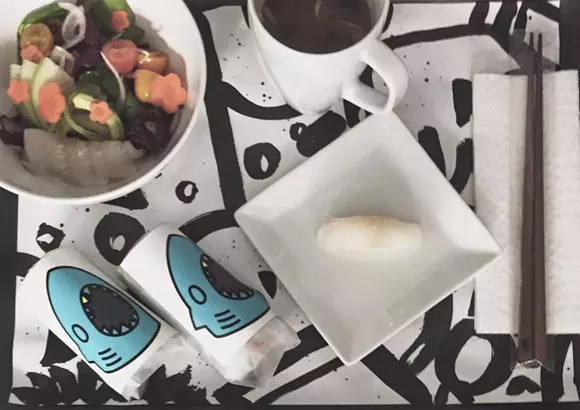 Corktown is soon to welcome its first sushi house, with the addition of ITADAKU. Dubbed by founder artist and chef Mike Han as a fine-casual establishment, the spot will feature daku maki (large format hand rolls), salads, and rice bowls, as well as traditional nigiri and sashimi.
Han is the former head sushi chef of the Michelin-recommended Roka Akor in Chicago, which Bon Apetit ranked as one of the "Top 10 Sushi Spots in the U.S." He's also worked under Master Sushi Chef Katsu Uechi, one of four Master Sushi Chefs in Los Angeles at his restaurants Katsuya by Starck, and critically lauded Katsu-ya, also in southern California.
Outside of sushi-making, Han goes by the artist name "icon," and has painted murals for Vitamin Water, at the Dequindre Cut, the Woodward Windows Project, Derrick May's Transmat Gallery, among other works by locally and internationally.
The eatery's name, Itadaku, comes from the Japanese word that means "to enjoy [food and life] with gratitude," hinting at its mission for creating sustainable sushi (responsibly sourced seafood).
The restaurant is to open at 1701 Trumbull Ave. later this year. In the meantime, followers can track its progress and find out about popup preview events at @itadakusushi on
Facebook
and
Instagram
or at
itadakusushi.com
.