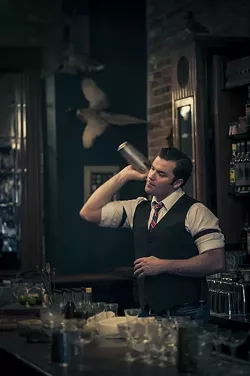 We always get super stoked when we hear about a local spot that gets national acclaim. So when we saw
Sugar House
mentioned in an Esquire
article
about the best bars in America, we were pretty excited.
The magazine posted what it considers the 18 best bars in the country late last month. "Drinks Correspondent" David Wondrich writes of the cross-country investigation: "In 2005, my editors at Esquire came up with the idea of putting together a list of America's best bars - not the best new cocktail bars or sports bars or brunch bars or whatever, but the best bars irrespective of type."
High up on the list were your typical Brooklyn, Portland, and San Francisco, but also surprises like Cincinnati, Baltimore, and Buffalo, NY.
Also mentioned, Detroit's own Sugar House... OK, so the watering hole did not make the top 18, but it did receive a shout-out in the "cocktails and hospitality" category.
Though the Corktown bar is serious about drink making, it's playful in its offerings, often mixing up the menu for seasonal themes (this summer, it's all about tiki everything, and last fall recast as Bill Murray). With that balance of serious cocktail crafting and its fun, ever-changing vibe, we can't say we're surprised by the recognition.