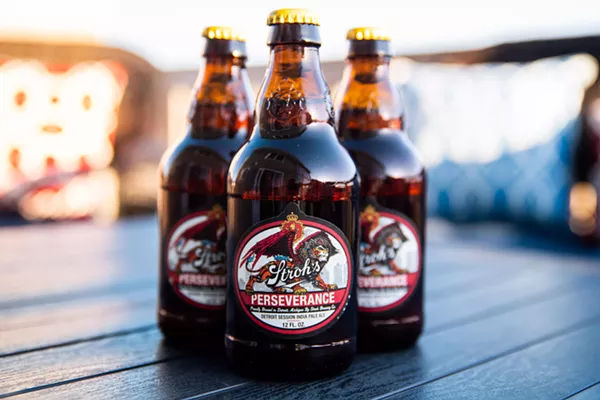 Stroh Brewery Company will launch a new Detroit-brewed IPA called Perseverance on May 9.
It's the first new recipe from the company in recent memory — Bohemian was a reformulation of an old flavor — and brand manager Andy Grujian says it marks a new course for the brewer as it focuses on lines that are brewed in Detroit.
"This is the first new innovation that we've had for Stroh's for a while, but we can look forward to more along the same lines," he says.
Perseverance, which will be produced at Corktown's Brew Detroit, is already being shipped to Detroit-area retailers and will land on store shelves and in bars throughout the state in the coming months.
It's the fourth current line for Stroh's, which was founded in Detroit in 1850. The Stroh family ran the company until Los Angeles-based Pabst Brewing purchased it in 1999.
Gurjian tells
Metro Times
that Perseverance is a "flavorful, hoppy beer with a balanced malt backbone." Though IPAs usually have a higher ABV, Perseverance is a session IPA that's 4.5-percent ABV. Gurjian notes that Stroh's traditionally trades in drinkable session brews, so the new formula is in line with that.
"We wanted to offer a premium session ale in our own unique Stroh's style," he says. "If you like beer, you probably like IPAs, and this is a terrific session-style IPA that represents the new kind of flavor innovations that we're after going forward."
Stroh's is utilizing the same unique 12-ounce bottles used for its Bohemian Pilsner, which it launched in 2016 and brews in Detroit. Also of note is the label, which was developed in collaboration with Detroit artist Kobie Solomon. It features a reproduction of Solomon's 9,000-square-foot Chimera mural on the side of the Russell Industrial Center that faces Interstate 75.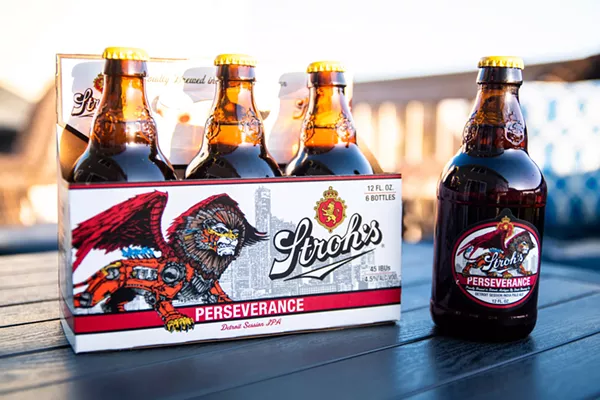 Gurjian says it's important for Stroh's to brew in Detroit because it "started as a Detroit-based brand and we are determined to continue as such."
"You know, at one point in time Stroh's was the third largest brewery in the nation. It was a real point of pride for the city as it reflected a successful national brand that was grounded and founded in Michigan," he said in an email. "The revitalization of Stroh's is in parallel to the amazing comeback story that is Detroit, and we feel it was vital that we brew our premium beer within city limits."
Indeed, there seems to be a bit more authenticity to Stroh's premium beers than the psuedo-craft beers like Budweiser's Shock Top.
Gurjian says that type of philosophy resonated with people in the area, and there's been a positive reaction to the brand's return to Detroit.
"It's above and beyond what we expected. When Bohemian came back, the support fromm the city was like nothing I've seen before," he says. "It's special and totally unique, and it encourages us to keep doing what we're doing."
A public glass-raising party will be held at 6 p.m. on May 9 at Brew Detroit. The event will feature a gallery of Solomon's artwork, food trucks, music, shuffleboard, pinball, and a group cheers. Brew Detroit will also offer brewery tours.
So many restaurants, so little time. Find out the latest Detroit dining news with our weekly food newsletter delivered every Friday morning.