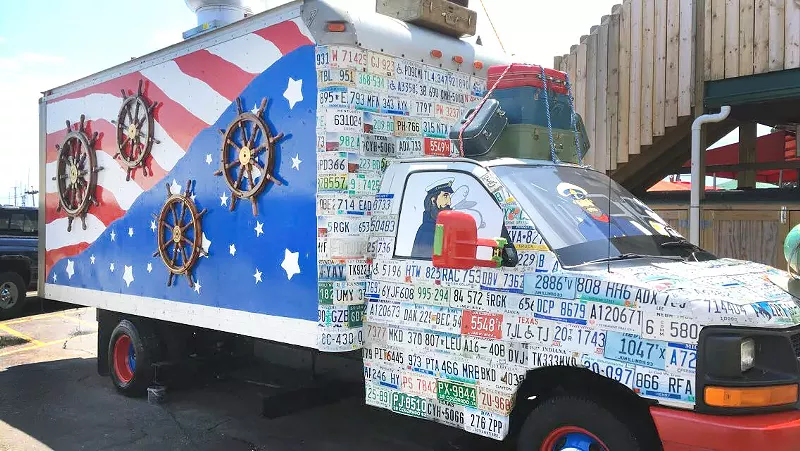 A few months ago, we introduced you to Mike LeFevre, the ambitious, big-thinking proprietor of Mike's On The Water who
wants to put a food truck on the roof of his waterside restaurant
.
In March, he pitched the idea the St. Clair Shores City Council. Some scoffed, some chuckled, some said it was impossible.
But LeFevre was not deterred.
"If an airplane can fly to the moon, then we can definitely ... put a food truck up there!" he told the council in March.
Others said it was a scheme on which LeFevre would never follow through. But he's a man of action, and Monday a 170-ton crane will lift a 25-foot food truck onto the roof.
It'll be supported by a system of steel beams and positioned in such a way that the wheels will still be able to spin. The truck isn't your typical food truck with a hatch the opens the side, but it will have a menu and a small window where orders can be placed.
Inside, cooks in the roughly 16-foot by 8-foot kitchen will prepare around 15 dishes from around the world. That includes the Triple Catch, a sandwich with walleye, perch, whitefish, lettuce, tomato, and tartar sauce; a meatloaf stack sandwich with meatloaf and mashed potatoes; a grilled Cuban sandwich with roasted pork, ham, pickles, mustard, mayo, and cheese; and a Waldorf salad.
While the idea may seem wacky and maybe a little gimmicky, there's a real need for it. Transporting food from the ground kitchen to the roof deck got to be a little challenging. And Mike's is also regularly crowded during the warm season —
for good reason
— so the addition of food service to the roof's drink service helps alleviate some of those issues.
LeFevre is hosting a private event on during the Monday hoisting that will raise money for the Gorsse Pointe Crisis Club. It is by invite only.
So many restaurants, so little time. Find out the latest Detroit dining news with our weekly food newsletter delivered every Friday morning.