Saturday night, before heading out to Jerry Vile's art show, we attended the first of two seatings at the Dinner Club pop-up. It was held at Always Brewing Detroit, a coffee shop on Grand River Avenue that occasionally hosts a pop-up dinner or bazaar. We don't get out to the west side all that much, and we were pleasantly surprised by the little java stop, which had a bit of attractive streetscaping in front, and sat across the avenue from one of those tony, well-kept Detroit neighborhoods they never show on the evening news.
The folks behind the Dinner Club are Matthew Baldridge, formerly of both Rattlesnake Club and Cliff Bell's, and artist Janna Coumoundouros. They're both a team and a couple. When they first started dating, they went out for "a high-end dinner at a restaurant." It didn't go well.
Coumoundouros says, "It was so stuffy and uncomfortable that it started a conversation of how a good meal is about more than just the food. It's about the experience, the people you are with, and the atmosphere too. That's why we do communal-style seating and keep it casual. We want our dinners to be delicious and fun. We've had people try things they've never tasted before. We've had people get up and start singing."
These unpretentious events have been held in various locations, including Treat Dreams, Supino Pizzeria, and Majestic Café. And the duo in charge has obviously been having some fun coming up with creative ideas. Last time, it was using Spam in every course to create a sumptuous Spam dinner. On Saturday night, it was Faygo: Every dish would contain Faygo as an ingredient.
Think of it as the absolute opposite of an ICP show. Instead of being drenched in Faygo, the soft drink was used as an accent in various dishes. For instance, in an appetizer of scallop carpaccio, there were blue pearls of Faygo 60/40, little miracles of molecular gastronomy, strewn among actual salmon caviar, all complemented by sun-dried yuzu, avocado cool whip, microgreens, and grapefruit.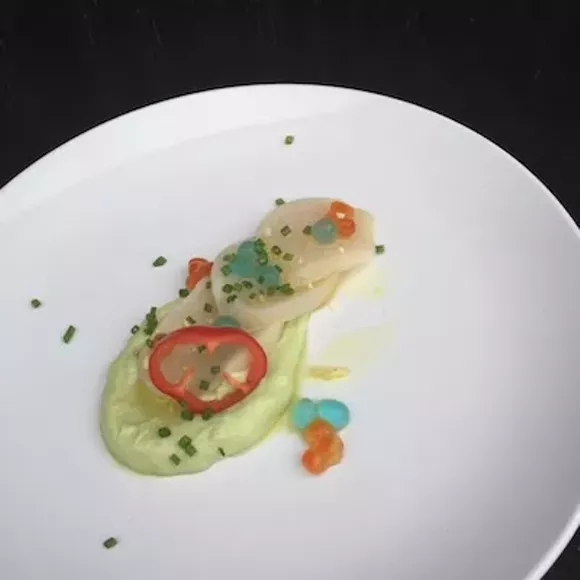 Then there was the chilled spring pea soup. Unrelated to the Faygo tip, it was a playful bit of meal-planning, the spring peas bursting on the tongue much like the caviar of the previous dish. The soup also featured jumbo lump crab, a lemon-truffle vinaigrette, pea tendrils, and spicy tomato turned into an attractive gelatinous cube known as "gelée." The citrus accents in the soup were courtesy Faygo Lemon-Lime.
The third course, the entrée, was the Faygoiest of all: wild boar back ribs braised with Faygo root beer, accented with dark chocolate-jalapeno baked beans, arugula salad, shaved celery, and pickled radish. It's the kind of dish that's difficult to do right under the kind of conditions Dinner Club did that night (remote from a kitchen), but the meat slid off the bone, and was sweet with sarsaparilla.
Dessert was a sumptuous Faygo Rock N' Rye cake and ice cream sundae. It was remarkable enough that Dinner Club was able to take a slice of cake, stand it up, perch a scoop of ice cream atop it perfectly, dollop it with whipped cream, and serve it in such a way that it held together while you ate it. But it was also a very tasty, chocolatey cake indeed. If there was Faygo in there, we didn't notice or care.
No fixed plans on what Baldridge and Coumoundouros will come up with next, but we did hear Baldridge say they're considering a Better Made-based pop-up. Sounds like a good opportunity to go for that festive casserole with the crushed chip topping. That'd be sure to get people smiling.