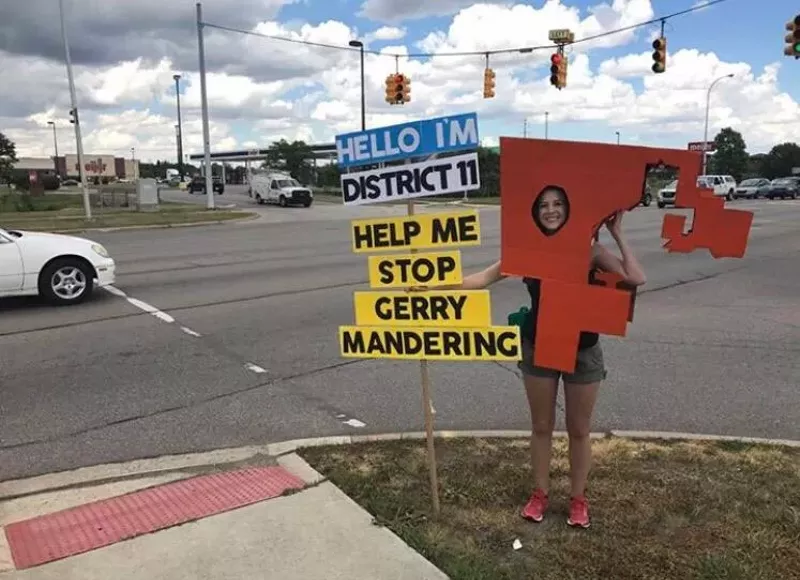 Voters Not Politicians is
working to gather 316,000 signatures
needed to put a proposal on the November 2018 ballot that the group says will end gerrymandering of electoral districts,
if it's approved
.
The non-partisan, non-profit group is proposing amending Michigan's state constitution to establish a 13-member citizens' commission made up of five independent voters and four each from the two major parties.
It has 180 days from Aug. 17 to collect the signatures, and well-attended festival and weekend events are excellent places to gather large numbers of them in a short time.
Below is the list of locations where you can find Voters Not Politicians volunteers collecting signatures. Exact locations and times where/when volunteers will be at events are not always available, so keep your eyes peeled for them. In some cases, volunteers will be outside or the near the entrance of the event instead of inside it. For example, volunteers will be near the entrance of the University of Michigan football game, but not in the stadium.
Check the website for times, maps, and other details.
To volunteer check
this site
for details.
Friday Sept. 8
Rochester: Art and Apples (multiple locations outside the entrances)
Plymouth: Fall Festival at Kellogg Park
Chelsea: The New Chelsea Market
Dixboro: Dixboro Farmers' Market
Grand Rapids: Downtown Bike Party at Rosa Parks Circle
Grand Rapids: Movies in the Park Heartside Park
Grand Rapids: Women & Leadership Conference, First Conference of US Women Governors L.V. Eberhard Center on GVSU's Pew Campus
Remus: Wheatland Music Festival on Pierce Road
Jackson: Grand River Farmers' Market
Allendale Township: Grand Valley State University Carillon Tower (near Cook-Dewitt Center)
Battle Creek: Battle Creek Books
Flint: Bikes on the Bricks Downtown Flint (Saginaw & Kearsley)
Allegan: Allegan County Fair at the Allegan County Fairgrounds
Kalamazoo: Lunchtime Live in Bronson Park
Manistee: Ramsdell Inn
Saturday Sept. 9
Detroit: Dally in the Alley
Detroit: Eastern Market
Rochester: Art & Apples (Multiple locations)
Ann Arbor: Ann Arbor Farmers' Market
Ann Arbor: Zingerman's Deli
Ann Arbor: Grey Panthers Petition Drive at U-M's Turner Geriatric Center
Ann Arbor: Second City at The Ark
Ann Arbor: U-M Museum of Art After Hours
Ann Arbor: U-M Musical Society concert season opener at Downtown Home & Garden
Ann Arbor: Michigan Wolverines vs. Cincinnati Bearcats (football) at Michigan Stadium
Ypsilanti: Tour de Fresh at Cultivate Coffee
Chelsea: The New Chelsea Market
Dexter: Dexter Farmers' Market
Saline: Saline Farmers' Market
Plymouth: Fall Festival in Kellogg Park
East Lansing: Michigan State Spartans vs. Western Michigan Broncos (football) at Spartan Stadium and in the tailgate lots.
Grass Lake Heritage Days on Michigan Avenue between Whistlestop Park Depot and Coe House Museum
Kalamazoo: Kalamazoo Farmers' Market
Rockford: Art in the Park Garden Club Park in White Pine Trail State Park
Jackson: Grand River Farmers; Market
Sparta: Apple Fest in Rogers Park
Sparta: Gus Maker Tournament in Downtown Sparta
Walker: Last Chance BQ Marathon at Millennium Park
Brighton: Brighton Farmers Market Hyne Street (due to Jazz Festival)
Remus: Wheatland Music Festival Pierce Road
Owosso: Owosso Farmers' Market
Owosso: Baker College Challenge 5K in Collamer Park
Grand Rapids: Fulton Street Farmers' Market
Grand Rapids: Eastown Streetfair Eastown Grand Rapids
Jackson: Grand River Farmers Market
Chase: Pickle Festival at the Chase Public Library
Holland: Holland Farmers' Market
Holland: Downtown Holland (intersections on 8th Street)
Battle Creek: Battle Creek Books
Grass Lake: Grass Lake Heritage Days in downtown Grass Lake
Allegan: Allegan County Fair at the Allegan County Fairgrounds
Sunday Sept. 10
Detroit: Eastern Market
Rochester: Art & Apples (multiple locations)
Ann Arbor: Kerrytown Bookfest at the Ann Arbor Farmers' Market
Chelsea: The New Chelsea Market
Grand Blanc: Grand Blanc Farmers' Market
Grand Rapids: Vintage Pop Up Sale Downtown Market
Sparta: Apple Fest Rogers Park
Sparta: Gus Maker Downtown Sparta
Howell: Howell Farmers Market
Remus: Wheatland Music Festival Pierce Road
(University & Walnut) University & Walnut Rochester
Greenmead Flea Market Greenmead Historical Village Livonia
Allegan: Allegan County Fair at the Allegan County Fairgrounds
Flint: Bikes on the Bricks Downtown Flint (Saginaw & Kearsley)
Owosso: Community Players, "9 to 5: The Musical" Lebowsky Center
Monday Sept. 11
Battle Creek: Battle Creek Books
Allegan: Allegan County Fair
Chelsea: The New Chelsea Market
Tuesday Sept. 12
Ypsilanti: Ypsilanti Farmers Market Ypsilanti Farmers Market
Battle Creek: Battle Creek Books
Chelsea: The New Chelsea Market
Allegan: Allegan County Fair at the Allegan County Fairgrounds
Wednesday Sept. 13


Battle Creek: Battle Creek Books
Chelsea: The New Chelsea Market
Allegan: Allegan County Fair at the Allegan County Fairgrounds
Bay City: Redistricting Reform Town Hall at the State Theater
Thursday Sept. 14


Battle Creek: Battle Creek Books
Chelsea: The New Chelsea Market
Allegan: Allegan County Fair Allegan County Fairgrounds
Harrison Township: Metro Boat Show at Lake St. Clair Metropark