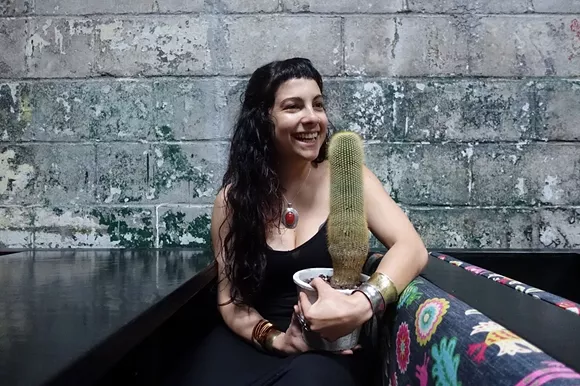 Set foot into Katoi on any given night and you'll immediately be hit by a frenetic energy. It's in the crowds who linger in the bar's tight quarters while they wait to be seated. It's in the mashup of psychedelic lighting, its eclectic playlist, and funky décor in the dining room. And if you've ever met Courtney Henriette, who makes up one-third of the popular northern Thai restaurant's ownership, you'll feel it the moment she greets you.
Somehow, whether she's making her rounds to say hello to regulars on a busy Friday or meeting up bright and early for a cup of coffee (she's got a weakness for milk lattes from Astro), Henriette contains a burst of vitality.
That exuberance has served her well. In the two-plus years that Henriette (an event coordinator by trade) has worked with partners chef Brad Greenhill and Phil Kafka, she's helped grow the concept from the occasional food truck parked outside of Two James Distillery, to one of the most critically-acclaimed eateries to open this year.
We had to ask, what keeps Henriette balanced? How does she sustain? Some of her answers reveal her secrets to success.
Metro Times: What is one thing people don't know about you that you wish they did?
Courtney Henriette: I enjoy intensely dark chocolate and nut milk lattes from Astro and am super appreciative when people bring these things to me.
Also, I am not married to the chef. When you are a female and a partner in a business with two men, so many people assume you are married to one of them.
MT: What daily ritual is non-negotiable for you?
Henriette: I write every morning. If I do not, I cannot think. At Katoi, we light sage everyday to protect ourselves from the heaviness some people carry into restaurants.
MT: If you could have any superpower, what would it be?
Henriette: I wish I could talk to the dead.
MT: What is the most positive thing in food or drink that you've noticed in Detroit over the past year?
Henriette: Last week Emily Staugaitis showed me the hidden Bangladeshi gardens of Hamtramck and her friend invited us into her home to feed us one of the most delicious meals I've had in forever.
MT: Who is your Detroit food crush?
Henriette: I am in love with the work Trevor Naud (especially Blues Build the Temple) and the records my friend Vinnie Massimino puts out on his label Chambray and Chris Koltay is making magic in his studio down the street—he is always sending the dearest and most talented musicians into Katoi (like my friend Graham A Parsons). The fact that these people, who I admire, bring their energy into a space that is sacred to me, and I have the opportunity to shape an experience for them—this is AWE INSPIRING. Great food arises from great crushes!
MT: Who's the one person to watch right now in the Detroit dining scene?
Henriette: Takeamegabite (on Instagram) AKA Megan DeKok. She's Internet famous, carries sprinkles in her handbag, AND runs social media for Kotex (I have never been so excited about tampons!).
MT: Which ingredient is most representative of your personality?
Henriette: This is the type of question someone else is supposed to answer for you. Which ingredient do you think is most representative of my personality?
MT: I suspect you would be ginseng for your ability to make others feel at ease and your abundance of energy.
MT: If you weren't working in the restaurant business, what would you be doing?
Henriette: I would be reading and writing and bringing people together over food—and since life is as good as you make it, I get to do these things! Maybe I would learn another language or climb a giant mountain? Probably not. Perhaps I will climb a mountain one day.
MT: Name an ingredient never allowed in your kitchen.
Henriette: Me! Chef Brad and I have an arrangement: he makes the food and I run wild.
MT: What is your after-work hangout?
Henriette: My bed where I read books, light incense, and talk to my dogs.
MT: What's your food or beverage guilty pleasure?
Henriette: No guilt.
MT: What would be your last meal on earth?
Henriette: Papaya salad made by Chef Brad. Not because he's the only person capable of making a perfect papaya salad but because I want my last meal to be infused with the energy of someone I love. And the mouth-burn feeling might help diminish impending death anxiety.
See also:
Side Dish: Inside the scatter-brained mind of Flowers of Vietnam's George Azar
See also:
Chicago's Ed Sura watch Detroit's growing food scene in awe