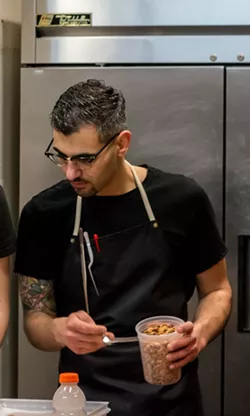 Getting a hold of chef George Azar, the guy behind Southwest Detroit's popular Flowers of Vietnam, means text messages that come in well past midnight. It's not that he's been out partying all night, it's more that his mind is usually still racing well after he closes shop at his (as-of- now) weekend-only eatery.
How did service go? Did it seem like I was ignoring that regular at the counter? When will we finally be open for service daily? What can I do, as a chef, to improve community-police relations? You know, typical chef stuff.
It's part of a restlessness that started years ago as a culinary student at Schoolcraft College, and then during stints at Forest Grill (now simply Forest) and the Detroit Athletic Club, among other places. It's what pushed him to move away from Detroit to work for Bouchon in Las Vegas, under the acclaimed Alinea Group in Chicago, and as a personal chef for a player with the NBA's Charlotte Bobcats. Most recently, it's what motivated him to open Flowers of Vietnam under the careful mentorship of Paul Saginaw, co-founder of the Zingerman's empire.
Since opening his concept, a take on Vietnamese cuisine, we've been able to see inside the mind of a restaurateur in the making. Sometimes he's met with setbacks, like his search to fund an ambitious remodel of the Vernor Coney Island where Flowers now resides. Other times his work is met with resounding praise: Azar's eatery has been written up in national publications and he's had the chance to work as a fixer for Anthony Bourdain. Through it all, Azar, 27, has been slowly-but- surely building a brand in his old neighborhood, a place he predicts is on the precipice of a business boom.
Metro Times: What are a few things people don't know about you that you wish they did?
George Azar: I am on mission to not eat like a pre-teen every day and I'm socially awkward as shit with the attention span of a 6-year- old. I am not ignoring anyone at the counter during service, I am just not capable of having a conversation without sounding like an idiot while keeping track of the flow of service. I am also blind out of my left eye, so concentrating on not
stabbing myself is high on the priority list.
MT: What daily ritual is non-negotiable for you?
Azar: Spliffs and meditation in tangent.
MT: If you could have any superpower, what would it be?
Azar: Hit people with self-generated and sustainable love bombs at any moment to force them to hug and be nice.
MT: What is the most positive thing in food or drink that you've noticed in Detroit over the past year?
Azar: National respect.

MT: Who is your Detroit food crush?
Azar: My sous chef Andy Nguyen. He's never cooked professionally and has become the back bone at [Flowers of Vietnam], getting shit [done] on less and less by the day. Watching him grow exponentially and respect every operating procedure, that many deem unnecessary or zealous, is a special thing. A lot of people wouldn't have risked an extremely important position in their kitchen by committing to someone without a lick of industry experience. We have a very long road ahead still, but so far he's becoming the poster boy of sous chefs and its one of the better decisions I've made since I started Flowers of Vietnam.
MT: Who's the one person to watch right now in the Detroit dining scene?
Azar: My whole 'hood is about to be on the come up.
MT: Which ingredient is most representative of your personality?
Azar: Buddha's hands … weird looking and misunderstood, but at least it smells delicious.
MT: If you weren't working in the restaurant business, what would you be doing?
Azar: Getting my masters at Parsons for trans-disciplinary design.
MT: Name an ingredient never allowed in your kitchen.
Azar: Fake fish sauce, shitty fuck boy attitudes that are lazy and mean to the environment. Yes, I know that was two things.

MT: What is your after-work hangout?
Azar: I usually let the texts I get during service dictate that.

MT: What's your food or beverage guilty pleasure?
Azar: Well done Hot-N- Ready from Little Caesars and Faygo 60/40.

MT: What would be your last meal on earth?
Azar: It doesn't matter what it is as long as I'm sharing it with the people that believed in me genuinely since day one without proving my worth first, or expecting anything in return.