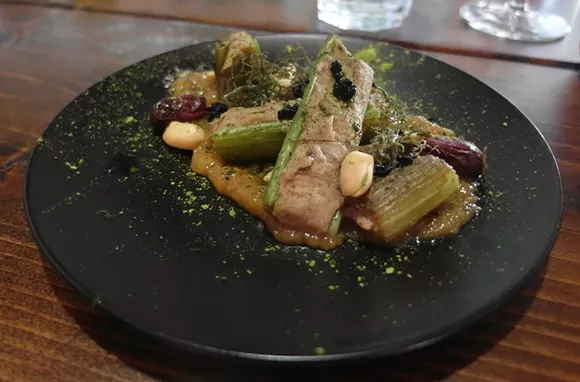 From a humble pie stand in Ferndale, to Hamtramck acclaim, a reality show competition, and months of preparation, Rock City Eatery has finally confirmed a Sept. 8 opening date for its Midtown location.
Last touches on the new space and staff training are taking place ahead of the Midtown launch.
The move is a long time coming for proprietors Nikita Sanches and Jessica Imbronone Sanches. Nikita Sanches started his venture, Rock City Pies, at the Rust Belt Market in Ferndale and went on to expand to a full-scale restaurant with Rock City Eatery in 2013 in Hamtramck. He and Imbronone Sanches (the duo married this year) also had a favorable experience on CNBC reality show Restaurant Startup.
From almost the start of the restaurant's opening, it was clear to the pair that more kitchen space would be needed. The new spot, a 3,600-square-foot space that used to house Bangkok Express at 4216 Woodward, has just that.
With that, more room for Sanches' menu of inventive, chef-driven comfort food to evolve. During a May preview dinner, he rolled out several unusual items, including a bone marrow pate, a scallion pancakes and duck sausage plate, and the adventurous Ants on a Log, featuring pickled celery topped with peanut butter and foraged ants. Another twist, pizza pies, as well as favorites like the mac 'n cheese.
Guests can also expect RCE to step up its already solid bar offerings. Serving as beverage director is Elizabeth Cosby, who most recently worked at the popular The Last Word speakeasy in Ann Arbor.
Fans still have time to stop by the Hamtown location, at 11411 Jos Campau. A final dinner service there is Aug. 27, with extended hours (opening an hour earlier at 3 p.m. and closing the kitchen an hour later at 11 p.m.). Reservations are recommended and can be made by calling 248-633-3072.