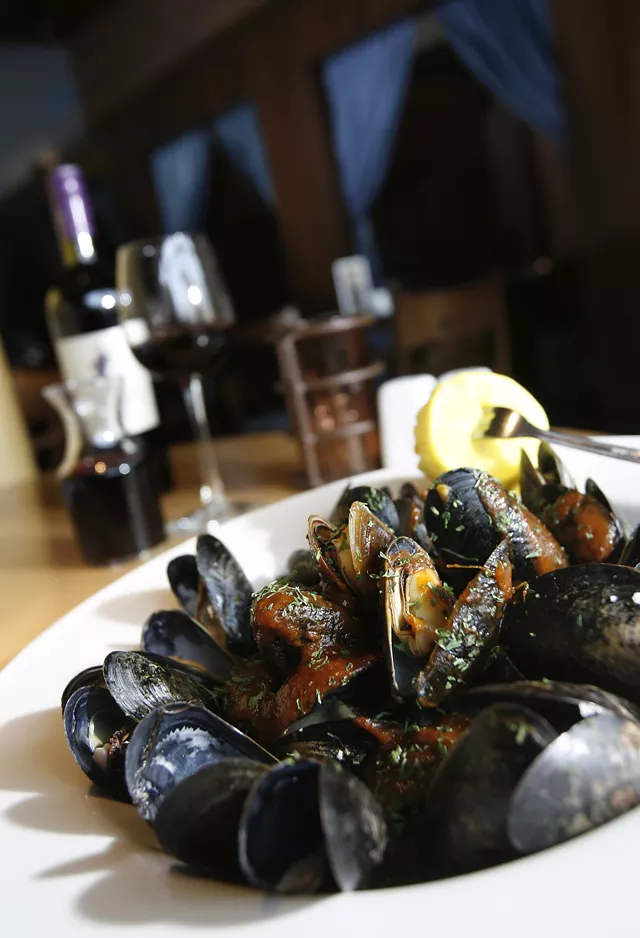 Detroit Seafood Market
1435 Randolph St., Detroit
313-962-4180
The Detroit Seafood Market is formerly Frank Taylor's Detroit Fish Market (and before that Intermezzo, and before that a warehouse), a lovely space with a menu of hits and misses. Live music on weekends and the Paradise Valley Lounge, with its "imperial bar" — where scores of cases of Patron tequila are consumed — are designed to appeal to folks looking for pleasures beyond just the culinary.
Attracting a clientele that varies with what shows are on downtown, the menu runs the gamut from fish-and-chips and catfish with coleslaw to scallops and lobster. It's now owned by Taylor's former silent partner Kenny Akinwale, for 20 years a V.P. at Aramark, purveyor of foodstuffs to many a stadium, hospital and school cafeteria.
The market staff is noticeably attentive. A basket of warm soft rolls with excellent herb butter is brought right away. A manager bused our table on a busy Saturday night, checked on us many times, answered questions about the music and even sat down with us in our curvy high-backed booth. I wasn't thrilled with a waiter, who, when asked his entrée suggestions, reeled off all the most expensive items on the menu. But another night, a waiter's unsolicited suggestion brought a tantalizing glass of grapefruit-tinged Sauvignon Blanc from Whitehaven in New Zealand.
On Fridays and Saturdays the market features live piano music — often by Alina Morr of Straight Ahead — and Sunday brunch usually includes a saxophonist. The high ceiling boasts a mural of fish flying through the clouds.
One of our favorite dishes was an appetizer of ahi tuna, served rare as ordered, with a hot jalapeno aioli to cut the rich fish. It came with an excellent cool slaw flavored with sesame and poppy seeds. Ahi was also good as a generous entrée with a citrusy Thai chili sauce. (Sadly, last year ahi, or yellowfin, joined bluefin tuna on Greenpeace's list of fish that "have a very high risk of being sourced from unsustainable fisheries.")
Another appetizer provoked debate: Was the "sinful sogginess" of the calamari made up for by its pleasant spicy Italian coating (tomatoes, onions, red peppers)? Whether or not, we scarfed it all. A shrimp bisque got lower marks: starchy, somewhat salty, not too shrimpy.
Chef Leonardo Vulagi's highly anticipated signature starter, lobster mac and cheese at $11.95 for two, we found disappointing — good enough for mild mac and cheese, but where was the lobster? It's an oxymoronic-sounding dish that, according to a Bon Appetit recipe I later found, includes cognac, shrimp, crab and a lot of work.
A large chilled shellfish salad was a winner and a bargain at $11.95, with fresh-tasting crab and shrimp and greens in a lemon-basil vinaigrette.
Some entrées from the long list of 40 were ho-hum. A very creamy shrimp fettuccine was like taking a milk bath — just creamy. Crabcakes had the right tender interior and crisp shell but didn't make it into the crabcake pantheon; their Dijon sauce lacked character.
Another night I tried a Florida snapper with crab, panko and tomato concasse (chopped tomatoes), which could have been a gilded lily but wasn't, as none of the ingredients really shone. It came with some implausibly good buttered spinach.
Going the other direction, my companion ordered Chilean sea bass just char-grilled and plain, and was satisfied. It also had a vibrant vegetable accompaniment, thin-sliced carrots, zucchini and squash.
The market is the kind of seafood restaurant where the lemon halves that accompany your entrée come with miniature net shower caps, to keep the lemon seeds from tumbling into your food. I expect this is the kind of thing where one restaurant started it, and pretty soon they all felt they had to do it, lest patrons think them negligent. Count me as one who's OK with naked lemons — and who doesn't need her hotel room toilet paper folded into a V.
You can order from the market's full restaurant menu in the 150-seat Paradise Valley Lounge, as well as $3 appetizers, such as calamari and catfish fingers, from 5 to 7 p.m. It's host to various types of music chosen by different promoters each night, with younger crowds on the weekend.
Restaurant hours are Monday through Thursday 11:30 a.m. to 10 p.m. and Friday-Saturday 11:30 a.m. to midnight. PV Lounge hours are Sunday through Thursday 4 p.m. to midnight and Friday-Saturday 4 p.m. to 2 a.m.