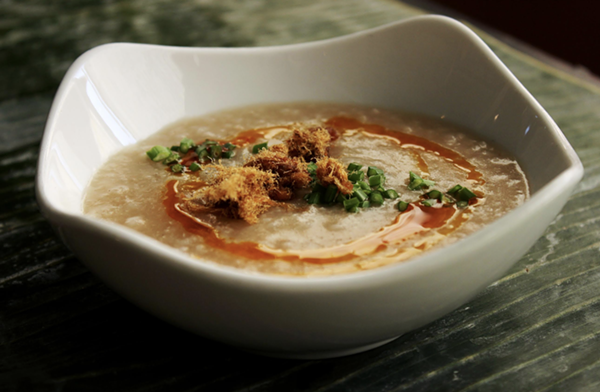 Sarap's Dorothy Hernandez and Jake Williams are two of Detroit's only chefs offering a chance for Michiganders to taste Filipino cuisine locally, and it's always a treat.
The pair return this month with a collaboration with Seattle chef Garrett Doherty from the popular restaurant, Kraken Congee. Via release, Hernandez says that the restaurant is "known for their take on the beloved southeast Asian dish 'congee' with different haute cuisine elements from duck confit and Spanish bistec to award-winning pork belly adobo and beyond."
The three have previously partnered on pop ups in Detroit and Seattle, and the continuation of the friendship - also Sarap's third anniversary - is set for Monday, July 24 at Supino's.
"Collaboration has been a hallmark of our work at Sarap, and we can't think of a more perfect way to mark our third anniversary than with our good friend Garrett at the place where it all began: Supino Pizzeria," Hernandez says.
COURSE 1
Ensaladang Talong with Grilled Octopus (eggplant, pickled green papaya, tomatoes, red onion, grilled octopus marinated in annatto-chili- garlic oil, and salted egg dressing.)
COURSE 2
Thai Red Curry and Crab Fat Congee (soft shell crab, baby bok choy, hearts of palm, peanut fried garlic, Thai basil, and calamansi aioli.)
COURSE 3
Kare Kare (braised lamb shank, Chinese long bean, Chinese eggplant, and heirloom rice.)
COURSE 4
Bistek (Flank steak marinated in soy-calamansi, cilantro chimichurri, onions three ways, fried, pickled, and caramelized)
COURSE 5
Sans Rival (meringue, buttercream, cashew, toasted coconut, and mango sorbet.)
Tickets are $50 and can be purchased from
sarapdetroit.com
. Seating is limited.