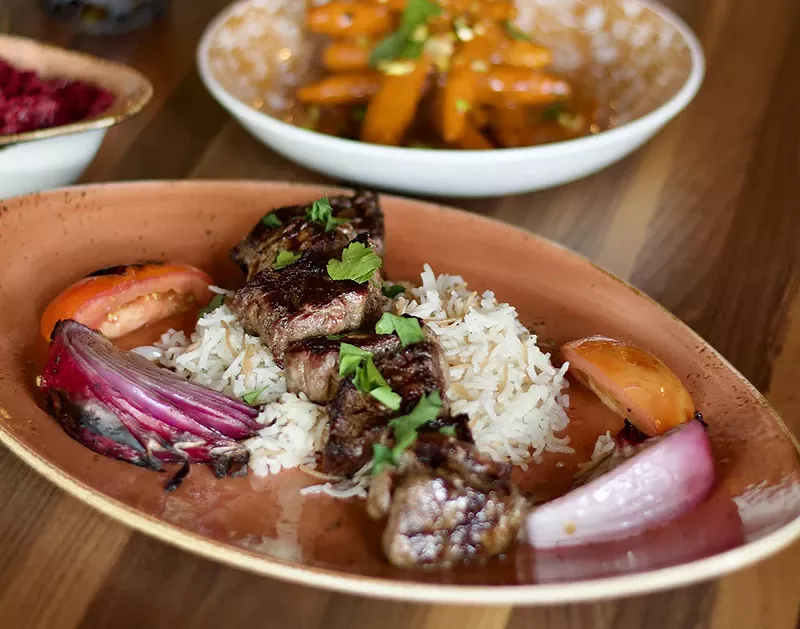 Bohemia, which since May has operated in the same Royal Oak building and under the same ownership as Pearl's Deep Dive and Pinky's Rooftop, is a riot of décor, with lots of greenery, a brass swan, a shelf-full of eclectic rhinos, Thai wood carvings covering one wall, and a vertiginous tower of black-and-white squares. Among all this more-is-more, it seems an afterthought that the cuisine would lean Israeli. The name, according to owner Adam Merkel of Adam Merkel Restaurants, refers to "an era where anything goes."
That said, the menu has a mostly Middle Eastern feel, though it includes pork ribs. The two items least likely to be found elsewhere, in Lebanese or other Arab restaurants — at least under those names — are salatim and laffa.
Salatim is an excellent way to start your meal, an Israeli custom of putting out a generous assortment of simple starters. At Bohemia, choose three or six from kale apple tabbouleh, beet tahina, tzatziki, muhammara, labneh, and Moroccan carrots. My favorite was the muhammara, a smoky dip of walnut and roasted red peppers. The beets are intense and the excellent carrots are firm and cumin-y, one of the best preparations for carrots. Beside these, the fresh tabbouleh, plain labneh, and savory tzatziki are good counterpoints and resting places.
Laffa is a bread originated by Iraqi Jews who then emigrated to Israel, cooked in a wood- or coal-fired oven. It ferments longer than pita, it's thicker and chewier, it doesn't have a pocket, and I would say it's a bit more interesting (unless your pita is coming warm straight from the oven). Bohemia dresses its laffa with olive oil and za'atar, and it's terrific for scooping the salatim.
The rest of the menu is a list of mezze — some of which are big enough for an entrée — kabobs, and three higher-priced mains (branzino, lamb chops, and a whole fish of the day).
I liked most of Bohemia's dishes. The baby arugula salad was a standout, with pistachios, wedges of blood orange, goat cheese, and some scattered dates. Likewise a huge plate of fried cauliflower, just tender enough and enlivened with mint labneh, chiles, raisins, and pine nuts. Ribeye kabobs were whole chunks of beef, charred perfectly and served medium rare as requested. They went well with Israeli potatoes — a big plate of skins-on shards, with mint, basil, lots of pistachios, and date syrup, the latter surprisingly unsweet. But $13 is a lot for potatoes.
Lamb kafta kabobs too were well spiced, and roasted eggplant dip, what we usually know as baba ghanouj, was garlicky and dressed up with labneh, pomegranate pips, balsamic glaze, and pine nuts. I'm a big fan of baba ghanouj, and the eggplant shone through less than usual in this version, but the other flavors and crunches made up for it.
Halloumi was buttery, and rubbery as usual, enhanced with berries and apples. Scallop ceviche (another perennial favorite of mine) was less successful, too smothered with lemon and pickled carrots. Dry rubbed ribs could have been more tender, but their sauce, which tasted of pomegranate, was interesting. Chicken kabobs, though they had a good charred flavor, were just too dry and tough. A carrot mezze, on the other hand, needed more cooking. We want them firm, but not absolutely crunchy. (See the cauliflower mezze for how to do this right.)
The most disappointing dish — though I should have known — was a huge pasta mezze called chicken sugo. I knew "sugo" was Italian for sauce, but I looked it up when I got home: "a basic red sauce," and not interesting, despite feta and olives. I'd ordered it for the charred lemons but saw no sign of them. You don't order pasta in a Middle Eastern restaurant, lesson learned once more.
For dessert only carrot cake was on offer one night, and it was OK, with large nuts and a cloud of whipped cream cheese frosting, more of a spice cake than a carrot cake.
Bohemia has a short list of beers and wines by the glass and a long reserve list of wine by the bottle. I tried the Dancing Raspberries cocktail because the server said it was made with dry ice, besides St. Germain and Prosecco. I remembered too late that I don't really like St. Germain, the elderflower liqueur, but plenty of people do, and it's fun to watch the clouds of fog in your glass, which last quite a while.
A friend ordered the Train to Marrakesh because it includes mezcal; to me mezcal still tastes like gasoline, despite years of annual visits to Oaxaca, where it's as ubiquitous as water. In any case, the taste of the mezcal was overshadowed by the juice of prickly pear (nopal) and plenty of agave: pink and sweet. The bar makes all purées and juices for its drinks from scratch.
Coming soon: Metro Times Daily newsletter. We'll send you a handful of interesting Detroit stories every morning. Subscribe now to not miss a thing.

Follow us: Google News | NewsBreak | Reddit | Instagram | Facebook | Twitter