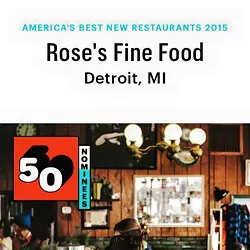 Rose's Fine Fine Food is known to most of us in Detroit as a socially-conscious establishment that treats its workers with dignity and offers an interesting take your classic diner food. Bon Appetit, considered the standard for food writing, seems to dig that ethos, as the the spot on East Jefferson was among 50 restaurants nominated across the country for the best new restaurants of 2015.
The Freep's Sylvia Rector caught up with co-owner Lucy Carnaghi this morning, apparently the first to break the good fortune to her. "Are you kidding? This is brand-new information! They didn't tell us! OMG, whoa!! Oh man!" she told the paper. "I just walked in to work. I had no idea!"
The editors at Bon Apetit recommend Rose's "crybaby," a baked potato glazed doughnut. As for what the publication said about the place's commitment to its workers: "We love: the owners' commitment to paying employees a living wage; tips are distributed evenly among the staff.
Finalists will be selected from this initial list of 50 on Aug. 18 for the magazine's Hot 10: America's Best New Restaurants of 2015," and will also be featured in the September issue.