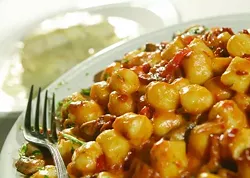 Roman Village
9924 Dix Ave., Dearborn
313-842-2100
Perhaps there's no food as misunderstood in metro Detroit as Italian fare. Truth is, many cuisines have sprung up around that footwear-shaped peninsula, each expressing the local sensibilites of the individual kingdoms that were united into what we call "Italy" about 150 years ago. Combine that to the vast number of immigrants who made their way to America last century and were predominantly from one region — southern Italy. Then consider that most of these new arrivals were essentially poor European hillbillies who, confronted with the bounty of their adopted country, gradually used more and more red meat as proof of their newfound prosperity.
And so, unintentionally, we end up maligning Italian food unfairly, thinking of it as "spaghetti and meatballs" or, worse still, "Italianese" hallucinations such as "steak Gorgonzola Alfredo," dreamed up by some corporate chain.
Unlike other cuisines, Italian-American fare is relentlessly "kicked up" for the next generation — always "zestier," "richer" and more "robusto." These dining trends have almost completely eclipsed what is great about Italian food: A multitude of cuisines stressing fresh ingredients, simple preparations, conviviality and a relaxed pace of eating, much like all Mediterranean diets.
Thankfully, there are outposts of real Italian food that haven't knuckled under to those trends, among them Dearborn's Roman Village. Tucked away in the middle of nowhere (men bringing dates may want to offer reassurance during the drive), this little joint offers a lot of flavor and does it without deranging the basics.
Diners have a choice of two different settings, a high-key dining area with tables and booths, or a darker, more atmospheric space with a bar. Service was prompt, although they waited until we ordered to bring out the bread. (Then again, the bread is so good that perhaps it was best to make us wait a bit, lest we demolish our appetites!)
For starters, our group of three healthy, hungry males got a large antipasto salad ($12.95). If we had to order again, we would most certainly get the medium ($8.95). Between the bread and the generous salad, which had olives, fresh wedges of red tomato, cucumber, romaine and rolled-up cuts of cheese and lunchmeat, we were going to need some drinks to keep up with this meal.
The soups were excellent. I enjoyed the minestrone, with beans so soft they burst under tongue pressure, and got a taste of the crowded pasta fagioli. My co-diner was unimpressed with his chicken pastina and passed it on to me; I'm hugely grateful he did. It was just like grandma's: a humble peasant soup with a light broth, bits of chewy pasta, and just a square of carrot and onion for garnish. We were transported back to nona's kitchen, a place in our memory always redolent of basil and fresh tomatoes.
By the time the entrées arrived, we needed a glass of wine to relax the stomach, and our server recommended an inexpensive Pinot Grigio. One co-diner, who would normally order lasagna, instead settled on a mostaccioli casseruola: a dish of meatballs, mushrooms and tomato sauce baked with mozzarella cheese on top. It was declared excellent.
Another member of our party ordered angel hair marinara with meatballs, which were brought separately in their own meat sauce, a nod to northern Italian presentation that is not commonplace in many of Detroit's Italian eateries.
We were brought a linguine Delmar, which united seafood and tomato sauce in excellent proportion to what must have been freshly made linguine noodles. Here, the ocean proteins came swimming in sauce, with shrimp that were perfectly prepared (sans tail), flavorful medium-size scallops cooked just right, and bits of whitefish that flaked apart wonderfully; what didn't make your mouth in one bite added complexity to the sauce.
Our now-groaning party was asked whether we would like to see the dessert tray. Half-joking, we said yes. But when it came, offering cheesecake, profiterole and more, we settled on a tiramisu, a chocolate tort and a large cannoli, with three espressos.
The tiramisu was eaten, without comment, by one now-sleepy diner; the chocolate tort, which our server said was flown in from New York, satisfied another. But as we bit into our large cannoli, covered in miniature chocolate chips, we knew this was the real thing.
Unlike cannolis that wait for days in a pasticceria, this was fresh, likely made at the restaurant that morning, given the way the shank shattered when bitten into. With a dram of espresso, this was the perfect dessert.
It can be pricey, yes, but there are usually some deals (half-off for the second pasta entrée on the same bill the night we dined there), and there is also an affordable menu of pizzas or even subs for the penurious. But for a region that's suffering from a bit of "Italian fatigue," it's a real treat to go out and eat the authentic cuisine that originally inspired our love affair with Italy — la cosa reale.
Michael Jackman is half-Italian. Send comments to [email protected]