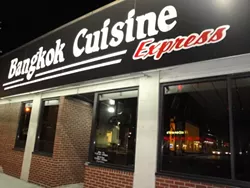 Over the next few months Rock City Eatery will be relocating from its current Hamtramck home to join Midtown's bustling dining scene, a move that's been a long time coming for the owners. RCE's Nikita Sanches and Jessica Imbronone tell us they will move the spot from its current 1,600-square-foot space on Joseph Campau in Hamtramck to a 3,600-square-foot property, formerly Bangkok Cuisine Express at 4216 Woodward.
The couple says renovation work on the new space has not yet begun, but they expect to make the move in February. In the meantime, the Hamtramck location will remain open, and RCE's sister spot, burger joint Campau Tower, will remain open for the foreseeable future, for lunch and late-night service.
"Hamtramck has embraced us and welcomed us, but this is just the next logical step for us," Sanches tells us.
Sanches says that even before opening shop in Hamtramck, he and fiancee Imbronone had been looking to launch in Detroit, but that they couldn't find the right fit. When they came upon the Hamtramck location, formerly Maria's Comida, it made sense. But quarters have been tight there, especially in the kitchen, equipped with only 10 burners.

"It will be nice to have normally functioning space, not having to try to piece together through everything because there are obstacles in every process of preparing a dish," he says.

The couple have been searching far and wide for the perfect kitchen to call home. They considered a property in Hamtramck, a former L. George's Coney Island across the street from their current digs. But the owner wanted $500K, Sanches said. They also went through a months-long negotiation with Dan Gilbert's real estate arm to move downtown. But in the end, that didn't feel right either.

"So many hurdles kept presenting themselves, and then this came through and it was just a very clean transition," Imbronone says.

The new location is currently right in the cross-fire of M-1 construction, which has hurt business for other restaurants along Woodward. The couple is confident though by the time they make the move, road crews will have moved on to another leg of the rail project.

As for the Hamtramck location, Sanches says he doesn't want to leave Hamtramck's up-and-coming dining scene hanging and wants to help fill the space. "I'm looking to into get someone hungry and cool to open a restaurant."