(Find a a gallery of photos from Neehee's here.)

You might think of "street food" as something not just obtained on the street but easily eatable on the street: like a hot dog you can scarf without the benefit of utensils.
But in India, street food doesn't mean simple. According to Neehee's manager Jac Hilgendorf, street food can be just as complicated to prepare as anything you order in a restaurant, and you'll certainly need a fork. "The labor it takes to make all those kinds of food from scratch," he marvels. "They grind their own lentil flour and chickpea flour and make their own ice creams."
So at Neehee's Indian Vegetarian Street Food, be prepared for dishes with more visible ingredients than you're used to seeing at an Indian restaurant, creating a riot of shapes, colors, textures, and tastes in one dish. I can't claim to be an expert, having sampled only a tenth of the 150 dishes offered by the Patel brothers, Rikesh and Vrijesh, and their wives, Dipali and Krishna. But I can say that it is well worth the labor of browsing through pages and pages on the menu.
Guests order at a counter at the open kitchen. To avoid holding up the line, you can take a looseleaf binder full of pictures of treats to one of the tables in the vast, bright, noisy room, which seats 150. (You might associate "street food" with maybe a little dirt, but everything about Neehee's is designed to dispel that notion; there's no dim corner where a speck could hide.)
The binder is broken down into categories: chaats, Indo-Chinese dishes, pakodas, dosas, and South Indian. Go to the Neehee's website first to get a feel, but note that it is written for folks who already know what "kachori" and "bhel" mean.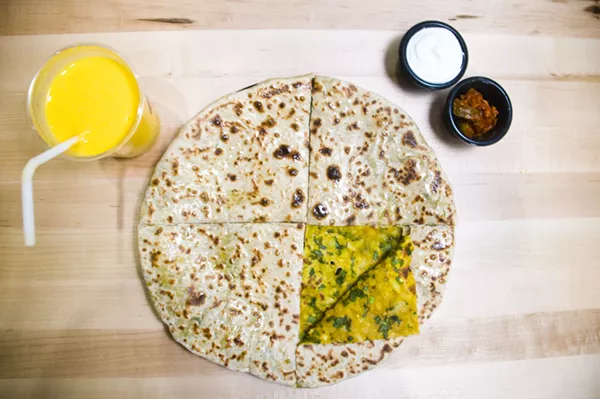 Chaat is an expandable term for a broad array of dishes; the Patels offer 35. They start with a starchy base such as potato cutlets, papdi (deep-fried flour crackers), puris, or even smashed samosas; pile on onions, chutneys, yogurt, potatoes, and diced tomatoes; add crunchy bits like sev — fried chickpea-flour noodles — and apply a spice blend called chaat masala. The result is crunchy and smooth, spicy and cool, bland and umami-ful, tart and fresh, all at once. If you're not getting four or five sensations in each bite, your forkful is too small.
Of the chaats, we loved Ragda Kachori, which was four cylindrical fried wheat-flour shells filled with chutneys and ragda (spiced white peas), easily enough for two. Even better was Raj Kachori, the "king of kachoris," which is served cold. You break into the crisp shell of a puffed puri that's filled with potato chunks, bhalla (croquettes of green bean paste), mung beans, chutneys, yogurt, sev, and, need I add, spices. Lots of layers.
Indo-Chinese, as the name implies, is Chinese food heavily adapted (as we have perpetrated on Chinese food here). In the original, small Neehee's in Canton, a poster warned that these dishes "correspond loosely, if at all, with authentic Chinese food preparation." Nonetheless, we loved a greasy "paneer, corn, and garlic" skinny-noodle comfort dish, with burnt garlic chips, soy chili sauce, paneer (fresh cheese), scallions, tofu, cilantro, red onion, and tiny ears of baby corn. A perfect hangover dish, it had just enough kick to leave a tingle on your lips.
Vegetables Manchurian, balls of mixed, minced vegetables with ginger and garlic, was too spicy to be comforting, but hit other happy spots. Indo-Chinese eggplant in garlic sauce — which was my go-to food when in China — was disappointing, though, as the bits of eggplant were overwhelmed in quantity and flavor by a mostly-just-hot sauce. In Kung Pao Paneer, crisp paneer is mixed with cashews, peanuts, chilis, vegetables, and the Patel version of Sichuan spicing.
From South India comes a long list of idlis and dosas. A dosa here can be stuffed or topped with anything, from mozzarella to chop suey. I went for a plain masala dosa with just a potato filling and a couple of chutneys, and wished I'd gotten something fancier — that's how easily you're spoiled here. We loved the Vegetable Spring dosa wrap: hot, sweet, and minty.
Aloo paratha is unleavened dough stuffed with mashed potato and rolled out quite thin, then grilled. Comfort food! Large dollops of butter and excellent yogurt complete the dairy and starch fest.
Mango, rose, and sweet lassis are all excellent here — no chalky aftertaste. And for dessert, if you're not squeamish about textures, go with the falooda: a scoop of housemade ice cream (cardamom is the one to try) in bright-pink rose syrup. As you slurp through a wide straw, basil seeds and extra-long vermicelli rush up.
A negative about Neehee's (besides the lack of alcohol) is that your dishes aren't ready all at once, and you have to go to the counter to retrieve each one. That means continual alarms from a buzzer and continual trips back and forth till all are gathered. It takes a while to get settled in.
Also odd is that the Patels push sugar cane juice, touting its "medicinal properties ... to strengthen the stomach, kidneys, heart, eyes, and brain," but you don't have to order it.
The original Neehee's is at 45656 Ford Rd. in Canton.