Lady of the House takes itself seriously. Our server started out by telling us that the enterprise is all about building relationships. In this case, it's partnerships with farmers. Every bit of the plant or animal is to be used — if not on the table, then returned to the farmer as compost, or turned into fuel.
Those relationships are resulting in some mighty fine food. Just about everything from the kitchen of chef-owner Kate Williams, formerly of Rodin and Republic, is unusual and satisfying — and above all, titillating — in its combination of flavors.
So your steak tartare will come with roasted oyster aioli; duck confit will be dunked in beet soup; cauliflower will be served with peach preserves. It's all presented on pretty, mismatched plates — most of them flowery — that look like your Great-Aunt Hannah's.
The stainedglass windows salvaged from a 19th century church (that readers will remember from the building's previous tenants, Baile Corcaigh and St. CeCe's) are gone, and the dark oak paneling has been painted white. I thought we'd reached a consensus that you don't put paint on beautiful old wood. To brighten the space (which is dim, use your phone to read the menu), how about... electricity?
But I've long said that what I care about is the food, far more than any other restaurant attributes.
Like that roasted golden beet soup. It had me at the soup, which is multifaceted, in a sweet-then-heat sequence. Then you find the shredded duck within, which adds its own earthiness. And there's a slab of pine nut brittle just for fun.
All Williams' dishes are like that — a lot going on, all of it making a contribution. The menu presents them in order from smallest to largest, rather than segregating starters, salads, and mains. None of the dishes are what you'd call large, though, unless the $65 prime rib for two or the $68 whole roasted chicken fits that description.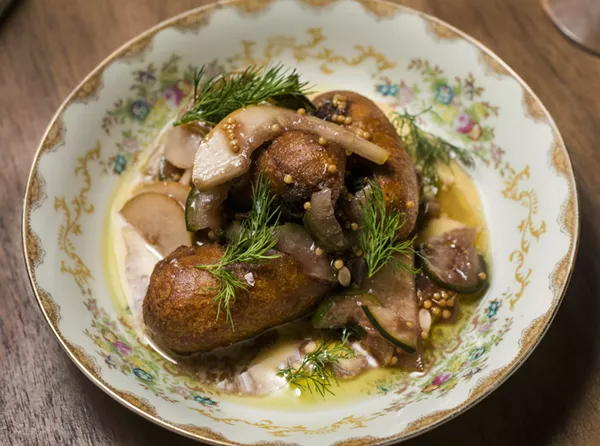 Dinner begins with a tiny cup of smooth Ceylon tea and some housemade sourdough crackers, heavy on the umami with their "mushroom notes." Everything is served family-style for sharing, though you may of course keep your dish to your own selfish self if you desire. If you order fish or meat that will come last, with the other dishes leading up to it.
As mentioned, I can't say enough about the beet soup. Likewise the carrots, slender morsels a world away from the brutish woodies you see at Kroger. They're well-roasted and served with hollandaise, sweet and rich.
Cauliflower is placed atop not just peach preserves but a Parmesan sauce. I love the surprising, robust flavor of such a white food, and neither of the sauces is shy, either. It came with some minty stalks of fried fennel.
Another dish brought early is classic steak tartare, chopped and served with rye bread, as is customary. I admit to not actually noticing the oyster aioli. Tuna tartare, though, is mixed with "cacciatore spices" and there's a golden raw egg yolk nestled atop the mound. This was the one dish where I thought the chef's combination didn't work out.
Another one to try just once is chawanmushi, a light and fluffy Japanese egg custard. The base is a vegetarian version of Hong Kong's XO sauce, but you don't really notice it.
Moving on to protein, the corn dog rillette jumps off the menu crying "Try me!" Tender shredded pork is mashed to a paste and deep-fried. The sauce is a strong, tangy cheddar, and the fruit is chopped plums.
The salmon was one of my very favorites, its main flavor being curry. And braised lamb shoulder had a lot going on in a small serving, with very soft polenta beneath.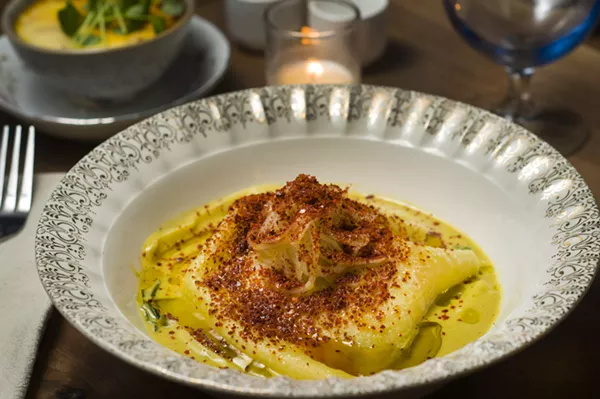 Much thought has gone into the drinks menu, which includes draught sherry and sake, for maximal freshness. Beverage director Christian Stachel says it's rare to see sake by the barrel in the U.S.; he proselytizes its use with non-Asian dishes.
Lady of the House has its own gin, a collaboration with Detroit City Distillery, that is the bar's bestseller, often ordered on the rocks. The process of designing it sounded like a barrel of fun: Stachel said it includes juniper, cardamom, lemon peel, pink peppercorn, thyme, rosemary, and olives. The result is at once floral, herbaceous, and saline.
Of four cocktails offered, I appreciated the "Kathleen": rum, something bitter, and grapefruit and lime juices. Not too sweet, with a personality of its own. The "Lori" was balanced just fine, but too astringent for me, with Irish whiskey, vermouth, lime, and local (of course) honey infused with toasted coconut.
The same detailed attention is lavished on dessert. A rum cake, topped with a ricotta glaze, is so rummy I wondered how it held together. And a potato doughnut — what's not to like? The sprigs of thyme on top are a false note, but they are easily removed.