The small type at the bottom of the Red Dunn Kitchen menu invites you to ask the chef a question "if you want a long geeky answer" — a good way both to signal high seriousness and to poke a little fun at such solemnity.
Chef Jay Gundy, who's worked at Tribute and Cork Wine Pub, among others, is clearly an ambitious type — the kind of guy who likes to sprinkle his menu with precise, if mystifying, nouns: chermoula, cod in swim sauce. Like other chefs who have made the Detroit scene stimulating, he vows to "stay true to all-natural, locally sourced staples." This does not make a fella stand out, these days. And his menu is studded with items not native to Michigan.
Nevertheless, Gundy takes regular pieces of protein (cod, salmon, duck, strip steak, leg of lamb, even chicken) and combines them with inventive touches (pickled cherries, pesto mashed potatoes) to create some over-the-top good dinners. It's all fabulous.
It doesn't hurt that most of the entrées and appetizers are mighty large, so if you're looking to economize a bit on the rather hefty price tag, you can share and save.
The alcohol menu features $12-$14 cocktails, $6-$8 cans, $4-$8 drafts, and $9-$16 wines. Cocktails are described as "bright and medicinal" or "tropical and bitter," among other tags, and made with a no-holds-barred approach to ingredients (and lots of Two James): chamomile-yuzu-honey syrup, ground cardamom, two kinds of cherry liqueur.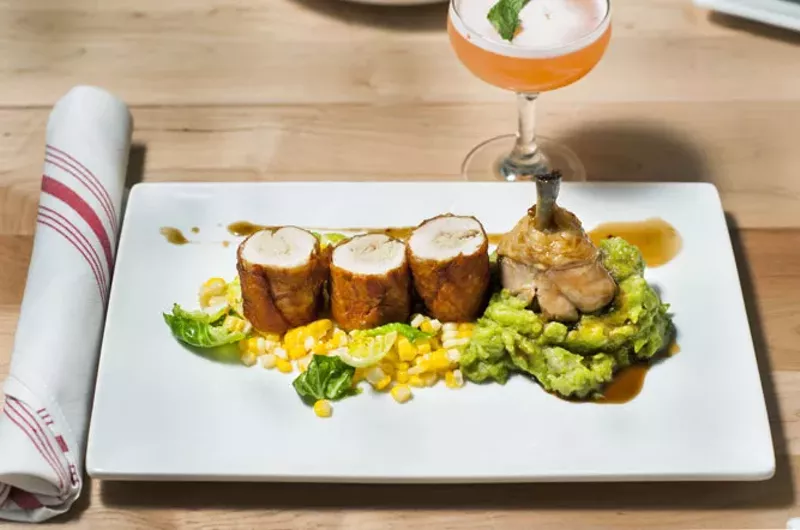 I found the Sands of Detroit quite "spirits-forward"; that would be Two James Johnny Smoking Gun, a corn-rye whiskey that obscured the cherry and blood orange components. "G and T" here is gin and tea: general manager Dustin Walker uses tea syrup in five summery offerings. The Kasmir Fizz, for example, was not as exotic as advertised, though it was indeed frothy, with whipped egg white, and refreshing with lime.
Speaking of seasonal, one of the beauties of Red Dunn is its huge, grassy yard and patio. The restaurant is situated in the new Trumbull & Porter Hotel, on the site of the old Corktown Inn. You can dine outside or just enjoy the view from the air-conditioned inside. There's a stage, a fire pit, and plenty of flowers, and a cocktail patio with lounge chairs. The interior, in contrast, is rather plain, with cement floors and bare wood tables.
I had salmon twice at Red Dunn, as both appetizer and entrée. The trendy collar cut, marinated in tamari, comes as three huge pieces — bony, but with lots of rich, ruby-red meat to be picked away. I liked even better Gundy's luscious salmon with three kinds of carrots, including a carrot-top pesto and some charred slivers.
When I ordered the salmon, the server warned me that the chef cooks it "medium." I asked her if he would make it rare instead, and he did — luscious and melt-in-mouth. If you haven't had superior salmon cooked right — that is, barely cooked — you owe it to yourself to learn. Pickled chilis cut the richness.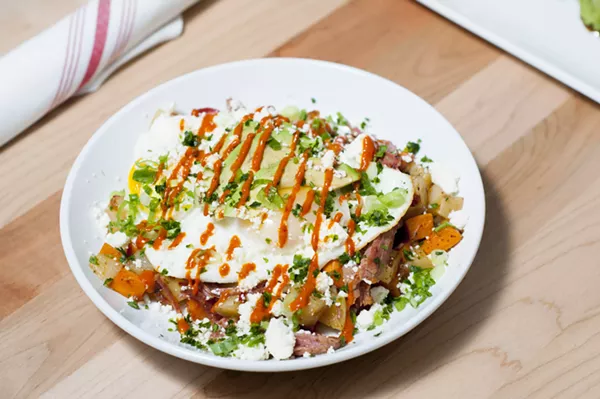 Also in the luscious category: three big chunks of duck breast wrapped in bacon, atop polenta with pickled cherries. And tender leg of lamb braised in Merlot with a chewy barley risotto. Words fail me in describing the lamb gravy. Let's just say it is deep, and you will not want to leave any on the plate.
In something I read, Gundy said he was fowl-focused, so I ordered his fried chicken roulade and coq au vin thigh. Both had perfect skin, and even the white meat was juicy. Surprising pesto mashed potatoes were almost minty; corn was crisp.
If I have a complaint about the dishes, it's that in a long list of items, some are barely in evidence — closer to garnishes than sides. The chicken was supposed to have Brussels sprouts and apple salad as well, but there was scarcely enough to taste. Ditto for the skimpy carrots that came with my salmon, and some of the lamb sides, too. There's enough food, but don't tantalize us with the words and fail to follow through on the plate.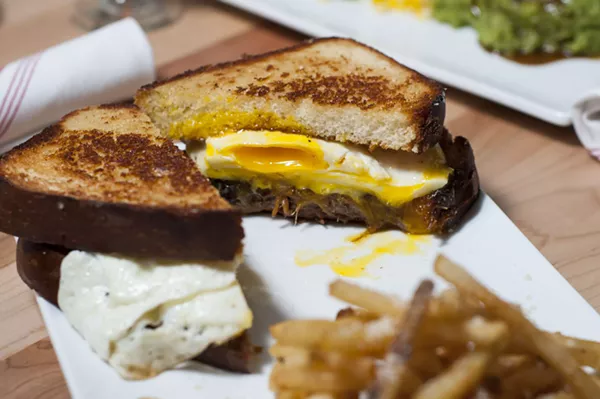 Gundy's appetizers do what appetizers should in that they're lighter than the entrées — but they are often large enough to derail a dinner. Green Eggs & Ham are six horseradish-y deviled egg halves with bacon, with a heap of fantastic mustardy, peppery arugula. I liked even better "blow-torched" yellowfin — though it didn't seem to have been near any heat source, ever. And oysters were substantial and served with a traditional red cocktail sauce and a hot green one. Roasted tomato "tartare" was pretty mild; you could skip this one.
For dessert, we liked some deconstructed fresh doughnuts served with a grainy banana-chocolate smoothie. Better was warm spiced almond cake, of an ethereal consistency, and served with cinnamon ice cream and a slice of candied bacon. It's not just for breakfast anymore.
Because he's in a hotel, Gundy takes the opportunity to get fancy with breakfast, with items like Huevos Benedictos: black bean cakes instead of English muffin, chorizo rather than ham, avocado and salsa along with the Hollandaise.
Why Red Dunn? It's named after a painting of a 19th-century fighting cock, spurs and all. Like I said, fowl-focused.