It's a crime how underrepresented South American cuisine is in metro Detroit. An entire continent of fascinating flavors: from lively, piquant chimichurris; the world's best beef from cows raised near the Argentinian Andes; the incredible arepas and stewed meats in the continent's north — we only get a taste of it at a small number of local restaurants.
That makes the arrival of Culantro, Michigan's only Peruvian restaurant, all the more exciting. It's a family-run operation near Nine Mile Road and Woodward Avenue that's offering a fine introduction to the nation's interesting cuisine.
Among Culantro's most popular options are those that are also most popular in Peru, like the pollo a la brasa and aji de gallina. In the former, a whole bird is marinated for 24 hours before it lands in a special coal-fueled stove brought in from Peru. It's pretty clear from the flavor as to why Culantro would import a charcoal oven instead of simply using gas.
Its version of aji de gallina is a composition of shredded chicken submerged in a puddle of flavorful yellow sauce that gets its bright hue from aji amarillo, a Peruvian chile pepper, pureed with walnuts and crackers. The sauce is slightly creamy and doesn't radiate much heat as some might fear, and the dish comes with a hard boiled egg, an olive, and buttery white rice.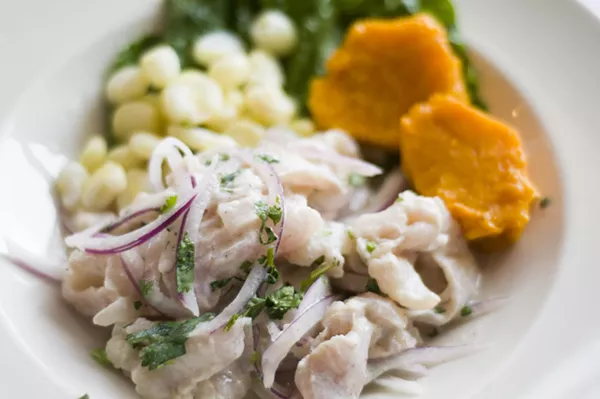 There's also ceviche — good ceviche. In Michigan, that's a rare find, as it's usually made with imitation crab meat or isn't properly prepared. At Culantro, sizeable hunks of tilapia are thoroughly "cooked" in lime juice, and flavored with cilantro, red onion, salt, and pepper. It arrives next to slices of bright orange, soft sweet potatoes, and giant kernels of pale yellow Peruvian corn.
Though the standards are solid, the deep cuts are arguably the place to go, starting with the lomo saltado. It's a Peruvian stir fry that bears the prints of the nation's large Japanese population as its thin slices of tender beef are marinated in soy sauce, red wine vinegar, and ginger, then tossed with red onion, green onion, and tomatoes. That's all mixed in with thick steak fries, and it's a perfectly salty-but-balanced dish that is arguably Culantro's best.
The aforementioned aji amarillo is also behind the flavor and hue of the sauce in the papa a la huancaina appetizer. The smooth, yellow sauce is made with pureed onion, garlic, aji amarillo, and feta cheese that's all spiked with paprika and cumin, then heavily ladled over slices of cold hard-boiled potato and served with a hard-boiled egg. A friend pointed out that the sauce tastes a lot like pub cheese, and that might not be a bad point of reference for those unfamiliar with Peruvian cuisine. A note on the aji amarillo: It's a thick, bright orange chile pepper that pervades Peruvian recipe books. Its flavor is unique — mild heat, but semi-fruity, and altogether subtle, that one writer described as "like the taste of sunshine."
Another fine deep cut is the salchipapas, a dish of steak fries and slices of salty beef hot dogs. It's simple, but is enlivened by the accompanying chipotle sauce. Salchipapas is a traditional Peruvian comfort food, and, indeed, sliced up hot dogs mixed with something starchy seems to be a universal approach to creating comfort. The dish made me think of my mom's weekly special from my childhood called Creamettes, which consists of hot dogs, elbow macaroni, and tomato sauce with some salt and oregano.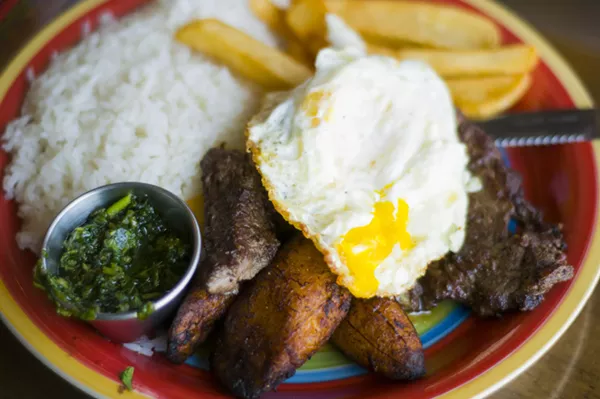 In the carne a la plancha, hunks of tender beef arrive under fired eggs and next to a pile of buttery white rice. Bust those yolks, and mix it all up with the steak fries and chimichurri — a flavorful sauce of cilantro, garlic, and olive oil — and you have some top-notch bites.
The chicharron sandwich is a sleeper pick as a sandwich isn't the first place you'd think of heading on Culantro's menu, but it has a bright presentation and vibrant flavor worth noting. Crispy-on-the-outside and tender-on-the-inside deep fried pork is served on a big, soft bun slathered with a zesty, orange chipotle sauce. That's accompanied by thin slices of crunchy red onions and deep green cilantro marinated in lime juice, offering plenty of fine interplay among the salty pork, acidic sauce, onions, chiles, and cilantro.
If you don't eat meat, there are a few salads and sides that can build a meal, and a vegan spaghetti served with a tasty but thin sauce made from basil, spinach, onion, garlic, and aji amarillo. Culantro doesn't have a liquor license, but its complex and sangria-like chicha morada with dried purple corn, pineapple, apple, cinnamon, and cloves is an excellent mocktail, and there's a delicious passion fruit drink and Peruvian cola also worth checking out.
So many restaurants, so little time. Sign up for our weekly food newsletter delivered every Friday morning for the latest Detroit dining news.