Eatóri has quickly become just what it was intended to be — a neighborhood place for downtowners. On a snowy night with a travel advisory in place, we watched the small Capitol Park place fill up with folks who could get there by walking.
Lots of new downtown restaurants are aimed at the affluent, of course, but Eatóri Market puts a bullseye on those who live there. You could say it's the Platonic ideal of a gentrifying spot, with all the pluses and minuses thereof.
It's designed to feed and water urbanites, many of them new to the block, but also to eliminate their need for a car-based grocery run. "Fine food in a pinch" is the official slogan. A market, a bar, and a restaurant — you'll come for the cocktails but stay for the marinated beef tenderloin, ready to take home. I saw a couple leave with three grocery bags full.
Chef Zak Yatim (who is co-owner with Samer Ghafari) says 800 apartments are now occupied in Capitol Park. I sat next to a guy who'd moved to the Griswold, steps away, despite working in Clarkston, and another Griswold resident who commutes to Plymouth. As Capitol Park fills with walkable spots — Prime+Proper, La Lanterna, La Pecora Nera — why wouldn't those who can pay the rent (the Griswold starts at $1,722) decide on a truly downtown way to live?
Online commenters agree. From Facebook: "From the dishes to the wine list & cocktails, the vibe, the service, the whole experience made me want to move to Capitol Park, just so I can visit this neighborhood bar on a nightly basis!"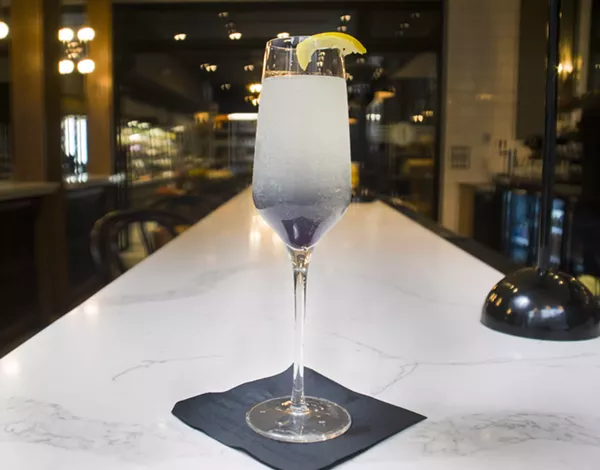 I had mixed food experiences at Eatóri (pronounced ee-TOR-ee). On one visit, neither dish lived up to my hopes or their prices. The $18 burger with tarragon truffle aioli was more cooked than the medium rare ordered. It was fine but not $18 fine. And the duck Bolognese, made with giant rigatoni, didn't taste particularly like duck (a personal favorite) — just generic meat.
Another night, we ordered an Argentinean shrimp Caesar salad, because the shrimp were purported to come from Argentine waters and have the texture of lobster. That seemed deliciously accurate, and the creamy dressing was shrimpy, too. The Moroccan Bowl, with chickpeas, couscous, tomatoes, and perfectly done eggplant, was an unusual mix of textures and flavors that worked perfectly.
A tomato basil soup served with white cheddar grilled cheese on crusty ciabatta (a $7 happy hour offering) was thick and chewy, the concentrated essence of fresh tomatoes.
Fried chicken is another option. Mussels are served several ways. The priciest entrée is a $48 Wagyu, and prices are of course lower for lunch. Yatim, who's been a caterer and whose first restaurant this is, promises a menu that changes frequently, according to what those 800 people want.
The 4 p.m. to 6 p.m. weekday happy hour offers $6 bargains on cocktails, prosecco and wine, including a creditable house red (Frico Rosso), along with $5 drafts.
During other drinking hours, sake is offered, and classic cocktails: a Mary Pickford, a Sidecar, a Violet 75 with crème de violette. I enjoyed a potent Sazerac, made with local Two James Nain Rouge Absinthe, which went down very easy. The choice to serve classic drinks, Yatim said, came from the bar's design, which is vaguely Art Deco and easy on the eyes, with white tile walls, a marble bar, chrome sconces and big mirrors both behind the bar and across from it.
The market includes not only groceries — fresh produce, lunch meats and cheeses, crackers and cookies, local pickles, yogurt, chips, gluten-free muffins — but lots of prepared foods that are always changing. You might find a banh mi, a breakfast burrito, a Caesar salad, the aforementioned Moroccan Bowl, and beef tenderloin, salmon, and tuna. Yatim says customers typically order prepared foods during the week, but something they can cook for themselves on weekends.
On Saturdays, after the market closes, a DJ spins.
Yatim says that just a couple of months in, he's already "seeing the same faces over and over, which is just what we were going after. It's a neighborhood joint."
As I wrote those words, I felt a stab of anger for the vast majority of Detroit neighborhoods that are not being lavished with attention and new restaurants and new grocery stores, those where a 1,400 square-feet three-bedroom, two-bath doesn't cost $3,357. I guess they just need to pull up their socks and get working on boosting their disposable income, right?