Marrow is Detroit's new butcher-centered eatery located in the West Village, and to get a good idea of what it's about, you'll want to try the corned tongue — salt-cured pig or lamb tongues that are lightly charred and crisp on the outside, and soft and almost creamy on the inside.
They're arranged with a mustard sauce, yellow pickled mustard seed, chopped sprigs of fresh green dill, a pod of carrot mochi, and charred carrot. The composition is anchored by salt and an acidic bite from the sauce and seeds, while the carrots round out the texture. Like most dishes at Marrow, there's a lot going on here, and this is one of the menu's best options.
Some American palates may struggle with the idea of squishy tongue, but the flavor is more familiar than it would seem, even if what arrives is indeed a plate full of tongues. Marrow chef Sarah Welch appreciates the underappreciated parts of the animal that are often treated as waste, and she works well with them. That's what Marrow is making a name for, but it should be noted that there's for more range on the menu than one might suspect.

Regardless, there is — of course — marrow, which Marrow serves in a long, white, halved leg bone packed with glistening, rust-colored marrow. The soft bone substance is slightly sweet and topped with chives, cilantro, and sprigs of fresh dill. Spoon it out of the bone and spread it on two super soft, warm rolls.
In the beef tartare, a red-pink patty of coarsely minced Graham Farm organic beef (Marrow buys from Graham's small herd of about 40 cows) is studded with local mushrooms, black olives, and Chinese chives that, along with a deep yellow dollop of yolk curd, makes it some of the heartier tartare in town. The beef is covered in microgreens and served with salt and vinegar chips — an interesting idea, but the chips dominated the meat's flavor to the point that I preferred bites without them.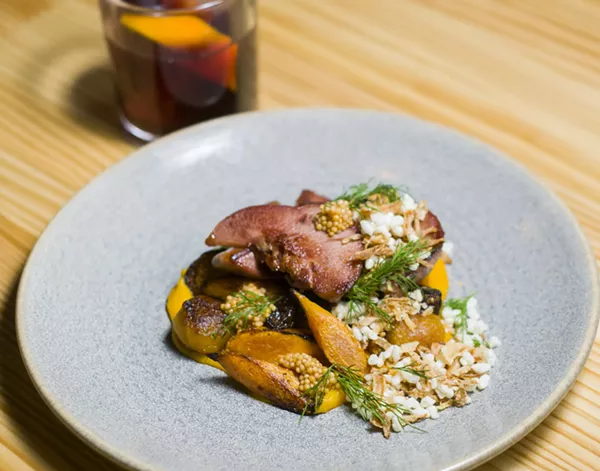 Also excellent are the bao buns — warm, white, pillowy, round buns hold several tabs of salty, smoky, slightly chewy and flavorful duck pastrami that arrives with pureed squash and feta, pickled cucumbers from Coriander Farm, and pickled daikon. (Sadly, it's no longer on the menu because Welch can't get local duck during the colder months.) The cabbage Caesar salad is a busy dish with competing flavor from its anchovy-kimchi dressing made with The Brinery's kimchi, bagna cauda, Sichuan peppercorn, and cured yolk in substitute of Parmesan that's mixed with greens and cabbage.
Another of the busiest dishes —but also one of the best — is the yakitori cauliflower, which is grilled on a Japanese yakitori grill and served in a small pile with parsnip crisps, cilantro, and excellent pickled golden raisins. (It won't take long to learn that Welch loves pickles.) About 50 percent of her staff is vegetarian or vegan, Welch says, so there are better veg options than you would expect from a restaurant named Marrow.
The only slight disappointment came in the dry aged Highland beef. Highland cows are the "hairy" variety that are common in Scotland, with meat that's sought after because it's super tender and lean as the cattle produce less fat under that thick coat of fur. The meat was indeed tender and fairly lean, and the flavor in most bites was solid, but we expected epic and it didn't quite reach that level — though the pickled mustard seed, green onions, and pickled red onion accompanying the steak were a fine touch.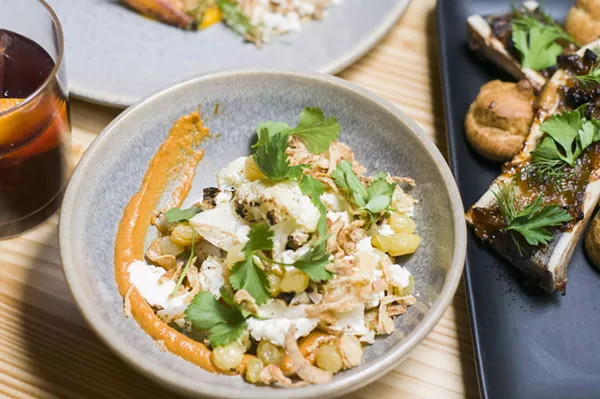 There seems to be no going wrong in Marrow's charcuterie. On paper, the pickled shrimp is bizarre sounding, but it's some of the menu's best bites.
Welch says she uses her grandmother's recipe and makes it with champagne vinegar; it's a northern cousin to ceviche. Few make cheese of the same caliber as the Leelanau Peninsula's Idyll Farms, and Marrow offers a wedge with the charcuterie. The prosciutto and pickles are also among the highlights.
Marrow's scallops are buttery, rich, and salty pucks served in parsnip puree with fermented black garlic, fish sauce, and brown butter. Bright red pomegranates and crunchy peanuts provide some textural contrast, and the scallops are served under folds local bok choy and parsnip crisps. Try to get all that into one fork full — you'll be rewarded. It should be noted that the scallops are sourced from Maine's Bristol Seafood Company, which is one of the best suppliers for scallops and arrive via Motor City Seafood. In general, there's excellent sourcing across the board.
Marrow's bar is well-stocked, and offers a solid cocktail list and beer and wine selection that's served by a friendly bar staff (you might even get an invite to do a bone luge if you order the marrow at the bar). The restaurant also has a butcher's counter stocked with a bounty of sausages, steaks, and other meats. It alone is worth the trip, and if there's a porchetta, camembert, and apricot jam sandwich in the cooler, be sure to grab it. The rest of Marrow holds the kind of hard-surfaced, dimly lit interior you expect from a restaurant serving modern cuisine.
Marrow is also the type of restaurant run by a talented, young chef that you might expect to find in West Village, and in and around downtown Detroit, in 2018. While a cool, modern interior in an exciting neighborhood is far from a guarantee of quality in Detroit these days, Marrow succeeds.
So many restaurants, so little time. Sign up for our weekly food newsletter delivered every Friday morning for the latest Detroit dining news.