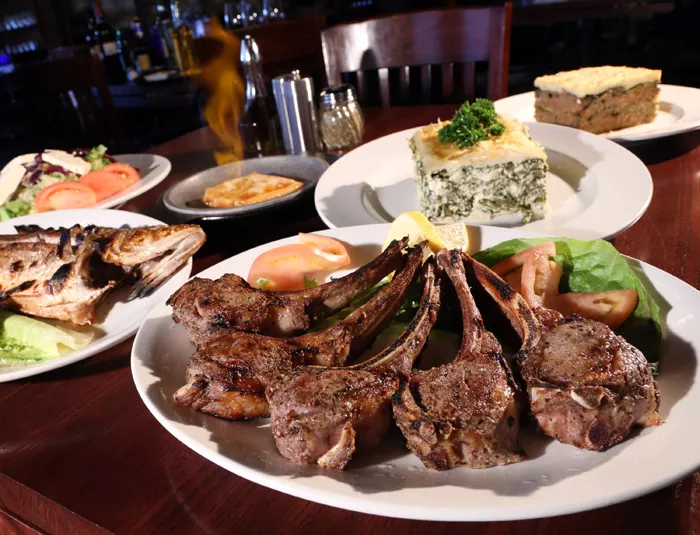 New Hellas
32729 Northwestern Hwy., Farmington Hills
248-702-6999
Starters: $4-$16
Main courses: $10-$30
Open 11 a.m.-10 p.m. Monday-Thursday, 11 a.m.-11 p.m. Friday-Sunday.
New Hellas was always one of the foundational restaurants of Greektown. Sacrificed on the altar of casino development, the venerable source for traditional Greek food seemed lost, until the former Morels location on Northwestern became available, and Chef Demetrios Papatriantafyllou has brought back — in force — all of the delicious food in a glamorous new location.
Gone are the "ancient" artifacts, the latticework ceiling details, the fake ivy curled precariously close to flames from saganaki platters, and the darkened atmosphere: New Hellas is brightly lit and elegantly appointed in dark wood. Murals of Greece, complete with the iconic traditionally clad Greek fellow standing nonchalantly to one side, now adorn the walls, and Greek music floats quietly on the air. It's a modern upscale Greek restaurant, which might have been out of place in Greektown — but here, it's exactly right.
The food is, naturally, the star player at New Hellas. It all comes straight from a playbook that has kept the restaurant perennially popular, and proves amply that the only thing that's changed is the location. It starts with the most basic: that perfect bread, crusty on the outside but soft and pure white within. It soaks up olive oil, sauces, and the brandy and lemon juice that surround saganaki. The challenge at New Hellas is to manage to make it to the entrée without filling up on bread. The saganaki is excellent too, cut thick, with a crisp exterior and smooth, melted center — flamed tableside, of course, as always. A plate of tzatziki is an excellent way to start as well: it's thick, rich with garlic flavor and a perfect texture, punctuated by the cool flavor of cucumber and a healthy accent of dill.
The Greek salad is quite good, with diced red onion added to the normal complement of toppings. The dressing is creamy and light pink, a beautiful color with a flavor to match, and served on the side (perhaps a nod to the notoriously picky clientele in the area, or perhaps a concession to the myriad coney restaurants within a few blocks). For a slightly more traditional approach, the village salad is the way to go: all the ingredients of a Greek salad, and bell peppers — with no lettuce. It's a whole lot of flavors in every bite, and very well done. A whole host of add-ons are available for any of the menu salads, including salmon, shrimp, gyro meat or grape leaves.
Among the entrée selections at New Hellas, lamb is king, and all four different preparations of it are simply delightful. There are grilled chops, of course, but more interesting are the traditional tomato-sauce-braised lamb dishes, where the lamb is fork-tender, and perfect with a dollop of tzatziki or dipped in some of the extra tomato sauce. Even more unique is the lamb reganato, braised in red wine, olive oil and oregano. Here the meat is incredibly flavorful: moist, tender and suffused with the aroma of oregano. The Greek specialties are quite good as well. The moussaka is particularly noteworthy, with well-seasoned beef and a thick, smooth layer of potatoes on top. It's everything you want out of the dish, made by people who know what it should be. The portions are enthusiastically generous across the board, so a meal of three courses might leave you with a lot to take home — but the food's awfully good, even as a leftover.
For dessert, there's baklava, rice pudding and the simple delight that is loukoumades: light, airy fritters, tossed with cinnamon, and served with warm honey and walnuts. They're a callback to a very old Greek way of eating, where a bit of honey made for dessert, and they're divine.
The staff at New Hellas is attentive, friendly and talented, maintaining a balance between professionalism and a casual demeanor that is rarely seen. Careful observation shows a team of servers who help each other, who are polite and understanding with guests, and knowledgeable about the food they serve, and who seem dedicated to rebuilding a clientele for New Hellas like they had when they were in Greektown.
The new New Hellas lives up to the expectations set by over 100 years of tradition in Greektown: indeed, it's like New Hellas never really closed, just relocated. The food is still tasty, richly flavored, and simply presented; the servers are still top-quality yet personable. Simply put, the saganaki still flames just as brightly at New Hellas as it ever did, and that's a very good thing.