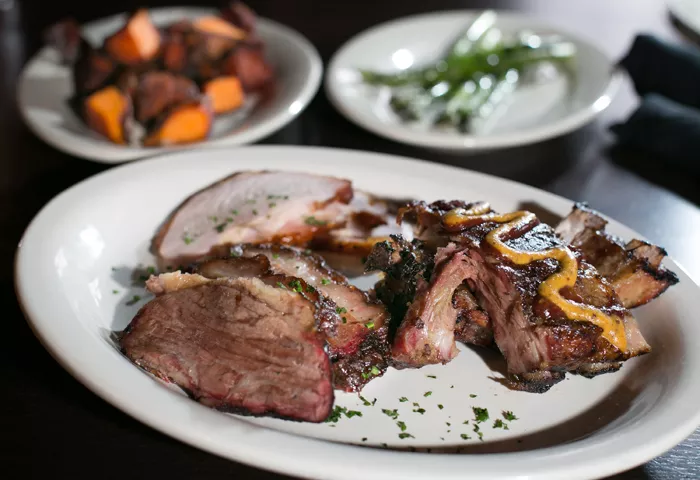 CAYA Smokehouse Grill
1403 S. Commerce Rd., Walled Lake
248-438-6741
Sides, starters and soups: $3-$9
Salads and sandwiches: $5-$13
Smoked food and entrées: $5-$26
Brunch: $7-$13
Open 4:30-10 p.m. Tuesday-Thursday, 4:30-11 p.m. Friday and Saturday, 4:30-9 p.m. Sunday; brunch 10 a.m.-3 p.m. Saturday and Sunday.

The sign along a dark stretch of Commerce Road, just north of Pontiac Trail reads: "CAYA Smokehouse Grill — Come as you are." What used to be a "dive" is now an unassuming restaurant that combines barbecue's simplicity with the exacting palate of an experienced chef. The kitchen is focused, using ingredients available in the local area and ideas from cuisines the world over to produce honest and delicious food.
There's certainly no pretense in the place to make "Come as you are" seem like just a catchphrase: Inside, CAYA seems like a traditional Southern smokehouse, with exposed cinderblock walls, a polished concrete floor, reclaimed barn wood and corrugated steel. In good weather, an outdoor wood patio will beckon; in winter, garage doors, their motors and pulleys fully visible, close it off. A few paintings hang on the walls, and a curtain of small chains has a painted version of the restaurant's logo. It's a simple place to come eat good food, relax and enjoy yourself.
Chef Jeff Rose, formerly of (among others) Toast Birmingham and Roast, brings an interesting combination of dishes to CAYA. Start with the pastrami pork belly, two fragrant, peppery morsels of fatty but crunchy pork atop crispy potato pancakes. Mustard and pickled vegetables provide a complementary brightness, filling out the dish perfectly — it's a bit of deli food completely reworked into a great appetizer. If you're looking for something a little more shareable, get the brisket nachos, topped with a fresh salsa, chopped brisket and cheddar cheese. It's flavorful, simple and generous; exactly the sort of food that should be there.
The burnt ends chili is tasty too: chunky and thick, with a full tomato flavor and a healthy hint of smoke and barbecue. The salads are varied, with something to please most everyone; the roasted beet salad is a delightful combination of flavors, and the strong flavors of arugula, feta, citrus and dill make the earthy beets a star in their own right.
Smoked food is clearly important at the smokehouse; as such, it's well-executed across the board, and crops up frequently — brisket, ribs, turkey, pulled squash (yes, smoked and pulled squash!) and pulled pork can be ordered à la carte. The pulled pork and brisket can be put on a burger, or (along with the smoked turkey) ordered as a sandwich. The brisket and pulled pork are both particularly good, very flavorful, with a healthy smoke flavor yet still moist and tender. The two house barbecue sauces are both fantastic: There's a cracked mustard sauce, strong with a vinegar kick that cuts through the smoke, and a sweet blueberry sauce that makes pulled pork into a near-religious experience. When it comes to sides, don't pass up the cornbread — it's simply fantastic, the rest merely really good.
The unpretentious nature of the place even comes through in the composed entrées, which are all a little homestyle, full of flavor and hidden bits of technical skill. The duck confit, served with gnocchi, vegetables and a Parmesan cream sauce, is at once crispy, tender and decadently rich; the gnocchi are dense and smooth, a pleasure to eat. Butternut squash ravioli are skillfully combined with roasted chestnuts, mushrooms, tomatoes, spinach, and sage cream sauce for an autumnal, warm and eminently local dish that delights the palate and the locavore impulse.
Do not, under any circumstance, skip dessert at CAYA. A variety of desserts are made in-house, fresh, daily, by a pastry chef. A rum raisin bread pudding — hot, moist, and rich in rum and egg flavor, is served with vanilla ice cream, and reminds you that dessert is, indeed, worth saving room for.
The focus at CAYA is on the local and authentic. Cocktails use local spirits, the beers on tap are all Michigan brews, and more microbrews are available in bottles. The food is sourced from farms within 100 miles of the restaurant, as locally as possible, year-round. The dishes have a certain quality, a terroir, of Michigan, gained from this approach. The cooks, under Chef Rose, clearly respect the food they're cooking, and do their utmost to present it as ideally and flavorfully as possible.
All of this goes to create an experience that lives up to the name: CAYA welcomes you in, and feeds you good food — because what else should we do for one another, but be welcoming and generous?