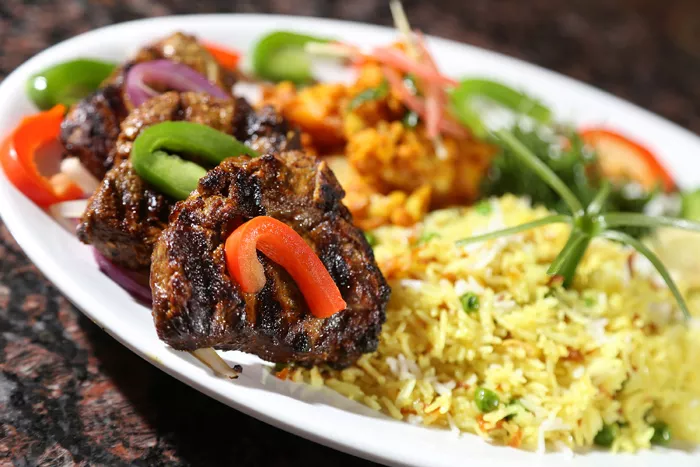 1739 Plymouth Rd., Ann Arbor
734-662-2877
cardamoma2.com
Handicap accessible
Appetizers & sides: $2-$7
Entrées: $10-$22
Desserts : $3.50-$6
Open 11 a.m.-3 p.m. and 5-10 p.m. Tuesday-Thursday & Sunday, 11 a.m.-3 p.m. and 5-10:30 p.m. Friday & Saturday; closed Monday.
At a recent dinner at newish Ann Arbor restaurant Cardamom, I overheard a nearby group discussing how the prices were "expensive for Indian food" — the implication being that we expect all ethnic food to be cheap, or at least cheaper than if we went to a comparable sit-down French, Italian or "New American"-style restaurant.
Let me just put my foot down about the ridiculous and all-too-common ghettoization of any non-Western cuisine. (I've never heard anyone say "This restaurant is expensive, for Italian food.") Cardamom serves expertly prepared cuisine, the portions are generous, and they use fresh vegetables and an abundance of spices; neither of which are cheap. The menu even notes that cardamom, the second most popular spice in Indian cuisine, is also one of the world's most costly.
Of course, one should take into account not just the raw materials, but the end result. Cardamom's food is far and away the highest quality Indian food I've eaten in metro Detroit. Our tab for a party of four, with multiple appetizers and sides, was less than $20 per person. I'd hardly call that a wallet-buster.
Several things set Cardamom apart from other Indian restaurants, not the least of which is that they serve plenty of goat dishes. I'm a big fan of goat meat (cue Will Ferrell sketch here) — it's tender and flavorful, not quite as gamey as lamb and definitely less fatty. Although most Indian restaurants here use lamb (probably because it's more mainstream or easier to find), in India goat is more common. Goat dhansak, a Gujarati dish of cubed lean meat in a highly aromatic tomato-based curry with butternut squash, was a favorite. Despite a thick, long-simmered sauce, its exotic spices are clear and distinct and unmuddled.
Another appealing aspect of Cardamom's menu is that it's not a carbon copy of every other Indian restaurant you've ever been to. Yes, there are tandoori and biryani and curry dishes, but you'll also find delightful items like momo, a steamed dumpling similar to Japanese gyoza. We ordered the vegetarian version and everyone at the table oohed and ahhed over the delicate but flavorful filling and the golden chutney served alongside.
Dining with one vegetarian at the table was no challenge at all; we were able to share most of our food, and the omnivores found the veggie dishes just as satisfying as the meat ones. We especially loved the baigan bartha (eggplant with peas in a tomato curry) and palak paneer (mild cheese cubes in a creamy spinach sauce).
For carb-loaders who can't decide on what type of bread to order, Cardamom offers a bread basket with different types of naan, kulchi and prantha (stuffed flatbreads). Each is pillowy soft, chewy and perfect for sopping up extra sauce.
Cardamom takes great pains to make its food approachable to a typical American diner, without sacrificing authenticity. The only concession, and one of which I was initially doubtful, is that they use vegetable oil instead of the more flavorful and traditional ghee (in some dishes, cashew butter stands in to lend creaminess). However, in the finished dishes, I didn't miss it. The menu is considerately coded to indicate vegan, gluten-free, dairy-free, etc., and is full of sidebars and notes about different preparations and possibly unfamiliar items. This philosophy of catering to the customer extends to the service, which is consistently above average to excellent.
No alcohol is served, but don't skip the refreshing nimbu pani, a freshly squeezed lemonade with ginger, clove and, of course, cardamom. Their mango lassis are thick and not too sweet, and they also serve a fine selection of teas and coffee. I have to confess we never made it as far as dessert, but I'm saving room for cardamom rice pudding next time.
If you're still hung up on price (although by now I hope I've gotten you past that), or just wanting to try a little of everything, plan a lunch visit. In addition to scaled-back portions of dinner dishes, you can get wraps or thalis (combo plates featuring no less than a dozen distinct items) for $8-$11.
Although we loved 95 percent of everything that was set in front of us, for the sake of being balanced I suppose I should mention one or two imperfections. I wasn't a huge fan of the chutneys served with the appetizers — the cilantro chutney has a slightly harsh, bitter garlic taste, and the tamarind chutney tastes like ketchup. Also, my friend's vegetable korma, ordered spicy, was on the mild side of medium. But these are so relatively minor to the overall quality that they won't stop me from multiple future visits.