Admit it, secretly long for this time of year when you can start to pack away the BBQ grill and make way for the slow cooker or stock pot.
And with that, you're also on the hunt for the perfect soup recipes. Sure, Grandma's chicken noodle is always a favorite, and the turkey chili was a hit at last year's tailgate.
This year, why not make something truly Detroit? Combining the flavors of Southwest Detroit and Johnny Noodle King, there's the Southwest 3.0 - AKA the tortilla soup special.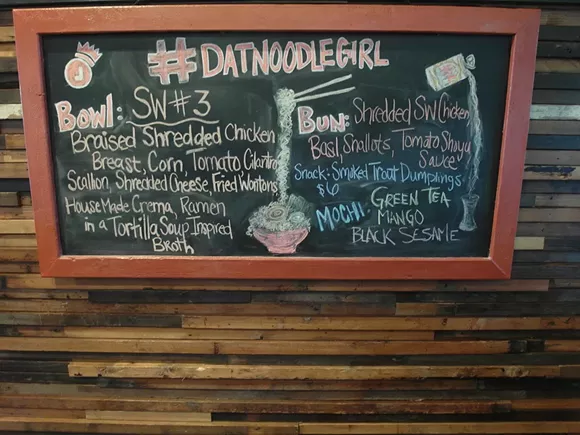 It's the latest iteration of the noodle joint's "Southwest" creations, wherein chef Les Molnar and crew take the standard ramen bowl and infuse it with ingredients traditional to Mexican cuisine.
It's made with braised chicken breast, corn, tomato, cilantro, scallion, shredded cheese, house-made crema, fried wontons in place of tortilla chips, and ramen - all in a tortilla soup-inspired broth.
The result is a delightfully creamy, slightly spicy rendition of a classic comfort food, just in time for fall and winter.
Though only available at JNK for two days last week, you can now make this tortilla soup hybrid at home, thanks to sous chef Kevin Frader, who shared the recipe with us.
If you decide to make the crema yourself, you'll want to make it at least 24 hours before you plan to cook the dish.
Southwest 3.0
To make the Crema:
Ingredients:
1 C heavy cream
2 T Buttermilk
Method:
On medium heat, gently bring the heavy cream to 110 degrees F. Remove heavy cream from heat and whisk in the buttermilk. Place in container with a lid and leave out in a warm area for 24 hours. After the mixture has sat for 24 hours, place it in the refrigerator until it has started to thicken.
To make the braised chicken:
Ingredients:
1 lb Chicken breast
4 ½ oz Heinz Chili Sauce
1 oz Chicken fat
½ oz Chopped Garlic
1 ½ oz Chopped Onion
1 ½ oz Ninben Soy Sauce
2 oz Water
2 ½ oz tomato juice
Method:
Preheat oven to 300 degrees F. Trim chicken breast of any fat or cartilage and place in an oven safe pan. Mix all other ingredients in a bowl and pour over chicken breasts. Wrap the pan with aluminum foil and place in oven. Cook the chicken for about 2 hours or until you can pull the chicken apart using 2 forks. Remove chicken and save the liquid from braising. Pull the chicken apart while it is still hot.
To make the tare sauce:
Ingredients:
2 oz Chopped onion
½ oz Garlic
½ oz Dried California chili pod
1 oz Chili paste
1 oz Chicken fat
4 ½ oz Crushed tomato
¼ t chopped Thai chili
a pinch of oregano
The braising liquid from the chicken
Salt to taste
Method:
Combine all ingredients in a blender and blend until smooth. Season with salt to taste and set aside.
Assembling the bowl:
Ingredients:
1 5oz portion of fresh ramen noodles per bowl
2 oz Tare per bowl
12 oz chicken broth per bowl
½ oz Fresh diced tomato per bowl
½ oz thinly sliced scallions per bowl
1 oz Corn, either fresh or cooked and removed from cob per bowl
1 oz Monterery jack cheese per bowl
1 oz Homemade crema per bowl
3 oz shredded chicken per bowl
cilantro as needed
Fried Wontons as needed
Bring a pot of water to a boil. Bring chicken stock to a simmer. Place 2 oz of the tare in each bowl of ramen you are making. Cook noodles in boiling water for 1 minute and 25 seconds using a small strainer so you can easily remove them once cooked. When noodles have 30 seconds left, place 12 oz chicken broth in each bowl and stir together using a whisk. Remove noodles from water and Shake off excess water and starch.
Place ramen into the bowls. Top with tomato, scallion, corn, chicken, cheese, and cilantro and fried wontons in the center of the bowl on top of the noodles. Using a spoon, drizzle the crema around the outside of the bowl so the crema sits in the broth.
Enjoy!
See also:
15 comfort foods you should be eating this fall in metro Detroit