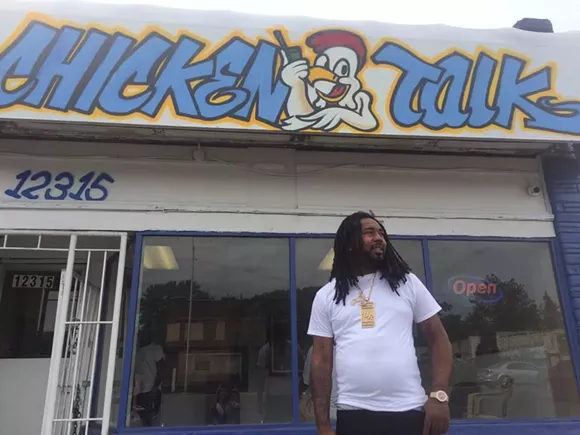 Rapper Icewear Vezzo has been creating local buzz for his mix tapes, flamboyant use of ice (that over-the-top, heavy gold jewelry drenched in diamonds) and his 115K+ Instagram followers, but now that music has helped him escape chaos on the city's east side, he's ready to give back. And the way to that, is with his new carry-out chicken, rib and steak joint, Chicken Talk, which opened its doors Wednesday.
Situated on Gratiot, just past Outer Drive, the space doesn't look like much at the start. There are no tables, you order through the thick party store-style bullet-proof window and more than a few of the young men who came to check out the spot Wednesday have experienced their share of neighborhood violence (one such youth wore a protective boot after he says he was shot in the foot at a block party a few weeks prior). In keeping with a street-art aesthetic, artist Smacks was commissioned to paint the graffiti-style sign on the building's exterior was painted But what Vezzo's partner and whiz in the kitchen, Jermeryl Smith, has on the menu gives take-out diners the mix of an old-school steak house with classic Mississippi Southern cooking inspired by his grandmother. The duo, who've worked together since Vezzo was a teen, hope too that the no-muss kitchen will be a positive asset to the neighborhood.
"It's an urban area and the thing about an urban area is it's all crap food," said Smith, 33. "If we can serve the people something fresh, I think they'll appreciate that."
On the menu: several variations of whole fried chicken wings that come topped either with seasoned with garlic and Parmesan, buffalo lemon pepper, Asian chili or hot boy fire sauce; St. Louis-style ribs; chicken and waffles; catfish; and steak bites featuring Delmonico steak.
Smith got his start cooking as a teenager and says he earned his chops working in kitchens led by the likes of chef Jimmy Schmidt of the Rattlesnake Club. That led him to several business ventures, including at a popular local chain of restaurants that focused on chicken wings. It's the wings that he specialized in and when that business folded, he decided to take that popular recipe and make it his own at Chicken Talk. He says he shops at Eastern Market daily, paying attention to every "marble on the loin," and does not want to let any food to remain in his kitchen longer than two days.
Vezzo, who last month launched his latest mix tape
Clarity 4: ICFO,
has realized a dedicated following, both locally, and via his popular Instagram account, has made the rounds of interviews with hip hop journalists and has been on the road for performances.
The two hope to roll out other locations across the city. So far, Vezzo has already purchased a car wash next door and a barber shop, which he says will be the home of this label, Iced Up Records. He tells us he wants the kids in the neighborhood, who otherwise idolize him for his music, to see that there are other options to be successful in the community. "There ain't no attention out here, we get all the worst attention about the shootings," he said. "I want tourists to want to come come and try our food and say that it's the best chicken they've ever had." With his social media star power, we'll watch to see if he can pull it off.