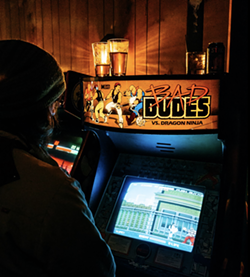 For three years, nomadic arcade Offworld has packed pop-ups around downtown Detroit, while the wonderful POP space above the Checker Bar has sat slightly underutilized.
That changes on Friday when Offworld lands in its new digs in the POP space, which will feature an arcade, full bar, and pizzeria.
Offworld owner Don Behm tells
Metro Times
that he's stocked the new space with 34 arcade and pinball games, but more are possible as the operation gets rolling. All games are a quarter, and it's heavy on those of which children of the '70s, '80s, and '90s will be fond of – Galaga, Centipede, Paperboy, Spy Hunter, Missile Command, Burger Time, Teenage Mutant Ninja Turtles, and so on. Pinball tables include Elvira, Twilight Zone, and the difficult-to-some-whiners Terminator 2.
POP's pizza menu offers what it bills as NY-style slices that "you would make if you're 17 and stoned."
That means options like the Napalm Breath (tons of garlic, yellow peppers, garlic aioli, fried garlic, white onion, and lots of cheeses), the Pig Destroyer (red sauce, pepperoni, bacon, sausage, bacon aioli, pork rinds, red sauce, and a cheese blend) or the vegan Gringo (spicy sauce, vegan cheese, walnut "chorizo", black beans, cilantro chimichurri, chipotle mayo, and pico.)
POP + Offworld officially opens on Friday at 5 p.m. It's all ages before 9 p.m. For more info, checkout Offworld's
website
or Facebook
page
.