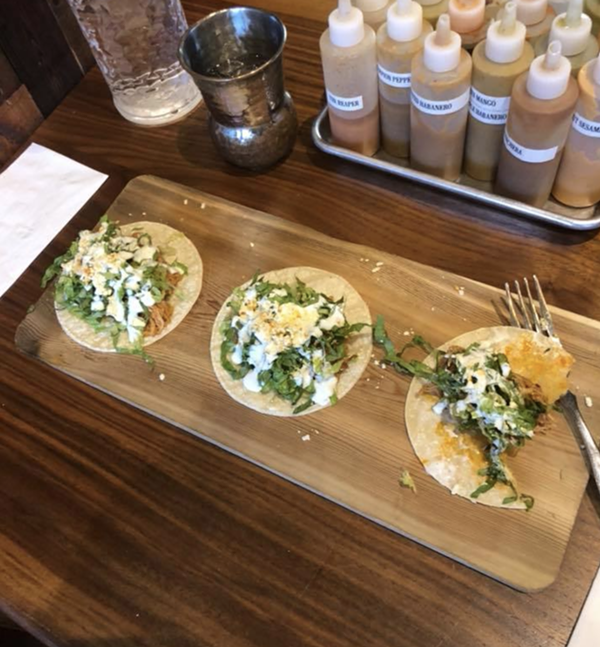 A disagreement over whether a customer should have to pay for chicken tinga tacos that he didn't like led to the Dearborn Police Department being called to settle the dispute.
The bill for the three tacos, from which the diner had taken one bite on Tuesday evening, totaled $9.54.
A
Facebook live video
posted by the diner, Maurice El-Amin, went viral this week. El-Amin, who is African-American and an assistant principal at Cass Tech, claims that the wife of chef Junior Merino called the police. In the video, he states that he "took a bite and gagged." On Wednesday, he told
Metro Times
that the tacos had a chemical taste that caused his throat to close up for about a minute.
El-Amin said he spoke about the issue with an employee who he later learned was an acting manager. He asked if he could order something else, and she responded that El-Amin would have to pay for it.
"I said 'I'm not going to pay for something I didn't enjoy.' That's when she told me, 'I'm going to call the police,'" El-Amin told
Metro Times
on Wednesday. He got up to leave, but then returned to the table to wait for the police.
Reached Wednesday afternoon, chef Merino provided a different account to
Metro Times.
He claims M Cantina likely would have given El-Amin a refund, but El-Amin didn't explain what was wrong with the food before getting up to leave.
"It's just the way he did it," Merino said, though he acknowledged he wasn't present for the exchange. "He said basically that he was leaving without giving us a reason. We both have to be in agreement of what we're doing but ... we were just told 'I'm just not going to pay for it.'"
Merino also called El-Amin's claim that it tastes like chemicals an "accusation" as M Cantina uses all natural ingredients, and many traditional ingredients from Mexico that aren't often used here. He suggested that El-Amin wasn't familiar with chipotle peppers — a claim El-Amin denies — and questioned the need to accept a plate back that was served as it was advertised.
"It's not that we didn't want to take it back — we have a policy if nothing is wrong with the food," Merino said.
Regardless, the police were called, which El-Amin said made the situation "bigger than it needed to be."
He started shooting a Facebook Live video when police arrived, and the video cuts in as officers approach El-Amin's table. El-Amin speaks to them from behind the phone camera.
A restaurant employee is seen on the video claiming that El-Amin should have known that the taco contained chipotle, but El-Amin responded that he enjoys chipotle. Still, the restaurant employee refused to refund El-Amin.
A civil conversation between El-Amin and the police got to the bottom of why, legally speaking, police felt El-Amin was required to pay, even if he only took one bite. An officer said question falls under the
defrauding an innkeeper statue
, which in Michigan is a misdemeanor punishable by 90 days in jail and a $500 fine.
The law states:
Any person who shall put up at any hotel, motel, inn, restaurant or cafe as a guest and shall procure any food, entertainment or accommodation without paying therefor, except when credit is given therefor by express agreement, with intent to defraud such keeper thereof out of the pay for the same, or, who, with intent to defraud such keeper out of the pay therefor, shall obtain credit at any hotel, motel, inn, restaurant or cafe for such food, entertainment or accommodation, by means of any false show of baggage or effects brought thereto, is guilty of a misdemeanor.
"Bad customer service is not against the law. To not pay for your food would be," an officer stated before suggesting El-Amin no longer eat at M Cantina, or speak wth a manager.
"If you don't like the food, it's unfortunate ... but the point is you're still responsible for the food that you order. You still have to pay for it," the officer added.
El-Amin responded, "So if I go to McDonald's — any restaurant you go to ... if [food] comes burnt or there's something wrong with it, you can either replace it or get a refund."
"That policy is up to the store," an officer replied.
Another officer noted that he agrees with El-Amin's "train of thought," but said the law is the law.
Finally, El-Amin asked, "So you're saying that if I walk away without paying for this, I'm breaking the law?"
"That's correct," an officer said.
On Wednesday, El-Amin told
Metro Times
that his thoughts on what happened hadn't changed, and no one from the restaurant had tried to reach out to him.
"Every restaurant I've ever been to in my life, from McDonald's to Eddie V's, they'll take back something that's not to your liking, and you don't have to give much of a reason," he says. "They usually want to make you happy so you're last thought is 'This is a good restaurant.'"
El-Amin also added on Wednesday that he disagrees with the officers' claim that he was violating a criminal statute. He says he was later told that it would be a civil matter if there was no intent not to pay when he entered. When asked whether he's considering any legal action, El-Amin said he's "keeping my options open."
Some in the comment section below the Facebook Live video said M Cantina called the police because El-Amin is black. El-Amin told
Metro Times
he didn't know for sure that was true or not, but it's a question worth asking in 2018.
"The biggest issue is that she felt the need to call the police," he says. "This [kind of situation] has turned badly in many cases when police are dealing with people of color. I was just happy that police were reasonable and somewhat understanding, even though I disagree with their understanding of the law."
Merino said he felt bad the issue got bigger than it needed to be, but said there is a policy in place.
"On behalf of my staff, I want to apologize if anyone is offended, or thinks we were too tough. But we're just doing our job ... following the rules," he said.
So many restaurants, so little time. Find out the latest Detroit dining news with our weekly food newsletter delivered every Friday morning.