Ferndale vegan and vegetarian restaurant GreenSpace Cafe is launching a new fast casual concept called GreenSpace & Go in Royal Oak.

The store — located at 32867 Woodward Ave. just south of 14 Mile Road — is hosting a soft opening this week, starting regular hours on April 9. It will hold a ribbon cutting on April 20.
GreenSpace & Go will offer all new items, and husband and wife owners Joel and Karen Kahn said via press release that that includes "fresh, healthy, portable cuisine on a menu that will showcase high-quality veggies, fruits, grains and beans in creative burgers, bowls, tacos, salads, baked goods, raw juices and more."
Among some of the offerings are the Endurance Bowl (broccoli falafel, cucumber, baby arugula, French lentil, garlic-roasted beets, and cashew tzatziki), and smoothies like the Hemptation (banana, turmeric, vanilla, hemp seeds, ginger, carrot juice, and mace).
GreenSpace notes in a release that its "ingredients are sourced as wholly, sustainably and organically as possible and contain no GMOs or preservatives. Allergy-friendly gluten-, soy-, and nut-free options are available, as are oil-free and children's menus. All food and select wines are certified kosher."
Both GreenSpace Café and GreenSpace & Go are the first midwest restaurants to earn certificates from the PlantPure Communities Restaurant Campaign, which recognizes establishments that offer healthy, plant-based, oil-free meals.
GreenSpace Cafe opened in late 2015 in downtown Ferndale, and the company launched its food truck last summer.
Regular hours, which start on April 9, are from 11 a.m. to 8 p.m. Monday through Thursday; 11 a.m. to 9 p.m.Friday and Saturday; and closed Sunday.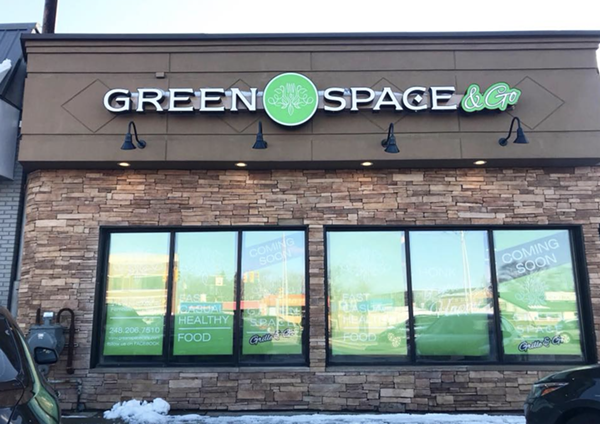 So many restaurants, so little time. Find out the latest Detroit dining news with our weekly food newsletter delivered every Friday morning.