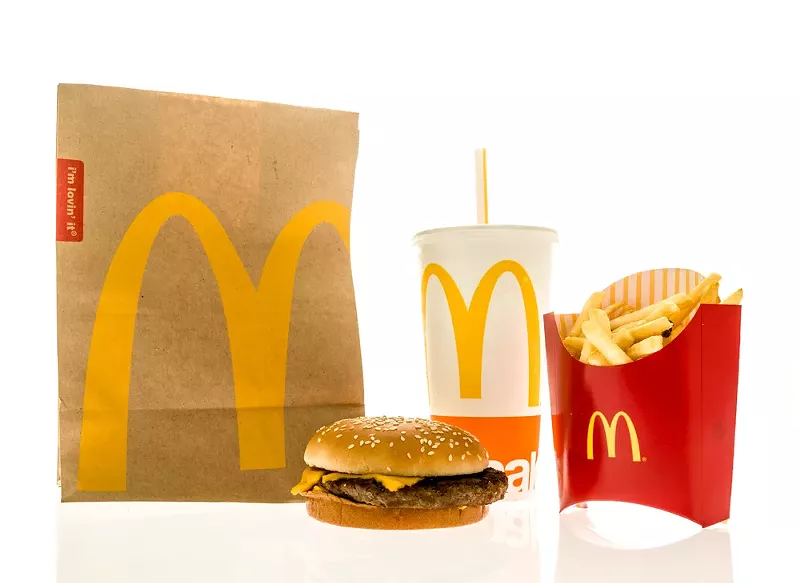 The U.S. Center for Disease Control is investigating the contamination of vegetables and salad mix in upper Midwestern states that so far is linked to McDonald's and Del Monte products. Around 200 people have been sickened by the contamination of Del Monte vegetable trays, and another approximately 100 people have been sickened by McDonald's salads.
Food Safety News
reports that the Illinois Department of Public Health confirmed McDonald's salads sickened around 90 people, while the CDC continues to investigate other sources.
The vegetables are contaminated with the Cyclospora parasite, which causes severe diarrhea, flu-like symptoms, bloating, and other digestive issues when consumed. Most of the illnesses were reported in May, June, and early July.
Del Monte has recalled all vegetable trays and the CDC is advising consumers to dispose of trays with expiration dates of June 27, 2018, or earlier.
McDonald's told the
New York Times
on Friday that, "out of an abundance of caution," it had stopped selling salads at about 3,000 restaurants in the Midwest and was working to remove the lettuce from those locations and distribution centers. It will switch to a different lettuce supplier.
What is the parasite?
Food Safety News
has a primer:
Cyclospora infects the small intestine (bowel) and usually causes watery diarrhea, bloating, increased gas, stomach cramps, and loss of appetite, nausea, low-grade fever, and fatigue. In some cases, vomiting, explosive diarrhea, muscle aches, and substantial weight loss can occur. Some people who are infected with Cyclospora do not have any symptoms. Symptoms generally appear about a week after infection. If not treated, the illness may last from a few days up to six weeks. Symptoms may also recur one or more times. In addition, people who have previously been infected with Cyclospora can become infected again

Cyclospora has been associated with a variety of chronic complications such as Guillain-Barre syndrome, reactive arthritis or Reiter's syndrome, biliary disease, and acalculous cholecystitis. Since Cyclospora infections tend to respond to the appropriate treatment, complications are more likely to occur in individuals who are not treated or not treated promptly. Extraintestinal infection also appears to occur more commonly in individuals with a compromised immune system.

The recommended treatment for infection with cyclospora is a combination of two antibiotics, trimethoprim-sulfamethoxazole, also known as Bactrim, Septra, or Cotrim. People who have diarrhea should rest and drink plenty of fluids.

So many restaurants, so little time. Find out the latest Detroit dining news with our weekly food newsletter delivered every Friday morning.