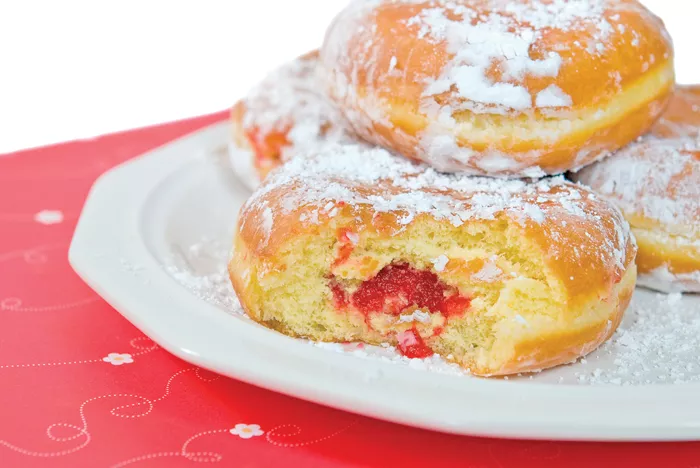 Paczki Primer — In singular form, it's called a paczek (PON-check), in their plural form, they're called paczki (POONCH-key). But even if you just call them plain ol' jelly donuts, the place and date to enjoy them is Hamtramck on Tuesday, March 4. That's when the postage stamp-sized city within a city will become paczki central. Sure, we know it's sort of a silly celebration that was created just to sell more jelly donuts, but the promotion has taken on a life of its own. Hamtramck has more bars in its 2.2 square miles than many cities three times its size, and a contingent of locals who love any excuse to take a day off and have a daylong drinking party, less about bags of paczki than about the shots of mind-fogging Jezynowka and cheap beer. On Paczki Day, you'll see day-drinkers spilling in and out of Hamtramck bars, slipping on ice, and falling into snowbanks. Solid bets for this kind of activity should be the New Dodge Lounge (8850 Joseph Campau; 313-874-5963), Capo Lounge (11625 Joseph Campau; 313-305-7644) and Small's Bar (10339 Conant; 313-873-1117), where the entertainment will include East Side Elvis and the Polka Floyd.
Winter Wine — Enjoy wine? Enjoy seasonal fare? Ann Arbor's Vinology may have just what you need to warm up in the midst of one of Michigan's snowiest winters ever. Chef Jim Leonardo has designed a winter menu that includes porcini-dusted scallops, coriander-smoked duck, crispy pork terrine and a char-grilled filet with creamed kale, roasted Michigan beets, black garlic purée and mushroom red wine sauce. There's also an array of winter desserts, including fig bread pudding, chocolate lava cake and more. Best of all, the Jonna family offers a seasonally rotating stock of more than 150 wines, and can offer expert advice on pairings, as well as seasonal cocktails. Come in out of the cold, at Vinology, 110 S. Main St., Ann Arbor; 734-222-9841; vinologya2.com.
More Wine! —Next week offers another opportunity for oenophiles to explore new flavors. Mitchell's Fish Market will host "Taste of California" pairing dinners at their metro Detroit locations in Birmingham, Livonia and Rochester Hills. It's the first in a planned series of six wine and cocktail pairing dinners to be held this year. This dinner is dubbed "Taste of California," featuring a four-course dinner paired with top-rated California wines. The wine menu will dance down the coast of California from Sonoma to Santa Barbara, complementing the series of dishes that will include shrimp and roasted cauliflower risotto, marinated grilled tenderloin skewer, smoked salt-and-pepper ahi tuna and more. The dinners take place at 7 p.m. on Thursday, March 6; $54.99 per diner plus tax and tip; reservations required; to learn more, see mitchellsfishmarket.com.
Surf and Turf — The folks at Fleming's Prime Steakhouse & Wine Bar are at it again, offering their specially priced three-course filet and lobster pairing. Until April 13, guests can enjoy a tender, 8-ounce filet mignon and a sweet 8-ounce lobster tail with drawn butter, plus a starter course, for $39.95. Seafood and steak always make for a magical combination, but the starters are no warmed-over afterthoughts either, including pan-seared scallops over goat cheese polenta, or French onion soup baked with Gruyère and Parmesan. The offer is open to guests who reserve online or inquire about the offer at the restaurant at all Fleming's locations. To find the location nearest you and make reservations, see flemingssteakhouse.com.
Know of any upcoming food or drink events? Let us know! Call 313-202-8043 or email [email protected].