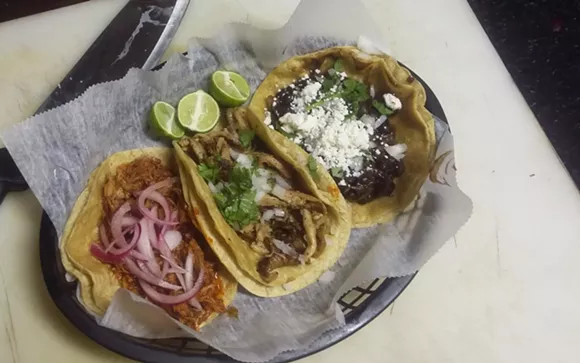 If it were up to us, everyday would be National Taco Day. But because of the mysteries of marketing, this "holiday" only comes once a year.
In observance of this most important occasion, we've rounded up some of our favorite taquerias in metro Detroit. Whether you're looking for a new spot to enjoy a few tacos al pastor and margaritas or you need a quick pick-me-up on the road, we think we've covered quite a few bases.
Taqueria Lupita's, Mexicantown
This cash-only spot is a shiny star in Mexicantown tacos. Salsas have the right amount of heat and there are lots to choose from for meats (al pastor, lengua, carne asada, pollo, tripas, etc). 3443 Bagley.
Alley Taco, Midtown
When you're working your butt off studying, you don't have time (or money!) to waste on bad food. This spot sits in the back of Marcus Market and offers both flavor and value (we recently dug into the 5 for $5 deal). Plus, while you're waiting for your order, you can stock up on other dorm room essentials. 4614 Second Ave.
See also:
Alley Taco in, Goodwells out at Cass Corridor space
Taco El Caballo, southwest Detroit
You want a taco truck experience from a spot that's been doing it long before food trucks became a trend? There you'll find husband and wife proprietors Jose Badajoz and Nancy Paz. Badajoz is behind the grill, where he dishes out seven different styles of meats. The duo also know how to make a statement. They recently took their truck on the road to protest (and sell tacos) at an anti-Trump rally. Corner of Springwells and Longworth.
See also:
We caught up with the owners of SW Detroit's viral sensation taco truck
El Parian, southwest Detroit
Another southwest Detroit taco truck staple, at El Parian you'll find this growing chain of taco trucks in various locations throughout the neighborhood so you'll never have a shortage. 4814 Vernor, 6700 Dix, 7903 Olivet.
Taqueria El Rey, southwest Detroit
As long as you're picking up some of that tasty flamed-grilled chicken for the family, may as well throw in a few tacos. This is a popular spot during lunch so make sure you have some time to spare while you wait at the lunch counter. Cash only. 4730 Vernor.
See also: What's for Lunch: Taqueria El Rey is Detroit's king of chicken
Taqueria Nuestra Familia, southwest Detroit
For more of a sit down experience, this colorful, family friendly restaurant offers an array of tacos, plus lots of other fare, and margaritas. 7620 W. Vernor.
Las Cazuela's, southwest Detroit
We Detroiters are a hard-working lot. So sometimes we literally don't have time to search of a quick bite. That's where this taqueria comes in. Get your taco fix while you're at the pump. 4000 Livernois
Timmy's Tacos at Kelly's Bar, Hamtramck
Venturing outside of southwest, you'll find Hamtramck's own Timmy "Vulgar" Lampinen, the art-punker/taco maker. He comes up with a different menu every week, ranging from tinga de pollo to braised pork, and even vegetarian chorizo. Served every Wednesday night (unless he's on tour). 2403 Holbrook, Hamtramck.
Galindo's, Southgate
For a unique take on street food typical of Mexico City, go for tacos de ciudad at Galindo's in Southgate. For $2, you get your choice of chicken, pork, steak, chorizo, or ground beef that's topped with sauteed peppers and onions, cilantro, and French fries (yes, fries go with everything). 13754 Fort St., Southgate.
See also:
Restaurant Review Galindo's
Imperial, Ferndale
Bringing a piece of southern California's rich taco culture to metro Detroit, Imperial specializes in a variety of veggie-friendly tacos, with different specials every week. Plus, a great list of tequila-based cocktails. Perfect for those late-night munchies. 22828 Woodward, Ferndale.
Super Taco at Tienda Mexicana, Madison Heights
While Vietnamese pho reigns supreme in Madison Heights, Super Taco tucked in the back of the Tienda Mexicana storefront is a serious contender. Place your order and then grab a Jarritos and a few groceries, and either dine in or take home to the family. 31642 John R, Madison Heights.
See also:
Get a taste of familia at Tienda Mexicana, one of the best Mexican joints in town
Carnival Market, Pontiac
Feeling left out of the taco epicenter in northern Oakland County? You shouldn't because Pontiac is also home to a large Mexican American population, as well as many businesses and eateries. The go-to for our fearless editor-in-chief Dustin Blitchok is Carnival Market, which he describes as *fire.*

We know we don't know it all in the taco game so send us the taco tips at [email protected]