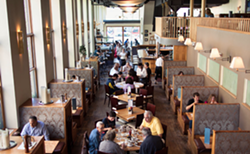 One of three immigrants who was detained by Immigration and Customs Enforcement agents at Ann Arbor's Sava's restaurant has been released.
The agents raided the kitchen on Wednesday after eating breakfast at the bar, owner Sava Lelcaj previously said.
On Thursday,
MLive
reported Lelcaj's account of what happened and the aftermath. The ICE agents were looking for an employee who wasn't working at the time. When they discovered that he wasn't there, they began questioning other employees.
Lelcaj
told MLive
that one of her employees, who is in the country legally, was handcuffed while he called his wife from behind the restaurant.
Three other employees saw that and tried to go out the front door, but were immediately arrested. ICE claims two of those men - Sergio Cardenas Rubio and Jesus Ortiz Hernandez - are here illegally. The third man, Mohamed Souman, entered the country lawfully, but didn't leave within the terms of his status.
Ortiz Hernandez was released on a tether to an Alternatives to Detention program, while the other two remain in custody. The man who was here legally was released on the spot, while the other three were taken to ICE's Detroit office.
Lelcaj previously told
MLive
that her company, Savco Hospitality, has in place a vetting process to ensure that immigrants are legal. It's unclear if her company will face any sort of charges.
"It's a very sad day here at Sava's," owner Sava Lelcaj told
MLive
. "These things really shake people up. We have a lot of people who have family roots here."