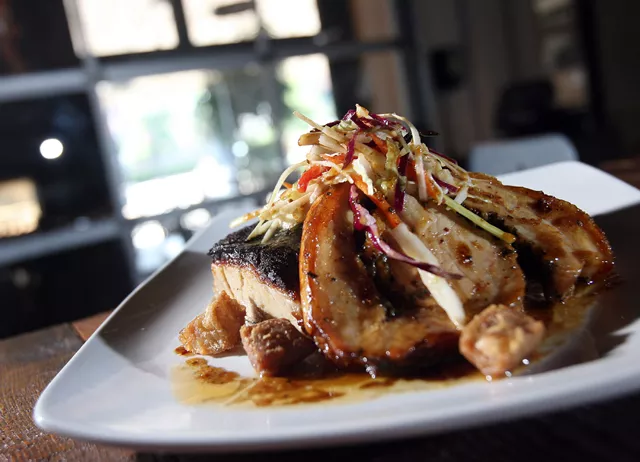 Local Kitchen & Bar
344 W. Nine Mile Rd., Ferndale
248-291-5650
localkitchenandbar.com
Handicap accessible
Prices: $15-$40
Hours: 5 p.m.-close Monday-Saturday, 
5-11 p.m. Sunday
Elevated everyday fare has become a successful formula in the metro Detroit dining scene. Popular spots have continued their growth, and casual eateries are opening all along the Woodward corridor. The newest, Local Kitchen & Bar, proudly proclaims its intent right on its menu: Well-crafted comfort.
Their mission is pretty apparent even before stepping into the dining room. Situated on the corner of Nine Mile and Planavon in Ferndale, Local presents a cozy-looking covered patio and an indoor-outdoor fireplace to passersby and entering patrons.
Inside, the decor is cohesive and obviously well-planned. But it's also ostensibly designed to feel like a fun, eclectic neighbor's living room as much as a dining area for 100 people. The napkins are dish towels, the brand-new chairs are made to look worn, and the silverware is intentionally tarnished a bit on the handles to support the space's aesthetic.
The scarcest glance at the menu lets you know that Local is serious about comfort food — Southern-inspired plates, burgers, mac 'n' cheese, and so on. They're a little less serious about their cocktails: While Local strives for creativity, we found the drinks of middling quality. For example, the Miles Davis, made with a cucumber- and thyme-infused gin, elderflower liqueur and lime, was undermixed and lacked balance.
The wine list, conversely, is long, diverse and refreshingly devoid of obvious brands. One could probably count on one hand the area restaurants that brag about a paucity of oak in their wines, a cohort to which Local belongs. It's not a challenging list, but it'll expose some drinkers to better, more affordable wines than they're accustomed to. Definitely grab a glass (or maybe a pint of Michigan beer) as you ponder your order.
Appetizers range in their regional influences, but each is united by their roots in American comfort food. Among the starters are beef meatballs with currants, pine nuts, herbs and marinara ($9); a ricotta spread with sourdough ($8); and some fairly sweet miso-glazed chicken wings ($10). Our party enjoyed the panko-breaded fried green tomatoes, particularly the accompanying sweet-and-tart jam and hot pepper sauce ($9).
Reigning king among everyday American fare is probably the burger, and Local does a good one: cooked perfectly to order, presented on a nice challah roll with a side of homemade chips (and priced appropriately at $8.50). It's when you add the toppings that you may find yourself scratching your head at the bill: Add an egg for $1.50, bacon for $2, and cheese, mushrooms or onions for a buck each. So it's likely you may lay down $12, and on one occasion, the accompanying potato chips were tasty but inconsistently cooked, about a quarter verging on soft.
If a burger's not your thing, but bread is, consider a few other sandwiches, including a turkey meatloaf creation with mushroom gravy and mashed potatoes ($12), a trio of tacos, a creative take on a club, and a veggie panini.
Among the main plates, the Pig Platter ($24) would seem an obvious standout for proud hedonists. And it's certainly fine. But this particular pile of pork — porchetta, chicharones, belly and so on — doesn't meet its potential. The pork belly, despite being cooked "low and slow," was far from tender, and many of the pieces contained chewy blocks of fat.
Conversely, the bistro steak ($19) was perfectly done and accompanied by rice, asparagus and an absolutely delicious romesco sauce. They also have a rotating pot pie and choice of seafood at market price; the omnipresent comfort food standard, mac 'n' cheese; and a panko-coated fried chicken served with pesto and an arugula and tomato salad.
Most of the plates are large enough to satisfy anyone, especially after a round of starters, but should you and your companions want more, Local offers sides in abundance. Unquestionably, our party's favorite was the small dish of wonderfully bitter rapini with golden raisins, garlic, oil and vinegar ($7). The best for two to split is probably the Mexican Street Corn, two half-cobs grilled and sprinkled with cotija cheese ($2.50). But if you're looking for something more standard, try the fries, poutine or homemade sweet potato tots with chipotle ketchup.
Dessert options changed a bit in the first few weeks of operation, reinforcing something evident when servers drop off a survey at the end of the meal: Local Kitchen & Bar cares about your opinion and wants to improve the experience. The current iteration is laudably heavy on fruit with a seasonal cobbler as well as pie, most recently of the blueberry variety. The banana pudding ($6), layered with vanilla wafers and marshmallows, resonated strongly with our party, the youngest of which tried (unsuccessfully) to hoard it for herself.
Service has been very attentive, even in these early opening weeks. Your server may be attired in a pop cult T-shirt with sayings like "Browncoat" for Joss Whedon fans and "The Dude Abides" for, well, anyone with a pulse. But they all know the menu, and management is loitering about to help with the wine list or other details.
There may be some question as to whether metro Detroit needs another comfort food joint. How much gourmet mac 'n' cheese can we eat here? But with one of the better wine lists and a commitment to the customer, Local Kitchen & Bar is a worthy addition to the club.
Evan Hansen dines for Metro Times. Send comments to [email protected]