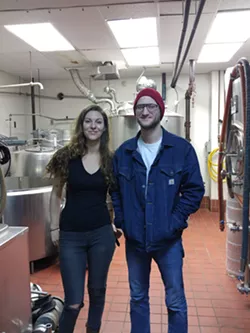 A new head brewer has shaken things up at a Cass Corridor institution, by producing the very first sour beer at the Traffic Jam and Snug.
The beer is the work of 29-year-old Chelsea Piner, who drew upon her love of Belgian-styles as well as experience working in the booming craft beer scene in San Diego for inspiration. Before returning to Michigan to apprentice under her predecessor Eli Hyde, Piner had already developed an impressive resume, working at both Stone Brewing Co. and Brabant Beer Cafe.
According to Piner, "Scum Sour" is brewed in the style of an Oud Bruine (pronounced "ood broon") or the closely related Flemish Red, and she specifically points to one of the earliest examples of the style — Duchesse De Bourgogne ("bore-gon-yuh," please) — as helping her establish a template for her own take on a Belgian sour.
The Traffic Jam version is by Chelsea's estimation "a pretty mellow sour," but a distinct vinegar-like note may be challenging for some. Lactic tartness is a flavor people have enjoyed for centuries, however, and Piner offers a good comparison for what customers should expect.
"When I tell people about it sometimes, and I want to introduce them to it, I ask 'Do you like kombucha?'" she says.
Upon further examination, this is certainly not a one-note beer, but an incredibly complex offering which balances tartness and acidity with an interesting malt character and an almost champagne-like carbonation. At a decent 6.5 percent alcohol by volume, the beer is medium-bodied and feels appropriate for Michigan winters, but not too heavy for spring.
The Traffic Jam also makes its own cheese, in addition to its function as a microbrewery. So while beer lovers would normally have to travel to a Trappist brewery like Chimay in Belgium for the experience of consuming beer and cheese produced under one roof, the Traffic Jam offers a similarly monastic dedication to craft a little closer to home. Experts recommend pairing Oud Bruine or Flemish Red with camembert or cheddar.
They are also one of the few microbreweries in the state to boast a Belgian-style open air fermenting tank, which have historically been used to allow wild yeast strains to help the beer develop. When asked about her plans for the future, Piner also expresses a desire to produce more interesting "firsts" for the Traffic Jam, including a Belgian Strong Dark Ale, and a barrel aged beer.
"I want to just make the best beers that I can," says Piner.