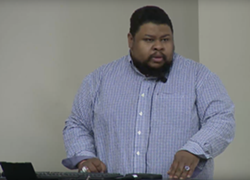 Perhaps nowhere is the cultural appropriation conversation cropping up with more frequency in recent years than in the food industry. And perhaps no one at the national level has been better at explaining the definition of cultural appropriation than African American-Jewish chef, food historian, and author Michael Twitty.
The sharp and talented 39-year-old famously took down Paula Deen in 2013, not only her use of the "N" word, but her participation in "the near universal erasure of the black presence from American culinary memory" that "robbed blacks of a vital form of their history and identity." Since then, he's been a leader in the culinary justice movement.
During a recent talk
that's part of the University of Michigan Sustainable Food System program entitled "Culinary Justice: Defining a Theory of Gastronomic Sovereignty," Twitty once again did an excellent job of laying out the history of American cuisine and African American's role in its development.
He also clarified the cultural appropriation issue and answered some of the questions voiced by skeptics. Should cultures stick to making only their own cuisines? Is culinary purity reasonable in 2017? One of the best things I ate this year was a pierogi with southeast Asian flavors. Is that really so awful?
As Twitty explains, there's a difference between cultural appropriation and cultural diffusion. Cultural diffusion is "a natural process when people of multiple different cultures live close together in some environment and can't help but rub off on one another. No fault, no shame."
Cultural appropriation, conversely, is "about exploitation, abuse, theft. You know it when you see it, it's like obscenity. You know it when you see it, so don't get the two confused."
He continues to say that culinary justice is about "the cuisine of a people being a source of cultural power that they have an inherent right to. It's their thing that they use to mitigate the forces of oppression. And when you take that thing away, then you're really robbing them of something very significant."
Twitty points to Rick Bayless as an example. Bayless is the king of Mexican food, but "When was the last time you saw a Mexican American with heart, who can cook, have his own gourmet multi million-dollar restaurant that he can bring people to and charge them all that money? That's culinary injustice."
Or, as food writer Betsy Phillips explained last year in the
Nashville Scene
amid the Hattie B's Hot Chicken Debate of 2016, you find cultural appropriation when "black people have been doing shit for years, going mostly unnoticed by white people, and it's only when the white people come in and decide to monetize it that you declare it cool ..."
The Hot Chicken debate started when The Food Republic website credited a pair of white chefs at the Hattie B's restaurant with popularizing Nashville hot chicken. Of course, Nashville hot chicken is something that's been a part of black culture for ages, and now white folks are credited for and making bank off it.
As Phillips put it "When the black people who have the decades' long expertise in making hot chicken don't grow rich off it, but the white kid who got to go to culinary school does, it's not because his hot chicken tastes better."
What's a solution? What is culinary justice? Twitty points to white Baltimore chef Spike Gjerde tapping African American farmer Denzel Mitchell to grow heirloom peppers for Gjerde's Snake Oil hot sauce. Or James Beard-winning chef Chris Shepherd in Houston pointing out that his menu is inspired by Houston's large Vietnamese community, and stressing diners should go support the Vietnamese restaurants, listen to their stories and narratives, and "try the real deal."
"That's culinary justice," Twitty says.
Check out Twitty's full talk at U-M
here
.