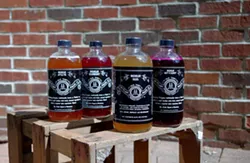 Small-batch drinking vinegar company, McClary Bros., is set to appear on ABC's reality show, "Shark Tank" in an episode airing Friday, Sept. 25. Owner Jess Sanchez McClary flew out to California in June, after she won over a Detroit casting crew in the spring, to make her pitch to the series' investors, otherwise known as the sharks, Mark Cuban, Lori Greiner, Robert Herjavec, and Kevin O'Leary - plus guest shark, Ashton Kutcher.
Detroit-based McClary Bros. produces drinking vinegar, otherwise known as shrubs, that are used in cocktails. They're made with organic, unpasteurized apple cider vinegar and seasonal fruits, vegetables and herbs.
The concoctions are available in bars all over Metro Detroit - served at more than 300 bars, restaurants and retail locations in 17 states. Since its founding in 2012, McClary Bros. has had a number of windfalls as the company works toward securing its future, including making it to the semi-finals of Comerica Bank's Hatch Detroit business incubator program and participating in the local class of the Goldman Sachs 10,000 Small Businesses program. We'll be sure to watch to see about McClary does on the program.