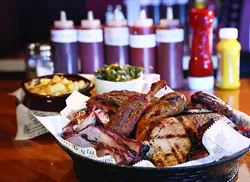 Little Z's BBQ
22428 Greater Mack
St. Clair Shores
586-585-1000
Sandwiches: $8-$10
Dinners: $10-$18
Open 11 a.m.-8 p.m. Monday-Thursday, 11 a.m.-9 p.m. Friday-Saturday, and noon-8 p.m. Sunday.
If you thought the profusion of new barbecue joints must have finally sated the regional taste for smoked meats, think again. And the best news of all is that one of the newest additions, opened in May 2012, serves excellent quality barbecue. That place would be Little Z's BBQ, a small, unassuming restaurant with great service and some of the best slow-cooked proteins in town.
The appetizers menu includes nachos, chicken tenders, okra fritters and more, but we went for the "hog wings," which are actually smoked pork shanks with the bone exposed as if a sort of chicken drumstick. The meat was a harbinger of what was to come, chunking off beautifully with a knife, slightly redolent of poultry spicing.
We decided to dive into the sides in a big way. Little Z's sirloin chili was tangy, thick and cuminy, with little pieces of meat that held together just long enough to be chewed.
The pork and beans reminded one of our party of a campfire, sweet and smoky, with beans that were both soft and flavorful. The greens were cooked just right, with just the right amount of meat mixed in. One co-diner even approved of the crumbly topping on the baked mac and cheese, a rarity in her experience. The cornbread came in firm muffins that smelled of butter, and the vinegar slaw added authenticity. Unlike creamy slaws, it was a nice change of pace for a cole slaw to offer something to nibble on that would cleanse the palate instead of coating it.
Speaking of vinegar, not a lot of Detroit-area barbecues offer the experience of real vinegar-based barbecue (Detroit's Parks Old-Style Bar-B-Q being a notable exception). That taste is not front-and-center at Z's, but is an option. More on that in a moment.
As familiar to most habitués of the new barbecue houses, Z's offers an array of sauces, ranging from sweet to hot, including Z's Sweet, Honey Mustard, Cherry Apple, Honey Garlic, Z's Bold, Crazy Asian, Spicy Buffalo and Firestein is Burning. The hottest, Firestein, is just pure burn, probably for those guys (why is it always guys?) who insist on having "extreme" barbecue. As our helpful server pointed out, Firestein can be used to add heat to other sauces, and mixes well with Z's Bold. Among the most addicting sauces is Spicy Buffalo, an excellent rendition of the classic Buffalo wing flavor.
But for diners who ask for it, they'll offer two more vinegar-based sauces: Alabama White and Carolina Mustard. Frankly, we were blown away by the Alabama White sauce, a mixture that usually includes pepper, mayo and vinegar. One co-diner, a die-hard barbecue nut, said the Carolina Mustard sauce was more like a South Carolina sauce, due to the vinegar. In an area where barbecue lovers favor thicker sauces, this was a treat indeed.
With an eye to trying all the smokehouse meats, we ordered Z's BBQ Sampler, a $25.95 combo that bested three hungry, hard-eating diners. The quality of the barbecue is stellar. The St. Louis pork ribs were perfectly pink under a tasty bark. The "Detroit-style" burnt ends were like charred little steaks; the blackening on the outside had no carbon flavors, and the meat was yielding and tender inside. One of the hardest meats to do right, brisket, came in slices that held together wonderfully, yet would disintegrate if you tried to slice them slightly against the grain. The chicken was moist, the smoked sausage worked well with the sweet sauce. We even got an extra order of the braised short ribs to give them a try and they pulled apart with a fork twist.
The slices of smoked turkey were the only meat with imperfections, tasting a bit dry. Our barbecue-nut friend allowed that turkey is among the harder meats to smoke, which rang true. Anyway, we dunked them in that delightful Alabama White sauce and it brought them right back to life for us. Vinegar has a way of creeping into the meat where water-based sauces won't.
This is a no-frills dining environment, with everything served on wax paper in plastic baskets. That said, the server treated us very well, not just checking in to refill drinks but answering questions and offering advice. Little Z's doesn't serve beer or wine, but if there's anything they don't have that you want with dinner, we bet they'd find some way to accommodate you; call ahead and find out.
All in all, Little Z's is a welcome addition to the local barbecue scene, and a great place to experiment with vinegar sauces.
Michael Jackman is interim editor of Metro Times. Send comments to [email protected].