(Find more photos of King's pastries and sandwiches here.)

Does the genre of Lebanese sandwiches — the shawarma, falafel, and others we're lucky to know so well in metro Detroit because of our generations-deep Lebanese population — need to be reinvented?
No. There's a reason for the sandwiches' longevity, so it really doesn't need attention. But sometimes a chef comes up with a slight enhancement — a "modern interpretation," as it's sometimes put — to an old standard, and it really works. And that's what we have with chef Ali Houssaiky's "manouwich."
At King's Bakery, his small mom-and-pop Lebanese shop in Dearborn, he made a few small-but-transformative adjustments to the sandwiches by swapping out the pita for manoush, a Lebanese flatbread that he coats with a thick layer of mozzarella or achawi cheese.
Manoush is traditionally served alone under a layer of meat, cheese, or za'atar, but it turns out that it wraps well around shawarma, as well. The bread differs differs from pita in that it's pressed semi-thin and cooked quickly in an open-flame oven that gets as hot as 1,000 degrees. That high heat and short stay in the oven leaves the bread with char spots that take on a "leopard spot" pattern and render the outer edge of the bread a little crisp.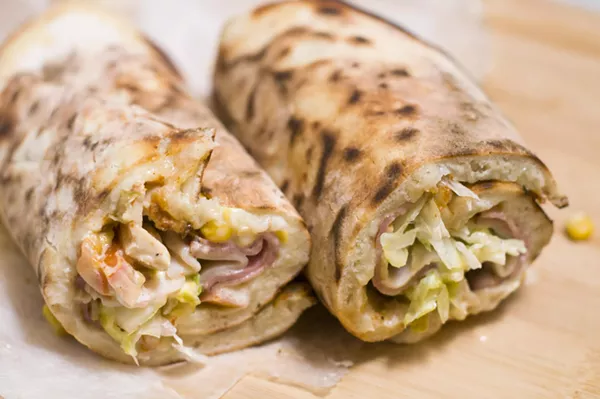 But the manoush remains moist because of the quick trip in the exceedingly hot oven, and it's a supple bread that easily rolls and wraps without breaking apart. The interior is soft, spongy, and a little chewy, which is a similar concept to what you'll find in Neapolitan pizza crust.
The best place to start on King's menu is the chicken shawarma manouwich, which is stuffed with charred shreds of salty chicken pulled from the spit, filled with pickles, and arrives exploding with garlic sauce. Adding a layer of stringy, fatty, oily cheese to that mix — think of it as a pizza folded over, if you really need a reference — changes the chicken shawarma experience.
Same goes for the beef shawarma, which is packed with nicely charred spit meat that's slightly sweet and a little sour from sumac and plenty of cumin. It's fitted in a manoush with a layer of green parsley that accents the meat, along with pickled red onion and a healthy dose of tahini.
Similarly, the cumin-heavy sujuk — an intense sausage used in Armenian and Lebanese cuisine, stained electric red from marinating in cayenne and tomatoes — is rolled in the manoush with lettuce, tomatoes, mayo, pickles, and corn kernels. Corn? It's a surprise, but it provides some nice texture. Houssaiky says his mom always put corn on his sandwiches when he was growing up, so he added them to King's wraps. The makanek is another sausage that offers a blast of cinnamon and allspice that's balanced with garlic and cumin, and the package is wrapped with the same fixings as the sujuk.
King's plays with another regional favorite, the basturma, a bright red, salty, spicy cured beef treated with paprika and cumin that's wrapped in a manoush with corn, tomato pickles, and garlic sauce. The moist kafta also comes lettuce tomato, mayo, corn pickles.
It's worth noting that all of King's meats are cut at its in-house butcher, but there are plenty of vegetarian options. In its falafel, you'll find moist fried balls heavy on the cumin wrapped with tahini, two kinds of pickles, and corn. The pickles make it a salty package, so be forewarned, but it's some of the best falafel in Dearborn. Or try the simpler za'atar with veggies, or the spicy potato manouwich.
King's also offers a lot of "American" manouwiches built around turkey, roast beef, chicken, and other standard U.S. deli meats. I mostly passed on them in favor of the Lebanese sandwiches, with exception of the corned beef wrapped with with mayo, lettuce, tomato corn, and pickles. It's solid. And in the Royal, King's rolls up a range of deli meats and all the fixins. It's hefty.
Beyond the manouwiches, King's offers a wide selection of sweet and savory Lebanese pastries, including semi-sweet, soft, spongy, buns dusted with sour sumac that encase fillings like chicken or beef shawarma, pickle and garlic sauce. Inside a slightly less sweet package is a solid sujuk and pickles. The best, however, was a sweet, sour and spicy cone-shaped pastry holding labneh and za'atar.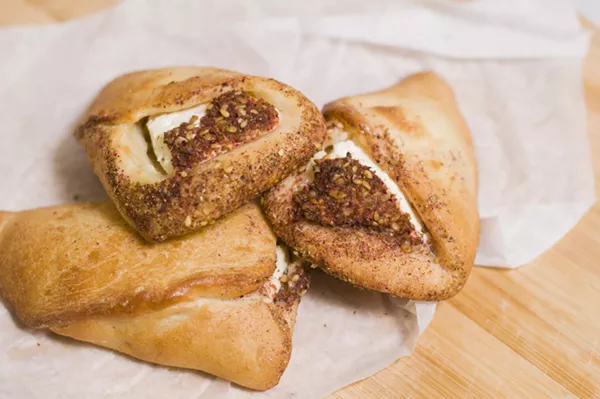 Beyond that, King's offers the standard Lebanese sandwiches and salads, but the manouwiches are the highlight here. Houssaiky says he came up with the idea because he would add deli meats to manoush at home, then he started experimenting with the concept more at the restaurant before adding it to the menu in 2015.
He tells me that the idea was met with some skepticism, but now he's even winning over the traditionalists.
"The first generation who came from the old country — they're not used to change," he says. "So when we switched it up, they were like 'Dude, what are you doing to our food?' But now the same people are consistently ordering the manouwich. And I have a brother-in-law who opened a bakery in Lebanon and he's implementing this idea, and people are going nuts about it."