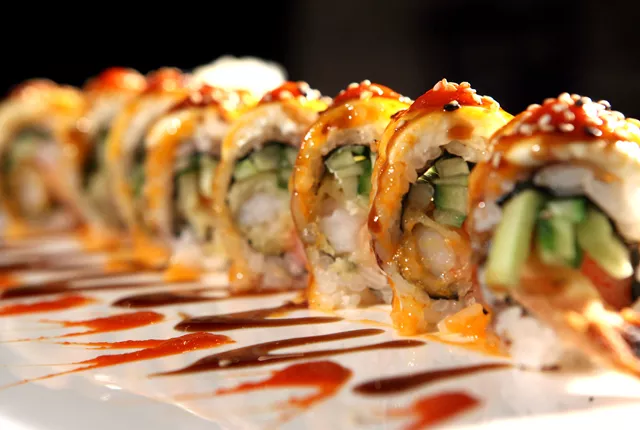 Xushi Ko Hibachi Grille and Sushi Bar
16351-C118 Ford Rd., Dearborn
313-982-1730
Bathroom handicap inaccessible
Most hibachi entrées: $16-$20
Most rolls: $5-$12
Open 11 a.m. to 3 p.m. and 5:30 to 10 p.m. Monday through Friday, noon to 11 p.m. Saturday and noon to 10 p.m. Sunday.
The existence of a halal Japanese restaurant is one of those little phenomena that rouse hope for our fractured and beleaguered human race — just as the fact of a restaurant called O'Sushi's further west in Dearborn tilts one's mood the other way.
Xushi Ko, open since May, is the type of Japanese restaurant that believes Western diners won't be happy without amplified fat content. Thus the menu boasts plenty of cream cheese and even more avocado. Two-thirds of the fancily named rolls and 15 of 25 "classics" contain one or the other or both, and some of the others are topped with mayo.
It's a crowd-pleaser that, well, seems to be pleasing a diverse crowd of diners, from those desiring halal to a pair of Chinese students to generic white people.
As in most Japanese restaurants, the tableware at Xushi Ko is elegantly simple, with tilted bowls and the spare design that makes grace look easy. The implements contrast somewhat with the bare black tables embedded with sparkles, but it's all in good fun. A big TV screen shows bright fish endlessly swimming.
We decided to jump with both feet into Xushi Ko's "more is more" thinking (minus the cream cheese) and ordered the Mellow Yellow, a roll incorporating pretend crab, shrimp tempura, salmon, cucumber, mango, mango sauce and strawberries. The still-warm cooked shrimp sounded an atypical note, and tiny slivers of strawberry added piquancy. Plus there was an unlisted bonus ingredient — avocado.
The Emerald roll with barbecued eel and mild daikon (Japanese radish) was a little spicy and topped with both unagi (eel) sauce and spicy mayo. (Dishes are marked with zero to three jalapeños; the Emerald got a half-pepper. The globe-trotting Jujitsu, with habañero, sriracha and cilantro, gets three.)
The Rainbow is topped with a different fresh fish on each piece, mildly exciting. While none of the rolls leaped off the plate with freshness, all were trying hard and ultimately hit the spot.
We were less happy with a yellowtail hand roll, which was too squishy and had the wasabi mixed in. That makes sense, if you're eating this on the street like an ice cream cone, but getting to apply one's ginger and wasabi is part of the sushi ritual diners like.
Sushi spots vie to offer the most out-of-character flavors, so jaded readers may not raise a brow at "spicy tabboulie," apple salsa and Tapatio sauce — straight out of Jalisco. There's also a banana and sweet potato tempura roll (with avocado and cream cheese), topped with a sweet sauce.
For starters the appropriately non-filling edamame, including spicy edamame sautéed with olive oil and garlic, are available, but we chose fried shrimp purses, which are cute as all get out, like little cloth bags tied with drawstrings. Another night a sharable vegetable tempura was mildly disappointing, too bland and less light than it should be, though there is seldom anything bad to say about an onion ring. Onion soup is strong, a little sweet, metallic in a good way, making a French onion loaded with bread and cheese seem positively clunky.
Seafood soup and Xushi Ko salad are listed with the starters but are meal size. The soup is chock-full of salmon, shrimp and calamari and is about two-jalapeños hot. The salad would have been fairly wonderful if the greens hadn't been wet. Chefs, dry your greens! A salad wet with water is a terrible thing. Xushi Ko's salad makes good use of raw tuna, salmon, whitefish and shrimp with sesame seeds, along with asparagus and avocado. But lose the iceberg. And the H2O.
The grilled entrées are a good deal, accompanied by onion soup, salad (also wet), grilled vegetables and rice with shrimp. The Hibachi Salmon and Steak Teriyaki combo I sampled doesn't seem particularly Japanese, the steak a bit chewy, but the grilled vegetables are outstanding and all is quite rich and satisfying. I'll bet the sautéed calamari, scallops and shrimp option would also be fine.
We enjoyed a Lebanese nonalcoholic malt beverage, Laziza (there's no liquor license), in the original mild, wheaty flavor, just $2 a bottle. Continuing in the "more is more" vein, raspberry, apple and peach Lazizas are also possible.
Desserts are mostly fried: ice cream, cheesecake and banana tempura. Having had enough fat via avocado, we tried and liked a plain green tea ice cream that was more tea and less sweet than usual.
Xushi Ko appears to be a welcome addition to Dearborn's international dining options, targeting those for whom bold flavors, rather than authenticity, are the greatest goal.