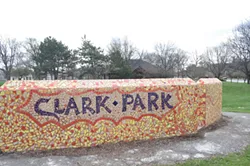 Clark Park in southwest Detroit enjoys a generations-long showing of support to keep it a vibrant space for the community — whether it be by local automotive workers, volunteer cleanup crews, or even the youth who participate in the recreational programming.
In keeping with the all-hands-on-deck spirit, restaurateurs Jacques and Christina Driscoll and chef Les Molnar (all of Green Dot Stables, Johnny Noodle King, and the Huron Room) are teaming up to raise cash to clean up the park's ice rink, which has been ravaged by recent windstorms.
The trio will be guest bartending along with members of the Clark Park Coalition for a fundraiser beginning 6 p.m. April 23 at Abick's Bar (3500 Gilbert St.). All donations, tips, and proceeds from an accompanying silent auction will toward restoring the rink. (Jacques Driscoll tells us he'll also test his DJ skills for the first time, spinning 80s and 90s tracks.)
And because food always sweetens the deal, Esto's Garage Mexican pop-up, Evie's Tamales, and other local eateries will be slanging their fare.
The Driscolls have a strong connection to the neighborhood. They live in southwest and are now raising a young family there (their oldest, 2, is gearing up for skating lessons on the rink next season). They're also regulars at Abick's.
"I think what's really neat about Clark Park is that people have really rallied behind it, have kept it up, have actually done more than just keep it up," Jacques tells us.